A New York City couple turned their pregnancy announcement into a homage to "Star Wars" and made sure to give it an unexpected (and somewhat grim) twist.
On June 25, Ariel David Brenman and Hannah Goodman Brenman posed for photos in Central Park while dressed as Han Solo and Princess Leia. They also brought along the helmet that the character Kylo Ren wears in "Star Wars: The Force Awakens."
"The week we found out Hannah was pregnant, I discovered the Kylo Ren helmet on clearance," Ariel told HuffPost. "Once we determined the due date was December, the release month of Episode VIII, the idea for the announcement snapped into place."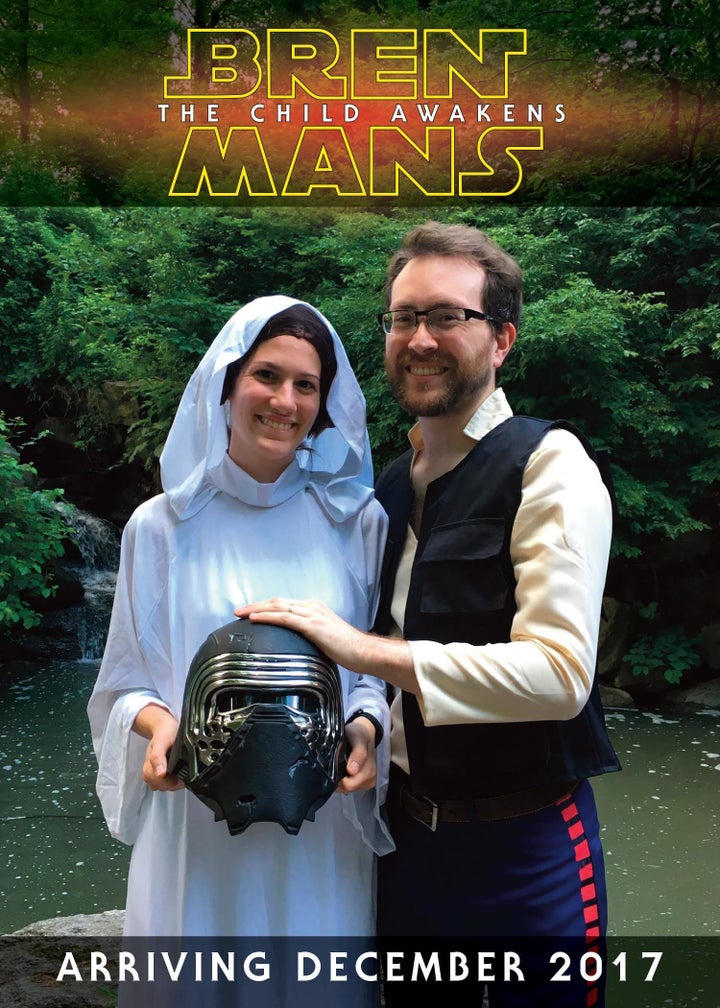 While posing with the helmet makes sense considering Kylo's parents are Leia and Han, "Star Wars" fans will immediately notice a somewhat morbid twist to the announcement because (spoiler alert!) Kylo kills his father in "The Force Awakens."
Ariel's brother, Zach, accompanied the couple to the park to help take the photo and later got the OK to post the final announcement on Reddit. Users quickly pointed out the Kylo Ren reference, but Ariel made it clear to HuffPost that he knew what he was getting into.
"Whenever something like this pops up on the internet, snark will be snark; you can't take it too seriously," he said. "But at least in the case of the troubled Han/Kylo relationship, I'm in on the joke. I actually started throwing around this '30 Rock' Jack Donaghy quote soon after we settled on the announcement idea: 'I want a family. A son I can throw a ball to and, when he's older, have power struggles with.' It's all in good fun."
Ariel said Hannah, who is "less of a fan" of the galactic franchise, was "a huge sport" while they created the pregnancy announcement. The couple will welcome their first child in December.
"I'm a big fan of Star Wars, and this seemed like a fun, silly way to break the news," Ariel said.