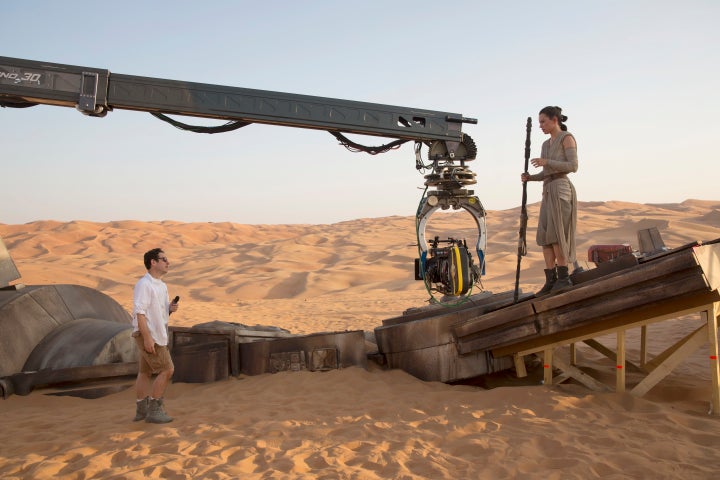 At this point, is there anything we don't know about "Star Wars: The Force Awakens"? As far as the new making-of documentary that will appear on the forthcoming DVD/Blu-ray is concerned, not really. 
The hourlong "Secrets of The Force Awakens: A Cinematic Journey" premiered at South by Southwest on Monday, where J.J. Abrams made a surprise appearance to introduce the film. (Abrams was participating in a panel with "The Jinx" director Andrew Jarecki later that afternoon.) As the doc proves, Disney's intense marketing campaign fed us pretty much everything we could hope to know about the creation of "Episode VII." And we shouldn't be surprised, anyway -- this is a Disney-sanntioned documentary, so there was no reason to expect a gossipy tell-all. The details of George Lucas selling Lucasfilm and Michael Arndt's initial script being gutted are glossed over, while Harrison Ford's on-set injury and the rumors of clashes about the release date aren't mentioned at all. 
Still, the movie is ripe with behind-the-scenes footage that will appease "Star Wars" fans, and there are at least a few morsels sprinkled throughout that possibly qualify as new information. And the whole thing is worth watching just to witness Gwendoline Christie's infectious laugh, which had the SXSW crowd in stitches. Here are 10 other tidbits.
1. When Kathleen Kennedy, who'd just taken over for George Lucas as the president of Lucasfilm, first approached J.J. Abrams about directing "The Force Awakens," Abrams intended to turn down the offer. Having made multiple "Mission: Impossible" and "Star Trek" movies, he felt he'd done enough sequels. It was what became the movie's central question -- where is Luke Skywalker? -- and the idea that a new heroine would be the one to search for Luke that convinced Abrams to take on the project.
2. Daisy Ridley auditioned with the intense mind-control scene that Rey shares with Kylo Ren. 
3. In the first version of the script that Oscar Isaac read, Poe Dameron died. But Isaac said he was "sick of dying early on" in the movies he makes, so when Abrams offered him the part, he informed him that Poe now survives. That means we can thank Isaac for all those hopes the Internet once had for a romance between Poe and Finn.
4. Simon Pegg was "dying" to be in the movie, but he and Abrams knew it would be too uncanny to have a prominent "Star Trek" actor in a recognizable role. Abrams suggested he provide the voice for a character, but when Pegg visited the London set, they landed on the gruff Jakku junkyard dealer Unkar Plutt instead.
5. Abrams made sure women played Stormtroopers as well, because who says the masked Dark Side soldiers have to be male? One female extra said the costumes feel like "heavy rock sacks." Running uphill during action sequences wasn't easy.
6. Gwendoline Christie appreciated that Captain Phasma's armor wasn't "feminized," but she wanted to find a way to assert the character's gender in her physical behavior, especially since Phasma never removes her mask. She did so by making Phasma's mannerisms, particularly the way she stands, somewhat ladylike. 
7. Peter Jackson, Malala Yousafzai and "Star Trek" star Karl Urban all visited the set at Pinewood Studios.
8. For Adam Driver, putting on the Kylo Ren costume was arduous -- an "event," as he called it. By the time he was finally dressed every day, Driver would feel "so pissed" about the ordeal that he would automatically be in the headspace to play the evil overlord. Remarking on the costume, Driver and Abrams described its imperfections as a signal of Kylo Ren's overzealous attempt to emulate his grandfather, Darth Vader.
9. The origin story of C-3PO's red arm will be revealed in a forthcoming comic book.
10. Carrie Fisher called her first day on the "Force Awakens" set the "worst" of her career. Fisher was "nervous" she'd make mistakes -- and she did. Abrams acknowledged that Fisher doesn't act much anymore and needed to get back in the groove of playing Princess Leia 31 years after "Return of the Jedi," but he said she mastered it quickly. Fisher called her reunion with Harrison Ford and Mark Hamill at the first table read -- footage of which is included in the documentary -- "trippy."
Calling all HuffPost superfans!
Sign up for membership to become a founding member and help shape HuffPost's next chapter
BEFORE YOU GO
PHOTO GALLERY
'Star Wars: The Force Awakens'