Even with relentless marketing, it's harder to make a "Star Wars" movie feel like an event now that we know another one will arrive every year until the earth stops spinning, more or less. The frenzy that's accompanied the release of "The Last Jedi" ― the eighth episode and ninth overall installment (including last year's stand-alone "Rogue One") ― is more muted than that of "The Force Awakens," which relaunched the franchise in 2015.
But before we let ourselves become too fatigued by the whole thing, know this: "The Last Jedi" is splendid.
When it's not drowning in CGI, "Star Wars" has always been a feat of production design, with its galactic sunsets, hyperactive taverns and dystopian spaceships. Taking the reins from J.J. Abrams, director Rian Johnson, whose prior credits include "Looper" and three standout "Breaking Bad" episodes, perfects every frame's visual vim.
Wall to wall, it's the most electrifying chapter yet, using the saga's religious mythology to define the scenery. Supreme Leader Snoke's (Andy Serkis) lair is painted a devilish blood red, like something out of the Italian horror film "Suspiria"; he wages war from a throne in the center. The remote cave where Luke Skywalker (Mark Hamill) has been hiding is a weathered Jedi temple housing the canonical texts that govern the creed; yay-high, two-legged miniature dinosaurs dressed like nuns care for the land. A casino where Finn (John Boyega) and scrappy newcomer Rose (Kelly Marie Tran, a welcome addition) are sent to find the help they need to sneak onto the evil First Order's megaship is part of a beachside metropolis with towering buildings that shimmer in the twilight.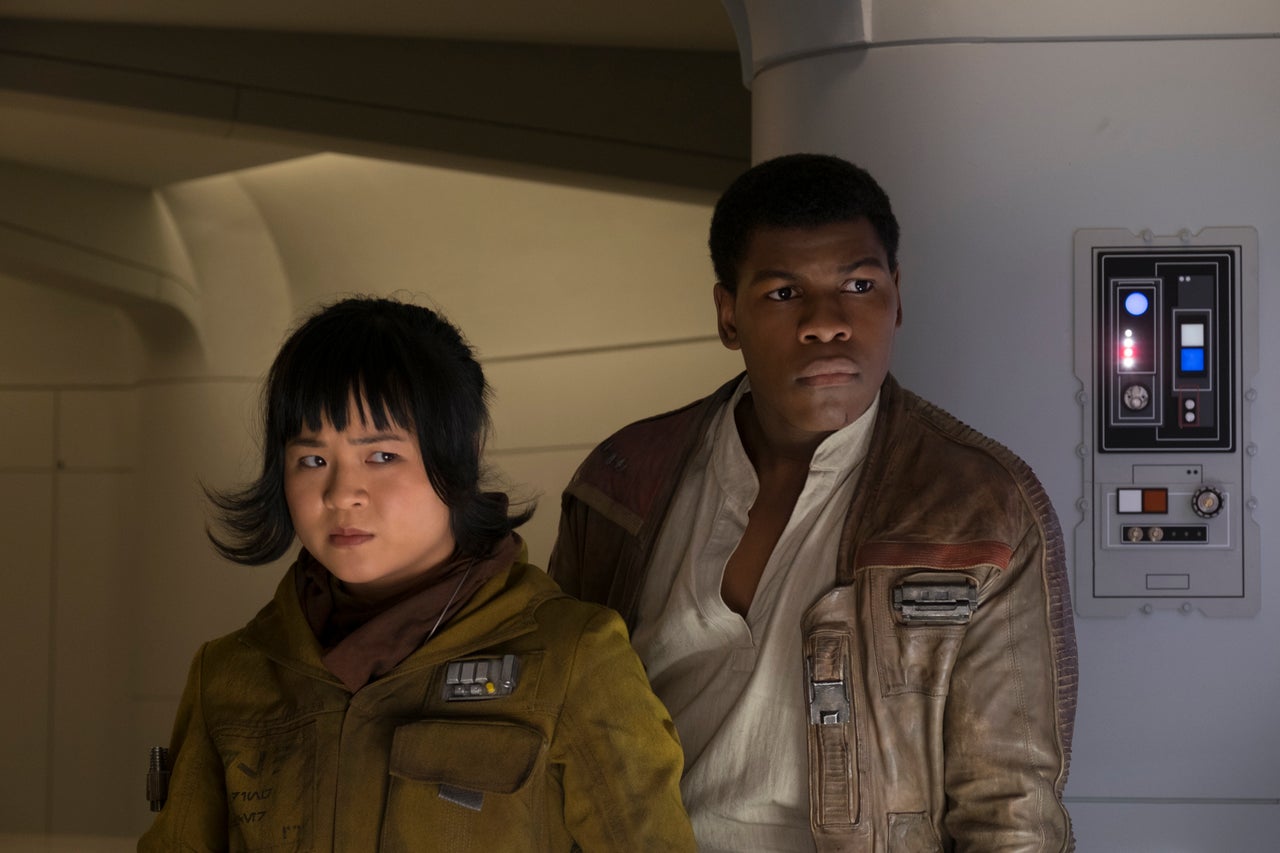 "The Last Jedi" looks so beautiful it feels like an homage to the lands and the rooms of the "Star Wars" universe ― and still the movie manages not to imitate its predecessors.
Where "The Force Awakens" bears structural similarities to "A New Hope," the George Lucas film from 1977 that started it all, "The Last Jedi" isn't reliant on its original-trilogy analog, "The Empire Strikes Back." One sequence is reminiscent of Yoda's trainings on Dagobah, but "Jedi" is otherwise a mostly unique creation. In fact, I found myself thinking more about "Harry Potter" while watching it. In a surreal vignette, Rey (Daisy Ridley) asks an icy mirror not too dissimilar from the Mirror of Erised to reveal who her parents are. Two characters (no spoilers) are linked via a kind of telepathy resembling that of Voldemort and Harry. I imagine these parallels aren't intentional, but it's fun, if a tad tiring, to swap notes on the ever-flowing genre series that foot Hollywood's bills.
Here, Johnson crystallizes the franchise's future. Rey insists Luke teach her to harness the powers of the Force, but he and his graying beard no longer want anything to do with the Jedi. Our once-eager young Padawan has abandoned his roots, and meanwhile the Resistance could use some help in vanquishing Kylo Ren (Adam Driver), best known for his fierce temper tantrums. Everyone surrounding Ren ― Snoke, the screamy General Hux (Domhnall Gleeson), an under-used Captain Phasma (Gwendoline Christie) ― is guns a-blazing, while most of the heroes are folks with whom Luke has never shared a scene.
(Please welcome to the stage a purple-haired, strong-willed Laura Dern, who calls Oscar Isaac's Poe a "trigger-happy flyboy.")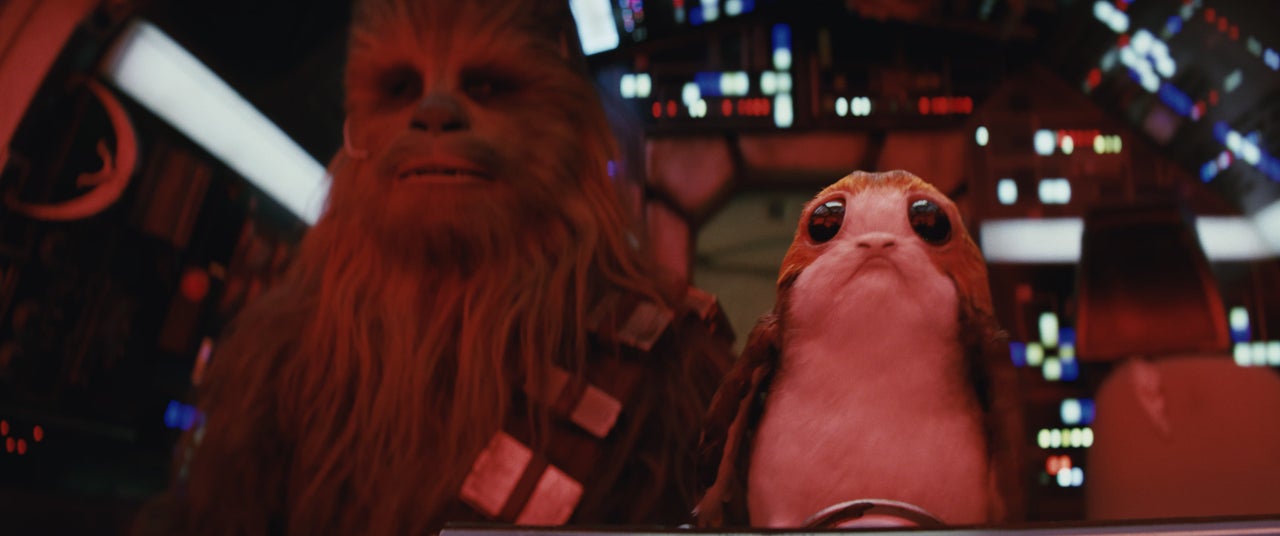 Rhythmically, the movie clicks along with an adrenaline that never tires. It blends long shots and quick cuts to create a meticulous marriage between the cinematography (by Steve Yedlin), music (by John Williams) and editing (by Bob Ducsay). If anything, there's a tad too much going on, at times. The action must keep moving, so characters like Maz Kanata (Lupita Nyong'o, appearing in one short scene) and C-3PO (Anthony Daniels) are shortchanged in favor of dull newbies (sorry, Benicio del Toro) and quirky critters. Not that those critters aren't worthwhile. After all, "The Last Jedi" does gift us with the porgs, cute little chicken-like squawkers that become unlikely frenemies with Chewbacca. (Pour one out for Chewie soldiering on without Han Solo.)
There's still something about "The Force Awakens" that I enjoy more than "The Last Jedi" ― its unexpected serenity, its constant callbacks. This go-round, clocking in at 162 minutes, feels bloated, more concerned with getting things done than allowing breathing room for the smalls joys. Somehow, I don't think that'll matter down the line. There's so much meat on this movie's bones that it's arguably the densest "Star Wars" installment to date, begging for repeat viewings and inviting dissections of the good and evil tugging at both heroes and villains. And, blissfully, it's also the most inclusive: Everywhere, women and people of color suit up alongside the pale, male faces that have always been predominant, opening up the story's mythology to present a galaxy we'd all like to visit.
"The Last Jedi" confirms that Johnson is a fantastic fit for this franchise. If it's to continue ad infinitum, at least he will have a place at its helm. (Abrams is returning to direct 2019′s Episode IX, but Johnson will create a new trilogy to follow.) It seems he's a visual whiz kid first and a character maestro second, but at least he still knows how to map out emotional beats. Just wait until an old friend returns to the fray, or look at how lovingly General Leia (the late Carrie Fisher, MVP) is treated in her aging position of power.
At its heart, "The Last Jedi" is a soaring crowd-pleaser, a movie so cheer-worthy and surprisingly profound that it demands to be experienced in a theater. Guess it's an event after all.
"Star Wars: The Last Jedi" opens Dec. 15.
Popular in the Community