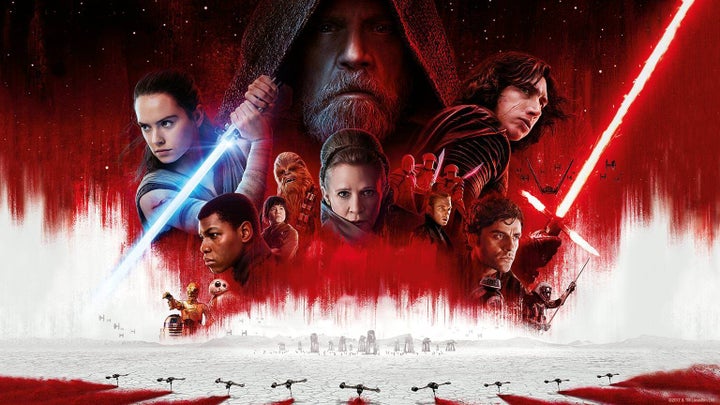 B+
Within the first 15 minutes, I cried and laughed, and then did so again a more few times thoughtout the movie, with some gasps in between. Writer/director Rian Johnson ("Brick," "Looper") has brought his considerable skill and obvious deep affection for the "Star Wars" universe to this latest chapter. I won't make the obvious Force reference; I'll just say that he has produced a film that longtime fans will find very satisfying, with a stunning black, white, and red color pallette, thrilling adventure, appealing new characters and worthy developments for old friends, including characters from the first movie (fourth chapter), and a cause to root for.
After the now-traditional opening crawl (basically: the rebellion is not doing very well against the First Order), we have the traditional beginning, right in the middle of the action. As with "The Force Awakens," we see the I-even-rebel-against-rebels Poe Dameron (dashing Oscar Isaac) in his tiny X-Wing, taking on First Order General Hux (Domhnall Gleeson) with not much by way of firepower, but enormous skill and endless amounts pure pleasure in messing with him. Hux spouts off pompous, pretentious threats about how many different ways he is going to destroy the rebellion, and Poe just trolls him while the rebels gear up for their traditional-but-never-old trick of being quick and cunning instead of enormous and cumbersome.
And we're off -- in three different directions, as Johnson weaves back and forth, with gorgeously cinematic segues recalling "Lawrence of Arabia's" match flame to the desert. Finn (John Boyega) and a new character, Rose (Kelly Marie Tran) go off in search of a code-breaker who, according to Maz (voiced by Lupita Nyong'o) is the only one who can help them get on board the place they have to go to turn off the tracking device (callback to Episode 4, where if the old man didn't get the tractor beam out of commission it was going to be a real short trip).
Meanwhile, as we saw in the last shot of the previous chapter, Rey (Daisy Ridley) has found Luke Skywalker (a majestic Mark Hamill, evoking both the farm boy turned Jedi he was in episodes IV-VI and his mentors Obi-wan Kenobi and Yoda as well). Like Leia (Carrie Fisher) in the first film, she tells him she needs his help (R2-D2 tells him, too). But he does not want to be involved any more, as fighter or teacher. And she is being contacted by a sort of Force version of Skype, by Kylo Ren (Adam Driver). In the last film, they fought with lightsabers in the snow. In this chapter, their conflict is more subtle, more personal.
And the rebel forces led by General Leia are being pushed back, with many casualties. This is a movie where more than one character makes the ultimate sacrifice. And more than one gets a last-minute rescue.
The settings are captivating, including a pleasure planet with an elaborate casino for the galaxy's one percenters and some important lessons about both sides-ism and Balzac's notion that behind every great fortune is a crime. And there is a salt-based planet with animals that look like foxes made from shards of glass. Chewie makes a heart-meltingly cute new friend. Refreshingly, female and non-white characters play dominant roles on both sides. And, there is a possibility of another New Hope. The rebel forces -- and the Star Wars stories -- are in good hands.
Support HuffPost
The Stakes Have Never Been Higher
Related
Popular in the Community