Playing guitar is pretty cool. Playing a guitar designed as Han Solo frozen in carbonite from "Star Wars: Episode V" is way cooler.
Travis Stevens is the man behind these nerdtastic axes. Stevens makes custom electric guitars, dioramas, action figures, cosplay props and artwork based on some of his favorite movies -- "Star Wars," "Lord of the Rings"/"The Hobbit," "Indiana Jones" and both Marvel & DC comics. His work has drawn the attention of musicians like Ryan Adams (Whiskeytown, The Cardinals) and Ben Moody (Evanescence), as well as the interest of Peter Mayhew, the actor who played Chewbacca.
"Originally, I actually developed a lot of my guitar designing and detailing skills by creating custom figures and dioramas for my personal collections," Stevens told HuffPost Entertainment. "The techniques for painting and sculpting, or carving, are very useful in both realms. Guitar building is a lot more complicated; measurements and fine tuning are so critical to having a playable product. However, the body of an electric guitar is far less critical in its sound production -- by comparison to an acoustic -- allowing it to be carved and painted according to any design that doesn't interfere with its components."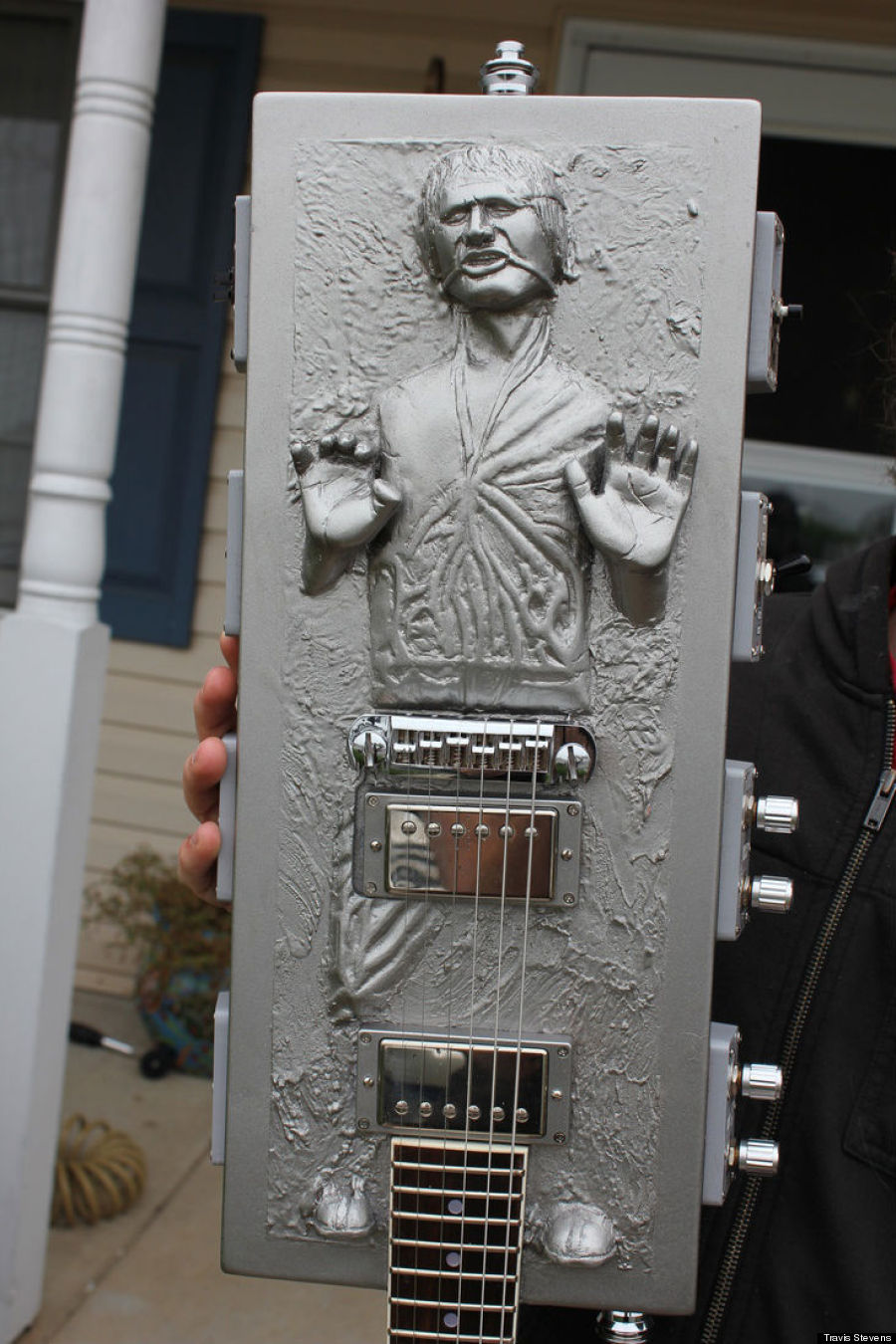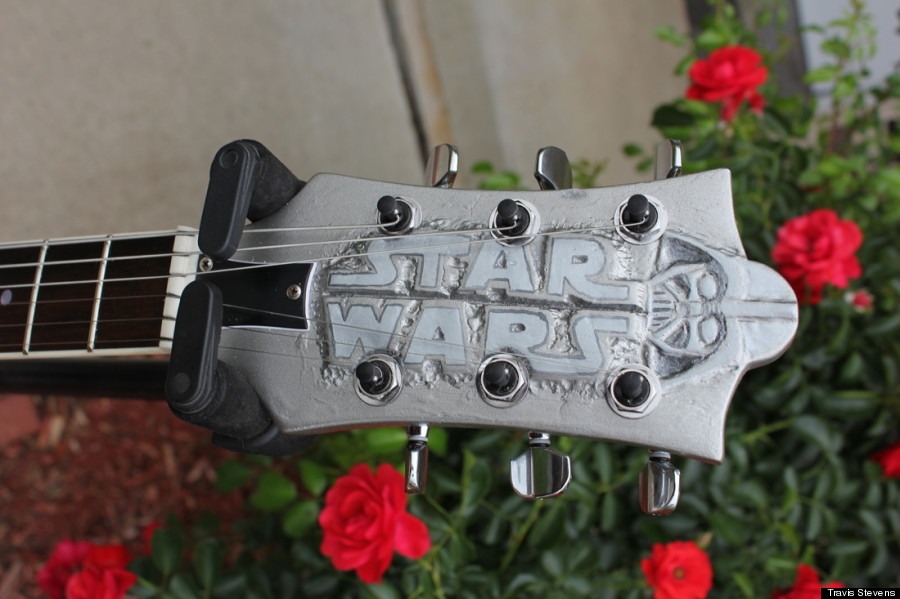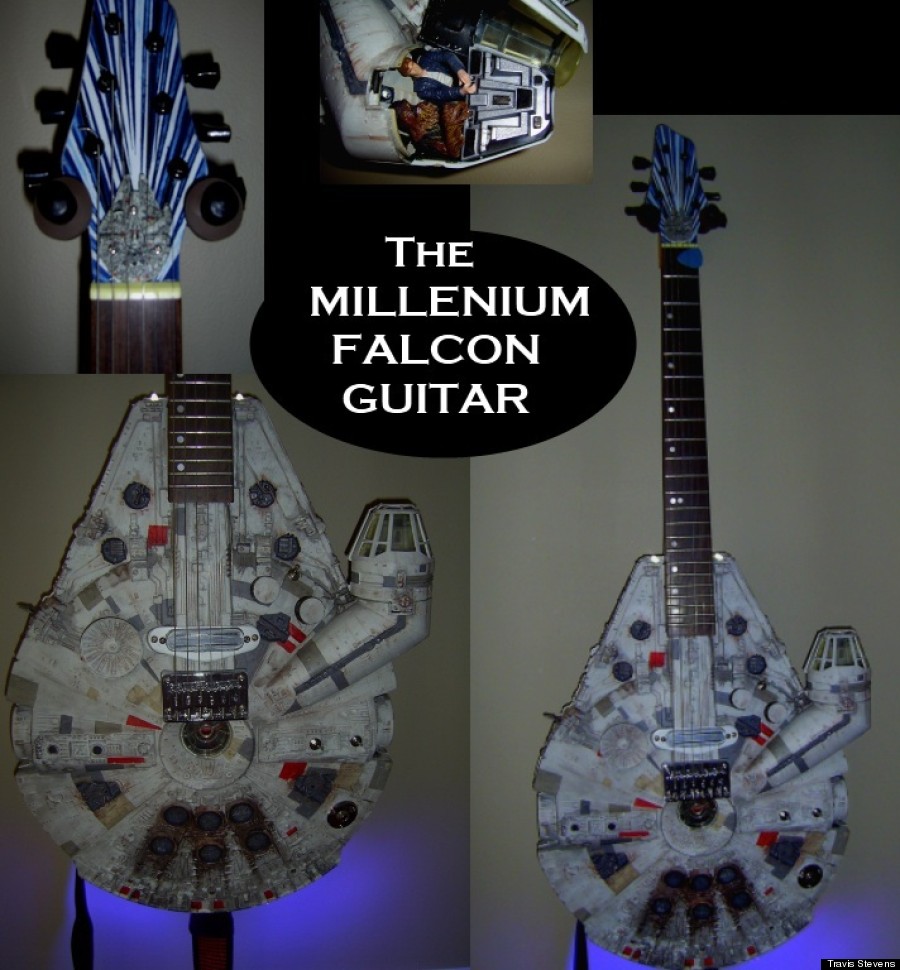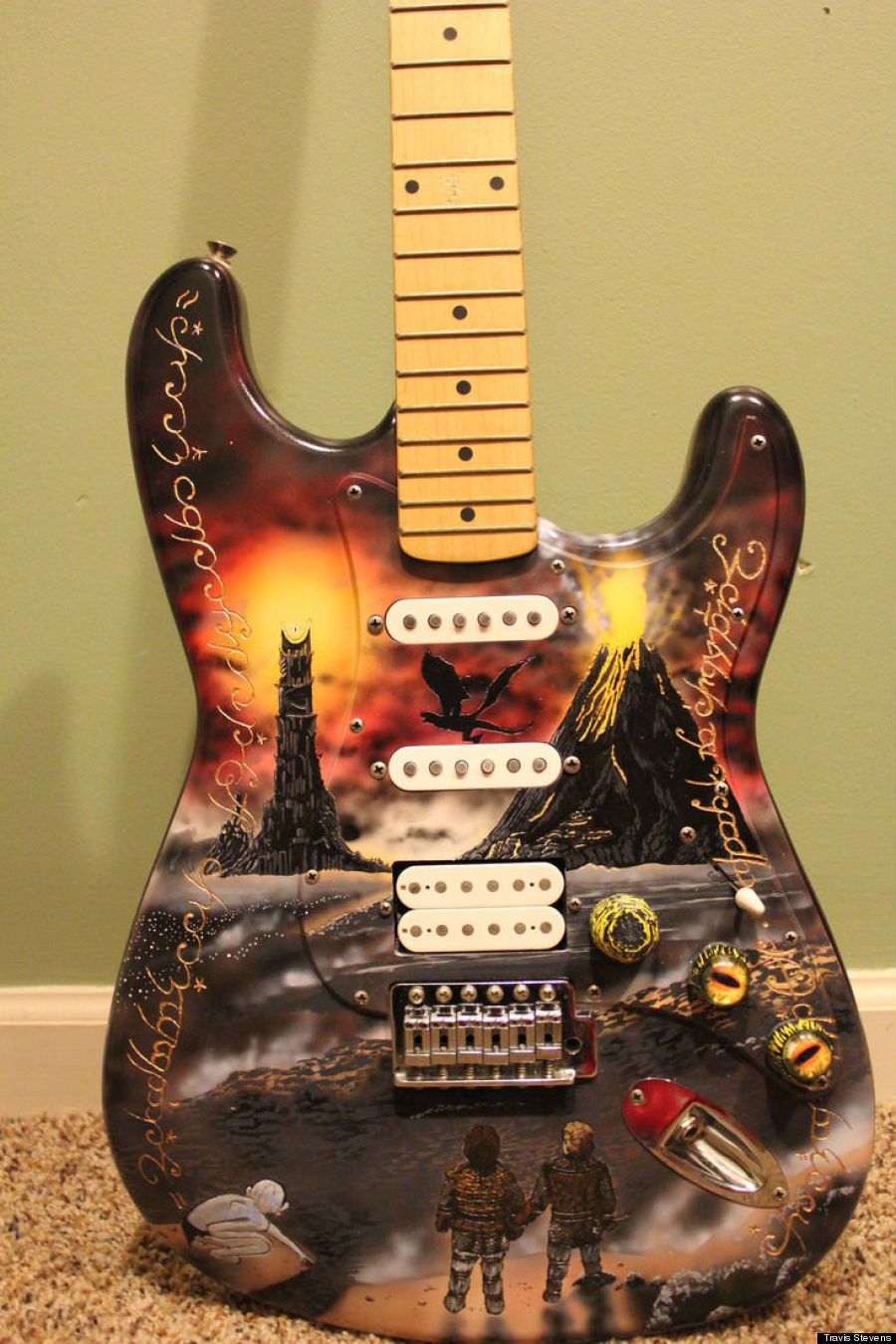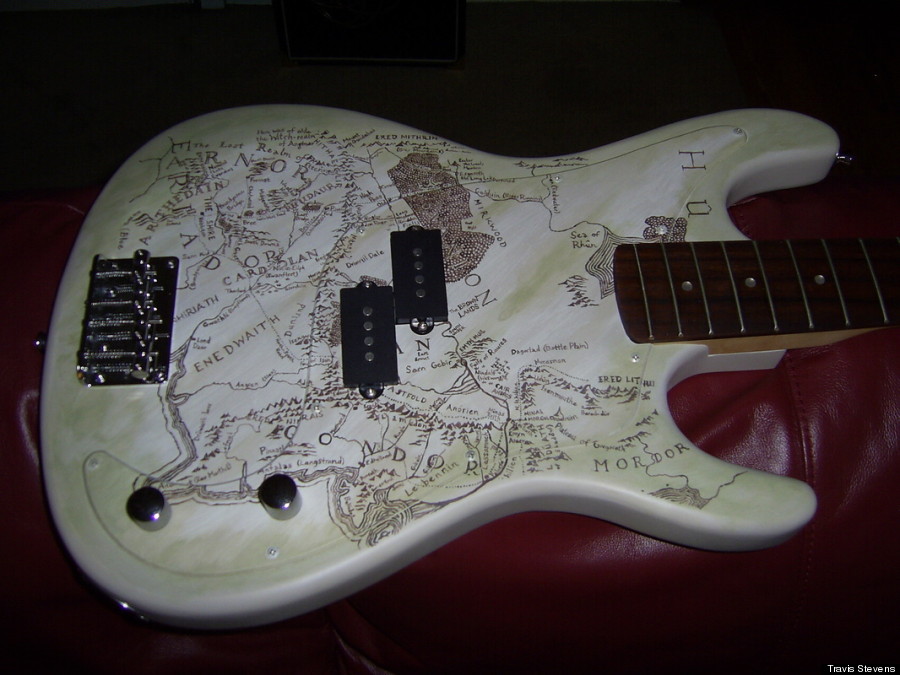 "It's fun to take my favorite movie scenes and build them with as much detail as possible," Stevens said. "My biggest yet was a five-foot-tall Goblin-town diorama from the first 'Hobbit' film, complete with play features, flickering LED torches and Gollum's lair. It was satisfying to build something that size, but a bit of a mistake -- most people don't have room for a five-foot monster diorama."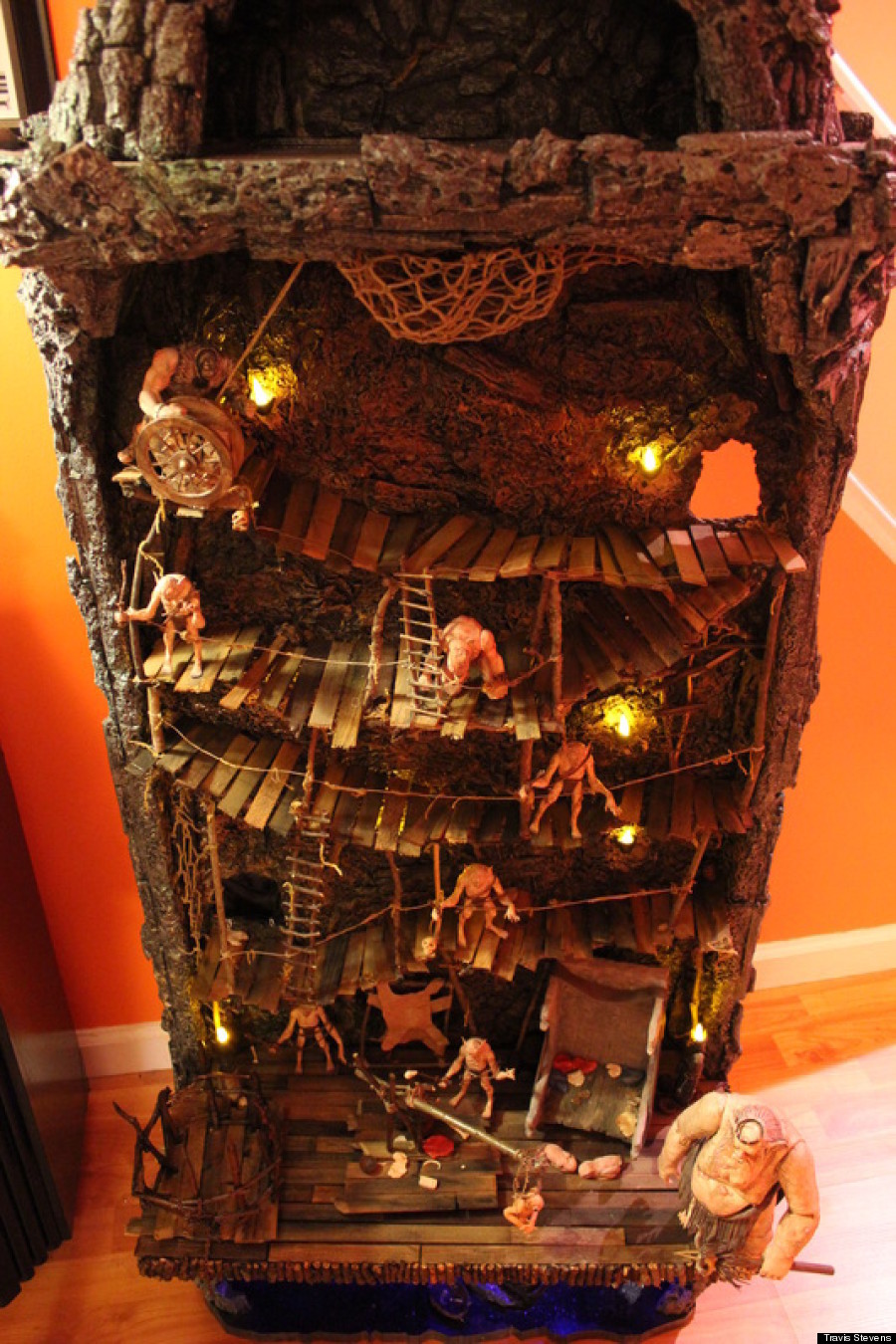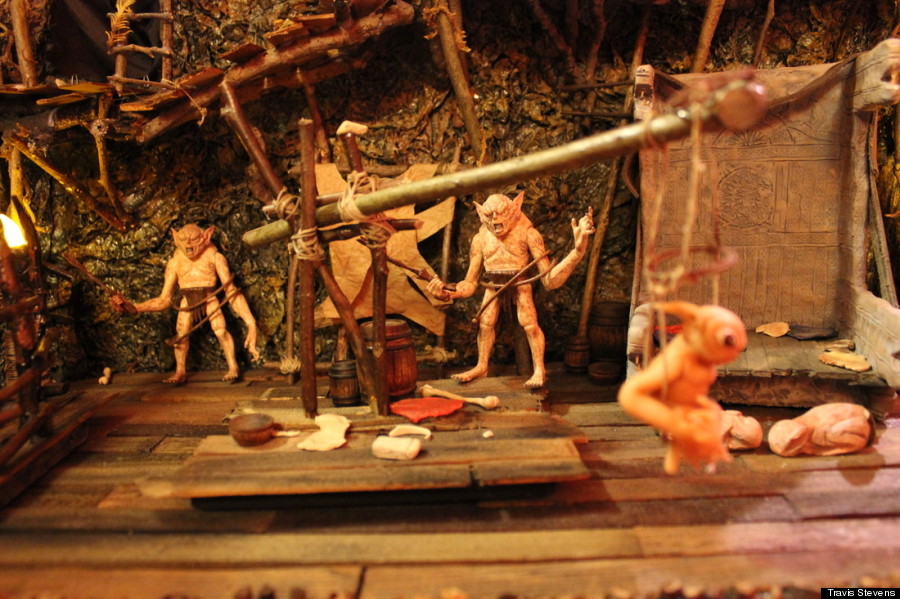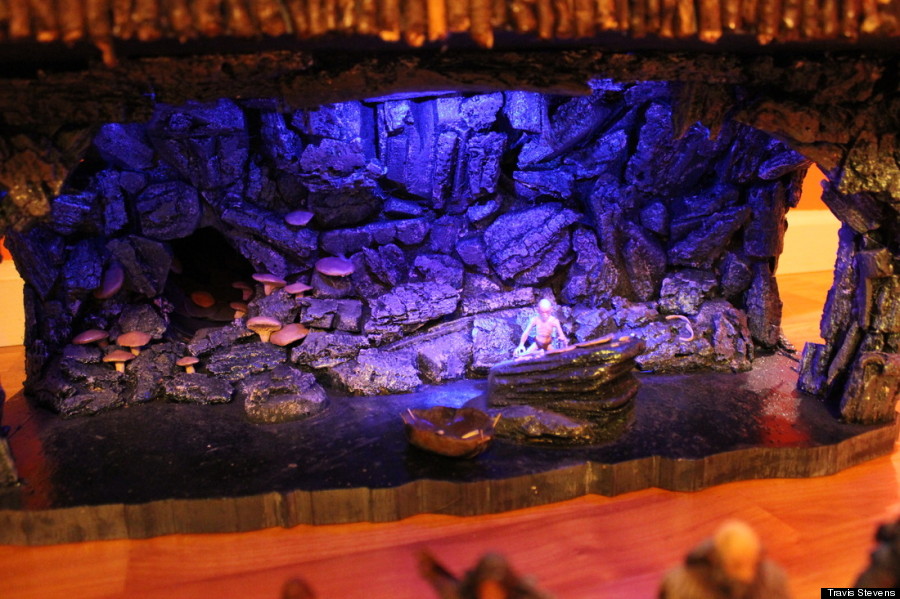 Stevens said that he has several projects in the works currently, including a few commissioned "Indiana Jones"-themed dioramas and two more Millennium Falcon guitars. After those are complete, he plans to work on a guitar featuring vintage "Teenage Mutant Ninja Turtles" artwork and a much more extensive "Jurassic Park" guitar.
"This will be my next major showpiece," Stevens said. "It will be called the 'T-Rocks,' which gives away at least some of the design."
To check out more of Stevens' designs, visit his website, where you can also contact him with any questions, or by emailing him directly at travisstevensnerdcrafts@gmail.com.
Calling all HuffPost superfans!
Sign up for membership to become a founding member and help shape HuffPost's next chapter
BEFORE YOU GO
PHOTO GALLERY
See Your Favorite Artists Turned Into LEGO