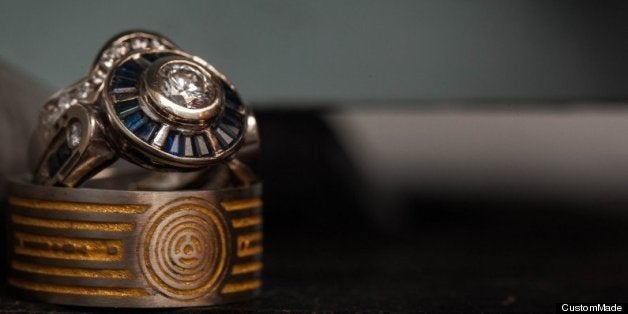 Last November, we told you about the incredible R2-D2 engagement ring New Jersey tattoo artist Joe Pagani made for his girlfriend, Emily. When it came time for Pagani to choose his own ring for his wedding last month, he continued the "Star Wars" theme -- with a C-3PO-inspired band.
Pagani asked the same jewelry designer who created the R2-D2 ring, CustomMade artist Paul Bieker, to craft the C-3PO ring, which features circles and parallel lines reminiscent of the "Star Wars" droid. Bieker also created a band to match Emily's engagement ring.
Pagani told HuffPost Weddings in an email that once he made the R2-D2 ring, making the C-3PO band was "essential."
"For me, I knew that getting married was a huge event, but I still wanted it to feel like me," Pagani said. "My favorite part of it is that, personality-wise, I am way more like R2-D2 and Emily is way more like C-3PO, so symbolically, I'm wearing her ring and she's wearing mine."
Check out photos of the ring in the slideshow below, and if you still can't get enough "Star Wars" weddings, check out these proposals and nuptials inspired by the Galactic Empire.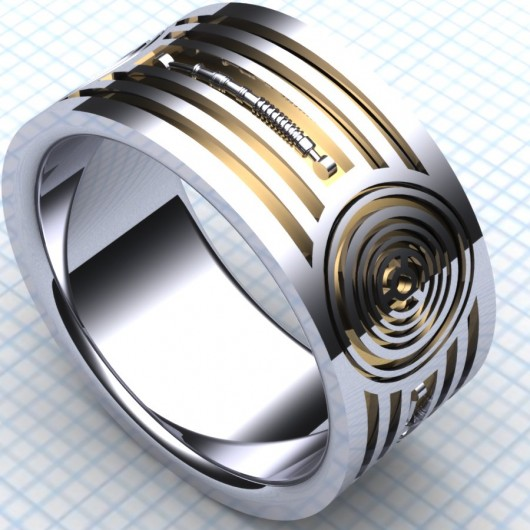 CustomMade C-3PO Wedding Band