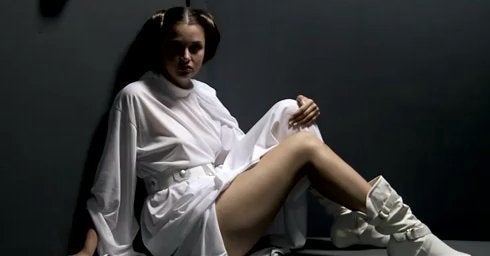 Use the force. Fly the X-Wing. Master the light saber. The puns alone are a reason to do a porn parody of "Star Wars."
Introducing the trailer for "Star Wars XXX: A Porn Parody," the high-budget (for a porn) send-up of George Lucas's classic space adventure. Directed by porn auteur Axel Braun and produced by Vivid Entertainment, the flick seems surprisingly well-done, at least as far as porn film CGI goes. The trailer shows no sex at all, only teasing at a bit of steam between Princess Leia and Darth Vader. Which, if you thought Leia kissing her brother Luke was bad, should really disgust you.
For those concerned that this film will soil the franchise, fear not. Allie Haze, who plays Princess Leia, vouched for the production's geek credentials in an interview this summer.
"I liked all the 'Star Wars' movies, the originals I guess you would say, versus the newer ones," she said, clearly aware of which fanboy buttons to press. "Obviously the technology was better now when they added to them, but I like old school sci-fi, like 'Tremors,' real old school. So I like it a lot. This is along the lines to that, they're staying really true to the original."
Check out the trailer below, and the interview with Haze below that.
Popular in the Community