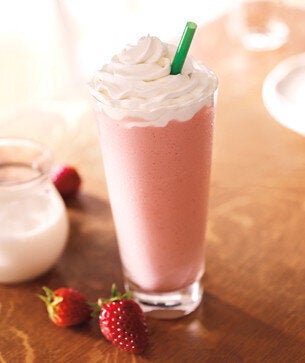 UPDATE: Starbucks has announced it will no longer use cochineal extract in its Strawberries & Creme Frappuccino drinks and other products, instead opting for a tomato-based ingredient called lycopene.
As I first shared on March 29, we've learned that we fell short of your expectations by using natural cochineal extract as a colorant in four food and two beverage offerings in the United States. Our commitment to you, our customers, is to serve the highest quality products available. As our customers you expect and deserve better – and we promise to do better.

After a thorough, yet fastidious, evaluation, I am pleased to report that we are reformulating the affected products to assure the highest quality possible. Our expectation is to be fully transitioned to lycopene, a natural, tomato-based extract, in the strawberry sauce (base) used in our Strawberries & Crème Frappuccino® blended beverage and Strawberry Banana Smoothie. Likewise, we are transitioning away from the use of cochineal extract in our food offerings which currently contain it (Raspberry Swirl Cake, Birthday Cake Pop, Mini Donut with pink icing, and Red Velvet Whoopie Pie).

This transition will occur over time as we finalize revisions and manage production. Our intention is to be fully transitioned from existing product inventories to revised food and beverage offerings near the end of June across the U.S.
Starbucks may soon cave to pressure and reformulate its Strawberries & Creme Frappuccino, which last week was revealed to contain cochineal extract ― dried and crushed beetles commonly used as dye.
In an interview with "CBS This Morning," Chief Executive Officer Howard Schultz explained that the product will likely be changed:
"No good deed goes undone. We tried to embrace an all-natural method for this product. In fact, we discovered that most women in America wearing red lipstick have this ingredient. It's everywhere, it's all-natural. We are examining it and probably will reformulate (the drink). ... We're looking at (alternative ingredients). We're going to make the right decision."