"I should be crying, but I just can't I let it show," sings Kate Bush in one of her signature compositions, 1988's "This Woman's Work." The song, written specifically for the John Hughes film "She's Having a Baby," accompanies a climactic sequence in which an expectant father sits helplessly in an Illinois hospital waiting room while his wife struggles to survive a very complicated labor. As the music builds, so does the emotional confusion.
For Gen X-ers, that Hughes movie scene endures today as an indelible reminder of the uncertainty and fragility of pregnancy and childbirth, whether you're a woman delivering a baby in a high-tech Chicago maternity ward or in a one-room clinic in Tanzania.
It's no surprise then that a noble remake of "This Woman's Work" (sung by Oscar winner Gwyneth Paltrow) would appear on "Every Mother Counts," a new 15-song Starbucks compilation CD co-produced by supermodel/maternal health advocate Christy Turlington Burns, whose documentary, "No Woman, No Cry," follows women in four countries as they face harrowing obstacles to receiving health care during their pregnancies.
After reading about the making of Turlington Burns' film in Vogue magazine last year, Starbucks Editorial Manager David Legry sat down with her to craft a companion CD featuring a dream playlist by musical moms. By recruiting friends such as Paltrow, Madonna, Jennifer Lopez and models Karen Elson and Carla Bruni, as well as revered musicians Rosanne Cash, Patti Scialfa, Angelique Kidjo, Toshi Reagon and others for the Starbucks project, Turlington Burns hopes the "Every Mother Counts" CD -- and her recently-launched advocacy initiative of the same name -- will bring mainstream attention to maternal health issues in the weeks leading up to Mother's Day.
"It's a delicate balance," Turlington Burns tells me of educating the public about maternal mortality. "The subject matter is intense, and I don't want to scare people. You need to be aware, but when you're [pregnant], you don't need more to convince you that something could go wrong."
Turlington Burns knows this fear firsthand: she experienced a life-threatening hemorrhage during her first pregnancy, which spurred her to pursue a Master's degree in public health and become an advocate for women's health and an ambassador for the organization CARE ($8 from the sale of each "Every Woman Counts" CD will go to CARE's maternal health programs in coffee-growing countries).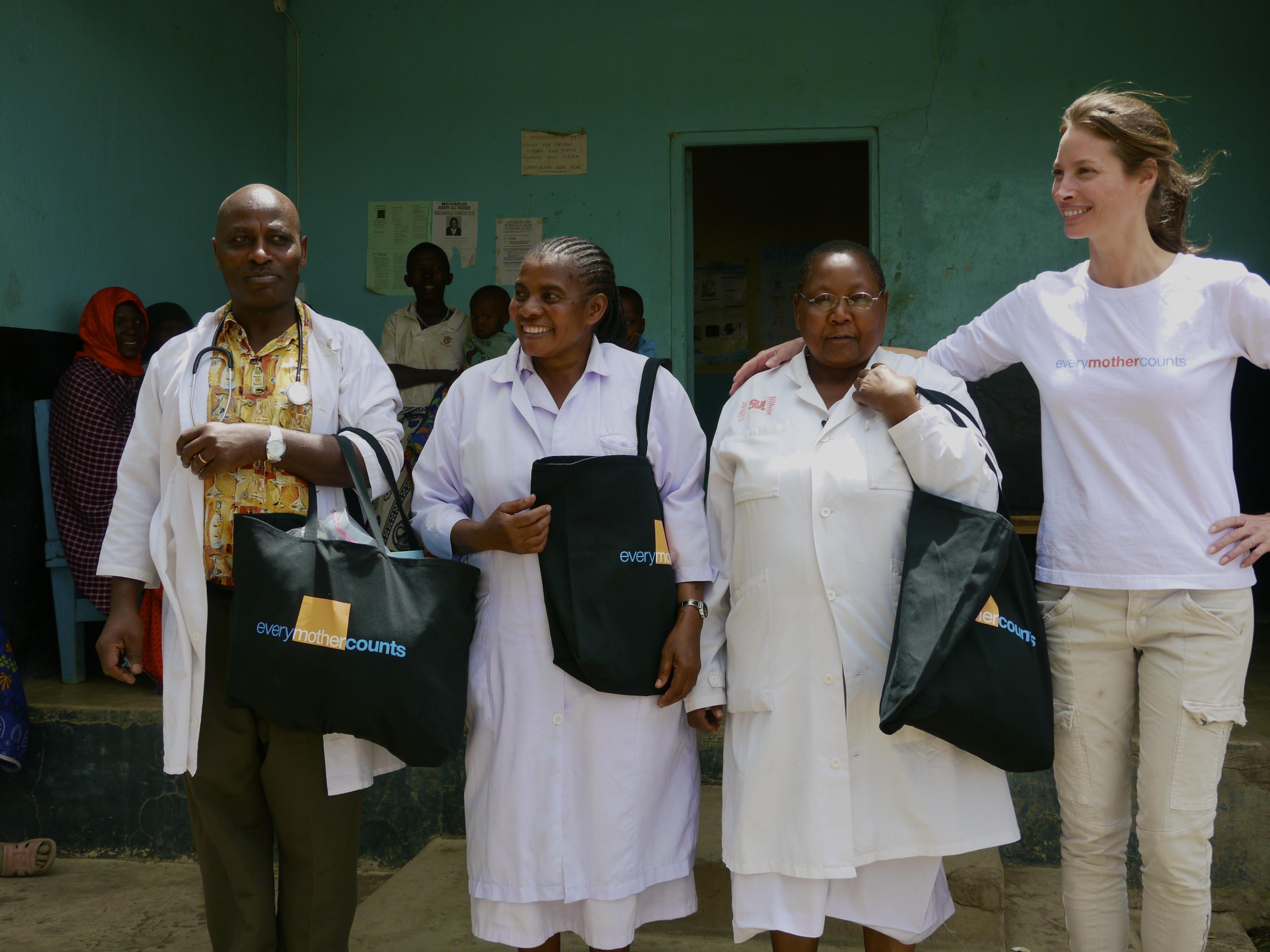 Christy Turlington Burns (far right) with health workers in Tanzania, January 2010
Photo courtesy of Every Mother Counts
Worldwide, the statistics remain startling: one woman dies every minute due to complications from pregnancy and childbirth. And guess where the U.S. ranks globally in reducing overall lifetime risk for maternal deaths? Definitely not in first place.
"Most people think that this is something we've gotten beyond in our country," Turlington Burns says. "We've made huge progress in the last 100 years, but recently we've started to go backwards -- from 41st to 50th? It's shocking."
For singer Martha Wainwright, whose mother (the late great folk star Kate McGarrigle) suffered the loss of a child during birth, a chance meeting with Turlington Burns at a UN-sponsored dinner in 2009 proved at once fortuitous and cathartic: she was a pregnant singer seated next to a model making a film about pregnancy and childbirth.
"It struck a big chord with me," Wainwright tells me of later being asked to contribute the title track to the "No Woman, No Cry" film (the song also appears on "Every Mother Counts"). "I had just gone through an emergency C-section and traumatic birthing experience. So I really wanted to participate in any way I could."
Wainwright literally recorded her harmonium-filled cover of the Bob Marley classic "No Woman, No Cry" and the winsome original "Leave Behind" just weeks after giving birth, while her premature infant was still in an incubator. The result: palpable emotion to which every mother can relate.
As for the other performances on "Every Mother Counts," even Legry, who worked with the artists to determine the songs for the CD, admits tracking could have been tricky. "There was some skepticism at first about having a bunch of A-list artists. 'Good luck with that,' people told me." But once the project "picked up speed," Legry says, the results were "stunning."
From Rosanne Cash's acoustic "Motherless Children" to Scialfa's rock-waltz "Children's Song" (featuring hubby Bruce Springsteen), the CD has no shortage of sincere renditions and exclusive recordings. And both Legry and Turlington Burns agree that the poignancy of "This Woman's Work" remains peerless. "Gwyneth sent [the recording] to Christy," Legry says, "And then Christy and I were listening to it online simultaneously, and we were both like, 'Wow, she nailed it.' It's one of my favorite songs on this record."
The "Every Mother Counts" CD is available in Starbucks stores April 12 to May 9, 2011 or while supplies last. To learn more about maternal health issues and how you can get involved, as well as more information about the May 7 television premiere of "No Woman, No Cry" on the Oprah Winfrey Network, visit EveryMotherCounts.org.
Fun note to fans of "This Woman's Work": songwriter Kate Bush, who is not involved with the "Every Mother Counts" CD, will, coincidentally, release her own new version of the song as part of her Director's Cut collection on May 16.
Related
Popular in the Community