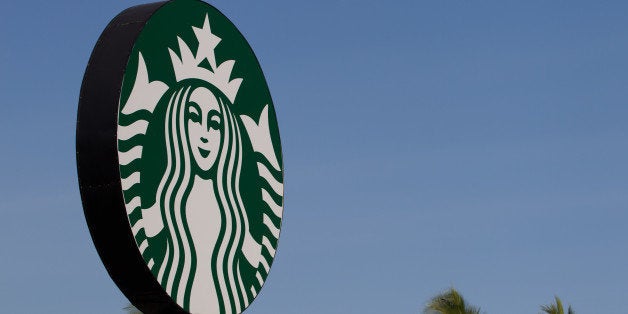 Mega coffee chain Starbucks has once again inserted its brand into the social and political arena. This time, its CEO Howard Schultz has taken a public stand on same sex marriage by telling an anti-gay investor that he's not welcomed.
Starbucks, already known for its support of gay rights, turned a corporate policy into a public debate this week after its CEO was accosted by a group called the National Organization for Marriage (NOM). The group is known for lobbying hard against proposed legislation that would legalize same sex marriage, among other proposed gay rights laws.
NOM is putting pressure on Starbucks by calling for a national boycott of the coffee chain. The plan is that such a boycott will eventually pressure the chain to revoke its pro-gay policies. However, I'd argue that the organization knows that such a boycott will have little effect on the company's policies. Its real goal is self-serving: Driving media attention to its platform.
The game of boycotts is certainly not new, and it's one that's gaining in popularity for both businesses and activists. Increasingly, businesses are taking public stands on contentious issues in hopes of solidifying their customers' loyalty by appealing to their values. Similarity, activists are calling for boycotts of businesses whose public stances are contrary to their social, religious or political views. Boycotts have become a new weapon for corporations and activists alike, in their war for media attention and consumer loyalty.
I've previously argued that from fast food chain Chick-fil-A to pasta manufacturer Barilla, businesses are increasingly courting controversy as a business strategy.
We're all familiar with the waves created by Chick-fil-A, an Atlanta-based fast food restaurant, for comments made by owner Dan T. Cathy supporting the "biblical definition of the family unit..."essentially speaking out against gay marriage rights. It created a viral social media storm that saw many people across the nation boycotting the restaurant chain, while an equal (if not greater) number hopped on organized bus tours to local Chick-fil-As to buy chicken sandwiches in support of the restaurant.
That firestorm came on the heels of another social boycott campaign that erupted after Kraft Foods posted a Photoshopped advertisement of an Oreo ("America's Favorite Cookie") stuffed with rainbow colored layers and the caption: "Proudly support love." Reaction to both cases was like an unexpected tsunami, and they quickly became the main topic of conversation across social media, television and newspapers as well as at both boardroom and kitchen tables across North America.
Pasta Manufacturer Speaks Out Against Gay Marriage
Last month, Italian gay rights activists launched a boycott of Barilla, the world's leading pasta maker, after its chairman Guido Barilla said he would only portray the "classic family" in his advertisements. If that were not enough, he went on the attack by saying that if people objected to his position, they should feel free to eat a different kind of pasta. These comments were made to reporters when questioned about his earlier declaration that he would "not consider using a gay family to advertise Barilla pasta."
For us the concept of the sacred family remains one of the basic values of the company. I would not do it but not out of a lack of respect for homosexuals who have the right to do what they want without bothering others... [but] I don't see things like they do and I think the family that we speak to is a classic family. -- Barilla
When questioned on the effect that such a public statement would have on the sales of his product, especially among his gay customers, he said, "Well, if they like our pasta and our message they will eat it; if they don't like it and they don't like what we say they will... eat another."
If you feel, respectfully, that you can get a higher return than the 38 percent you got last year, it's a free country. You can sell your shares of Starbucks, and buy shares in another company. Thank you very much.
By aligning its brand values with a hot political and civil issue, each company is drawing a line in the sand, especially Starbucks and Barilla. Advocates for gay rights and their supporters will move to one side, opponents to the other. Barilla and Shultz are betting that those who support or boycott their product will do so in public statements only and/or that those who support their respective positions will become fervent advocates and buy more products. In either case, each is drawing a line in the sand, knowing full well that his public comments will be divisive.
The key here is that more often than not, controversy sells. Precedent seems to have been set. Expect more of these public "us vs. them" stances being made by corporate CEOs and an equally decisive reaction from activists.
Related
Popular in the Community