Starbucks wants its coffee to be the first thing you grab in the morning -- from your own kitchen. The Seattle-based coffee chain, which over the last two decades has grown its cozy cafe brand to include thousands of locations on six continents, has plans to introduce branded coffee kiosks, called "Signature Aisles," to supermarkets across the U.S. in the coming months.
Last week, Starbucks introduced the aisle to a group of journalists in a loft in New York City. The fixture, which has the look of a truncated grocery aisle, was done up in colors and textures reminiscent of a Starbucks cafe. A lone sconce in warm yellow hung in one of its corners, below the large, green mermaid of Starbucks' logo. Shelves were jam-packed with Starbucks' retail offerings, most notably the chain's Blonde Roast, which hit stores in January.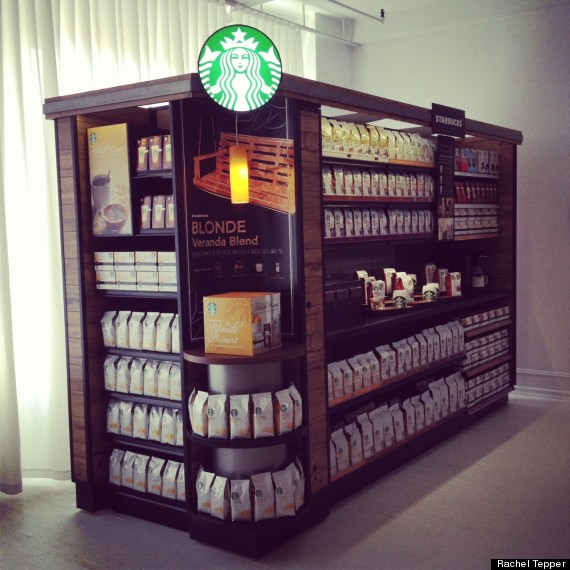 Twenty-five of them are already in grocery stores -- Safeway, Vons, Dominick's and a single Kroger -- mostly in California. The others are scattered among Washington, Illinois, Colorado and Ohio. But expect that to change soon.
"Over the next year or so, we'll have an elevated aisle fixture in multiple retailers across more than 100 stores," said Joe Manning, Starbucks' director of channel development, in an interview with The Huffington Post. Those stores will be spread across the country, with the next likely to be on the East Coast. The chain is currently in final talks with one major grocery chain to place the aisle in some of the region's stores, according to Manning.
The aisles are stocked with some retail staples associated with Starbucks cafes, like the Blonde Roast, cocoa, K-Cups and Via products, but also with the several varieties of Starbucks' packaged coffee, which are not sold in Starbucks cafes. There is potential in the future to introduce other products, such as bottled Frappuccinos, but Manning would not go into specifics. "We're going to continue to look at the correct breadth of products," he said.
Starbucks' move to boost its grocery-store presence is influenced by the success of at-home coffee products from brands like Folgers and Maxwell House, which Manning named specifically. "The vast majority of coffee is still consumed at home," he explained, "and Starbucks is a very key part of the at-home experience, but we know there's much more that we can do."
According to an August 2012 report on coffee production in the U.S. compiled by market research firm IBISWorld, Starbucks had 12.8 percent of the market share -- behind two major producers of at-home coffee products, Kraft Foods Inc. (18.3 percent) and the J.M. Smucker Company (24 percent). Kraft owns Maxwell House, its only coffee brand, and Smucker's operates Folgers, Millstone, Kava and Cafe Bustelo, Cafe Pilon, and manufactures retail products for Dunkin' Donuts.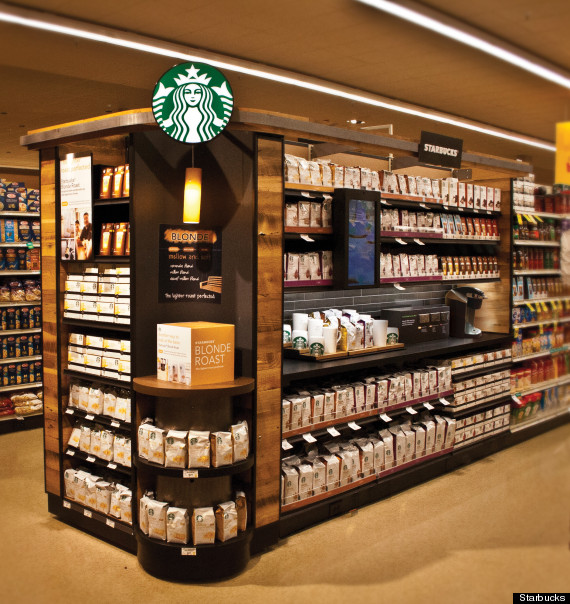 Grocery retail isn't new for Starbucks. Starbucks reps tell HuffPost that the chain has sold coffee for at-home consumption outside its retail stores since the mid-1990s, when it began roasting private label coffee for Costco Wholesale. Today, that coffee is sold under the Kirkland Signature Brand.
In 1998, Starbucks began expanding distribution of the chain's packaged coffee -- the stuff not sold in cafes -- to grocery stores across the U.S. For the next 12 years, the products were distributed to grocery stores and other retailers in partnership with Kraft. But in late 2010, a dispute arose between the two companies. Starbucks alleged that Kraft failed to market its brands in stores satisfactorily and wished to break the agreement, but Kraft countered to a federal judge that Starbucks should not be allowed to do so. The court later ruled in Starbucks' favor, allowing it to terminate the partnership.
According to the companies' contract, Starbucks was allowed to buy its way out by paying the market value for the business and a premium of up to 35 percent, and in August of 2010, it offered Kraft $750 million. Kraft turned it down -- a New York Times article at the time cited analysts that put the fair market value at more than $1 billion. Starbucks and Kraft are currently in arbitration over appropriate compensation, according to Starbucks representative Alisa Martinez.
With its new aisle, Starbucks is angling for a grocery store presence that surpasses that of its Kraft years, and that laps Kraft and Smucker's. Starbucks has an edge on both in its cafe experience, which it believes will translate in the aisle. "We're leveraging the elements that have made our brand great, and bringing them into the grocery," Manning said. "Starbucks has been in the grocery aisle for a little more than 10 years now, but what we're doing now is we're really elevating our presence."
Starbucks aims to bring the cafe experience to the grocery with periodic sample tastings, "to layer in some of that human connection," Manning said. In addition, rotating messaging spots and a pamphlet area built into the aisle will provide educational information about the roast profiles and sourcing of various products. There are also plans to introduce elements highlighting coffee and food pairings, the fundamentals of coffee and helpful brewing tips. Beginning in May, shoppers will be able to earn My Starbucks Rewards points with purchases of packaged coffee in grocery stores.
How successful Starbucks will be in transforming its cafe fans into grocery shoppers loyal to its products remains to be seen. Branding expert Priya Raghubir, a research professor of marketing at New York University's Stern School of Business, is skeptical.
"I think they sell an experience and I don't know whether you can convert that experience into a product and keep it the same," she told The Huffington Post. Where are the overstuffed couches? The free WiFi? The smell of coffee hanging in the air? These are elements, she explained, that have helped make Starbucks the massively popular brand that it is. Without them, she warned, Starbucks could face a "potential cheapening of the brand."
It's a valid concern, given the chain's recent move to lower the suggested price of its bagged coffee from $9.99 to $8.99. Manning was adamant that the aisle offers a "premium" Starbucks experience for at-home enjoyment, but Raghubir said she wonders if these same shoppers will then bother to shell out for more expensive cafe drinks.
Whatever the case, it is clear that Starbucks wants to make its grocery retail products a more prominent part of its portfolio. "Starbucks is passionate about coffee," Manning said, "and the more that we can help shoppers [and] customers learn and appreciate about coffee, [the more] they're going to be excited to continue engaging in coffee."
Related
Before You Go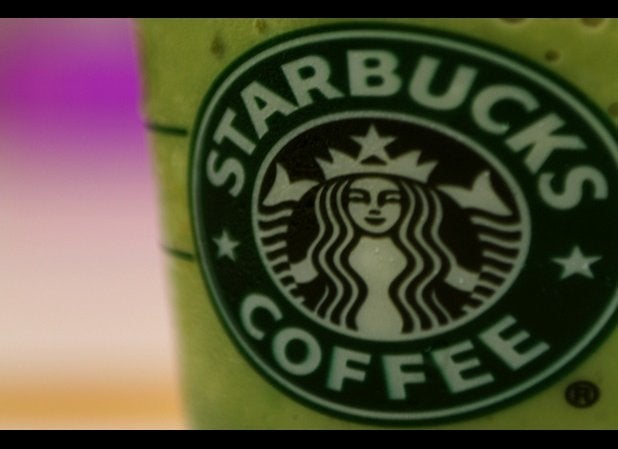 More Drinks on Starbucks Secret Menu
Popular in the Community