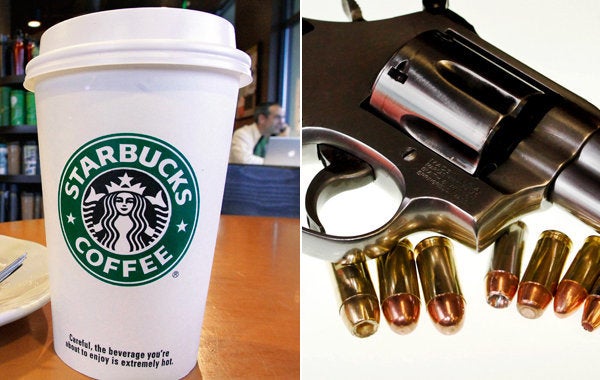 Gun-and-latte aficionados can rest easy. Despite an outcry from advocacy groups, Starbucks says it will continue to allow customers to bring licensed firearms into their stores.
SEATTLE -- Coffee chain Starbucks says it's sticking to its policy of letting customers carry guns where it's legal and is asking not to be put in the middle of a larger gun-control debate.

The statement stems from recent incidents when gun owners have walked into Starbucks and other businesses to test state open-carry gun laws. Gun control advocates have protested.

Starbucks is asking both sides "to refrain from putting Starbucks or our partners into the middle of this divisive issue."

Businesses can choose to ban guns from their premises. But Starbucks says if it did that, it would have to turn away "law abiding customers."
Peet's Coffee and the California Pizza Kitchen chain have banned guns from their locations. SFGate.com passes this statement along from Peet's:
While Peet's Coffee & Tea respects and values all individuals' rights under local, state and federal laws, our policy is not to allow customers carrying firearms in our stores or on our outdoor seating premises unless they are uniformed or identified law enforcement officers. Like most other private businesses, particularly retail establishments, we believe this policy is in the best interests of all of our customers, regardless of their personal beliefs. In no way does this policy conflict with or discriminate under the law, and it does not take a position on the law.
Related
Popular in the Community