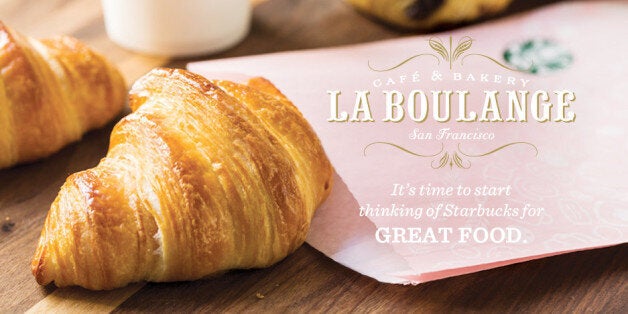 NEW YORK -- On Tuesday morning, the Starbucks at 72 Spring Street in lower Manhattan was even more crowded than usual. People were curious about the coffee chain's new selection of baked goods from San Francisco bakery La Boulange, which had debuted citywide only hours earlier.
In an illuminated display case lined with pink paper, the new offerings were many. Stellar chocolate croissants and individual caramelized apple cakes would befit a French bistro. Spiced pumpkin loaves swirled with cream cheese were dense and flavorful, and savory croissant tarts with toppings like tomato, butternut squash and spinach were airy and flaky, but filling. All were served warm.
"We need to bring great food to great coffee," Pascal Rigo told The Huffington Post over the din of customers waiting in line. Rigo, the vice president of Starbucks' food category, is also the owner of La Boulange. He said the new baked goods selection amounts to Starbucks' largest-ever investment in food and shows a shifting ethos.
Food "was an afterthought" in previous years, Rigo said, but the new baked goods and a forthcoming line of sandwiches, salads and soups (some of which are currently in testing) will help Starbucks take a bite out of the lunch market.
To illustrate his point, Rigo pointed to lunchtime competitor Subway. Between 11:30 a.m. and 2 p.m., a Subway outlet that serves 140 customers sells 140 lunches, he said. During the same time period, a Starbucks shop that serves the same number of customers sells only eight lunches. "There is a problem," Rigo said.
Starbucks reps said the chain has been slowly rolling out La Boulange baked goods to about 3,000 stores since April, starting in Los Angeles and spreading to the San Francisco Bay area, Chicago, Seattle, Portland, Ore., and Phoenix. New York City is the first market on the East Coast to receive them and, at 500 stores, the largest launch yet. Next up, Boston, New Orleans and Florida. By July 2014, all of Starbucks' U.S. stores will feature the products.
Despite the huge scale of the La Boulange rollout, Rigo said 25 percent of all offerings will be customized to individual markets. That means adjustments like using apples from upstate New York in caramelized apple cakes for New York City and offering sausage roll sandwiches in Chicago.
In addition to baked goods, items on the regular menu may include sandwiches stuffed with brisket and aged cheddar; mozzarella and sun-dried tomatoes; turkey, tomato and provolone; ham, caramelized onions and creme fraiche; and roasted vegetables. Soups like chicken noodle, roasted tomato, minestrone and cream of mushroom are also in the works, as are salads of curry chicken, egg whites and orzo. These items will be offered for the first time in October, in about 40 stores in the Bay area. A major lunch rollout will take place sometime next year.
As for the future, Rigo has grand schemes. He's already in talks with Canadian stores to take La Boulange north of the border, and he said he can easily see the items playing well in the U.K. and China. "It's a good time to be in charge of food at Starbucks," he grinned.
Take a look at some of Starbucks' new La Boulange offerings.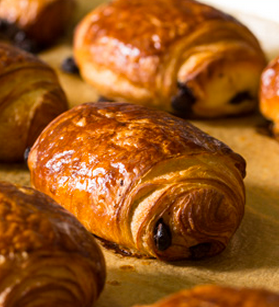 Starbucks' New Bakery Offerings From La Boulange
CORRECTION: A Starbucks rep amended a previous figure supplied to The Huffington Post. La Boulange products are currently in 3,000 stores, not 4,500.
Popular in the Community