As of September 8, there were 12,937 Starbucks stores in the United States. That's more than the number of Pizza Huts, Burger Kings or Dunkin' Donuts, but less than the number of Subways or McDonald's. It's more than the number of golden-crowned sifakas in Madagascar, but less than the number of people in Rock Springs, Wyoming. So what does it really mean?
University of Washington PhD candidate Jim Davenport decided to find out. He posted the results of his inquiry on his data blog If We Assume Thursday, complete with a few beautiful graphics. The most striking was a map of the lower 48 states with all the stand-alone Starbucks locations plotted in green: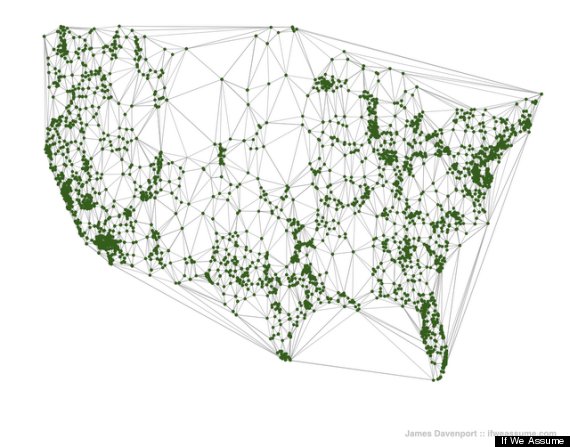 The map doesn't include locations that are within other businesses, like grocery stores, so it's not 100 percent complete. But Davenport discovered that it's impossible to get more than about 170 miles away from a standalone Starbucks location at any point in the U.S. That's not quite as crazy as McDonald's, which is never more than 115 miles away, but it's still insane.
Even more amazingly, he found than 80 percent of the 311 million people living in the U.S. live within 20 miles of a Starbucks. And almost 50 percent lives within five miles of a Starbucks. No wonder the coffee chain is looking for far-flung, controversial spots to open new stores!
(via Eater)
Calling all HuffPost superfans!
Sign up for membership to become a founding member and help shape HuffPost's next chapter
BEFORE YOU GO
PHOTO GALLERY
World's Coolest Starbucks Stores