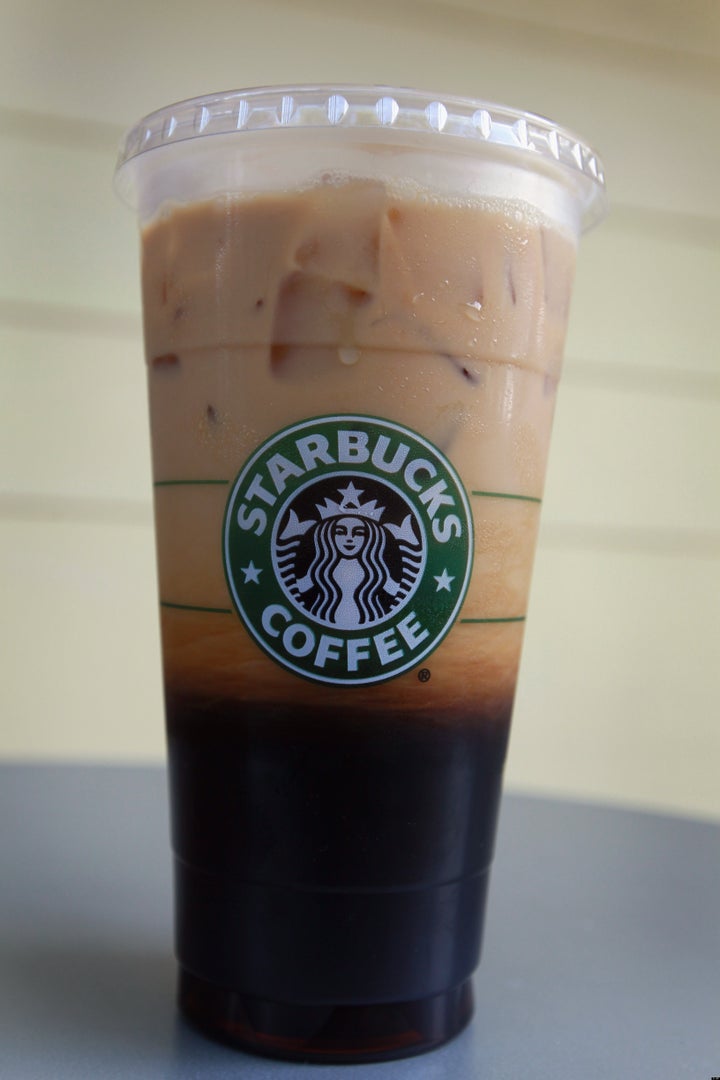 Ever wondered what's the most a cup of Starbucks coffee could cost?
Blogger Logan Warren asked himself the same question, and with the help of a local Starbucks barista and a whole lot of add-ons, he's found the answer: $23.60.
The beverage, purchased with a Starbucks gift card, is described as a juiced-up, 31-once, Trenta-sized Java Chip Frappuccino included "16 shots of espresso, a shot of soy milk, caramel flavoring, banana puree, strawberry puree, vanilla beans, Matcha powder, protein powder, and a drizzle of caramel and mocha," according to Geek on Call (h/t Newser).
"We're pleased to hear this My Starbucks Rewards customer was able to find great value in his free birthday beverage and develop a unique creation," a Starbucks spokesman told The Huffington Post. "As you can see by the receipt, which is dated March 2011, the base beverage was a Venti Frappuccino, not a Trenta. Our Trenta-size cup is only available for Starbucks® Iced Coffee, Tazo® Shaken Iced Tea and Iced Tea Lemonades. To ensure consistent service, this policy has been reinforced with our store partners (employees)."
But compared to the cost of of some other coffee drinks, the price tag for these two creations is just a drop in the hat (or used coffee cup in this case). For example, a pound of Asian Palm Civet coffee beans can cost up to $600 because of the special methods required to harvest the brew, CNBC reports. Rare South East Asian coffee cherries are eaten by the cat-like, tree-dwelling Asian Palm Civet who then excretes the leftover indigestible beans in its droppings to be gathered and ultimately brewed into coffee.
The enzymes and acids of the digestion process are said to produce a coffee that's "smooth, chocolaty and devoid of any bitter aftertaste," according to the New York Times.
Portland's H50 Bistro and Bar may offer a $300 cup of coffee, but it's the fancy liquers included in the drink, such as Louis XIII cognac and Grand Marnier 150 Years Old, that drive up the price, according to Zagat.
The Seattle-based brand isn't the only chain to stretch the limits of the definition of fast and traditionally affordable food. A West London Burger King once offered a burger priced at $200. Part of the price tag included donations to charity, but it was no ordinary Whopper. Instead, it featured rare ingredients such as Wagyu beef, white truffles and Iranian Saffron.
UPDATE: This post has been updated to include a response from Starbucks and information about another expensive Starbucks drink.
BEFORE YOU GO