Starbucks plans to close more than 8,000 locations next month so that employees can receive racial bias education after two black men were arrested at one of the chain's stores, the company announced Tuesday.
The announcement comes one day after Starbucks CEO Kevin Johnson met with the men who were arrested Thursday while they waited for a friend at a cafe in Philadelphia. Protests broke out at that Starbucks location on Monday, and demonstrators said the arrests were indicative of institutional racism.
The company said the training would aim to address implicit bias, teach employees how to prevent discrimination and promote conscious inclusion. Employees will receive the training on and the stores will close for the afternoon of May 29.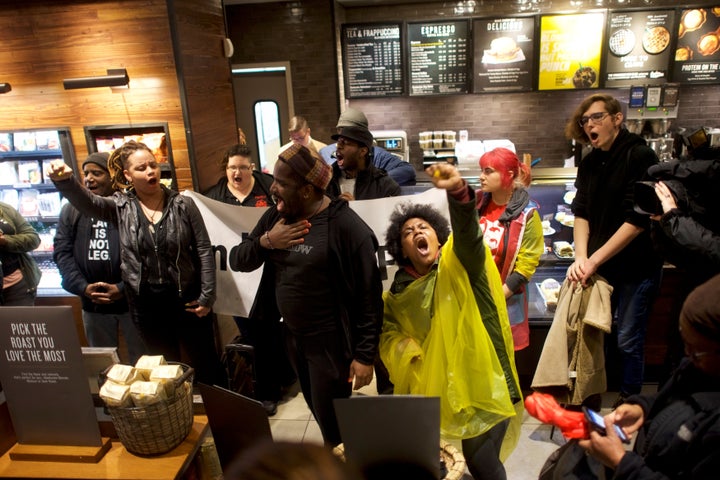 Johnson did not give any details on his discussion with the two men, but said Tuesday in a press release that he has spent the last few days in Philadelphia working with the company's leadership to create steps forward.
"While this is not limited to Starbucks, we're committed to being a part of the solution," he said. "Closing our stores for racial bias training is just one step in a journey that requires dedication from every level of our company and partnerships in our local communities."
Starbucks has recruited a few big names to help develop the program, including former U.S. Attorney General Eric Holder and Sherrilyn Ifill, the president of the NAACP Legal Defense and Education Fund.
The arrests last week in Philadelphia underscored the reality of racial discrimination and profiling of black people in the U.S., Ifill said in a statement emailed to HuffPost on Tuesday.
"Starbucks has expressed its intention to take seriously this critical effort and to work long-term to fulfill its obligation to ensure that all customers are afforded dignity and respect in its public spaces. This will take work," she said. "Starbucks must make clear that it does not tolerate any racial profiling or discrimination of any kind in its stores, and it must identify and implement concrete and measurable steps to keep itself accountable to that commitment."
Howard Schultz, executive chairman of Starbucks, spearheaded a highly criticized "Race Together" campaign in 2015, a few months after white police officers fatally shot Michael Brown, a black 18-year-old in Ferguson, Missouri. Baristas were encouraged to write the words "Race Together" on cups to help initiate conversations on racial tensions in the country.
This story has been updated with a statement from Ifill.
Popular in the Community