Philadelphia is a tough place to be a Starbucks customer.
Apparently, the training didn't deal with people who have disabilities because one Philadelphia barista is now accused of teasing a customer with a stutter.
The customer, who is only giving his name as "Sam," is a 28-year-old University of Pennsylvania graduate student who said he recently ordered an iced coffee, according to Philly.com.
When he gave his name to the barista, he said, she made fun of him by saying, "OK, S-S-Sam."
To make matters worse, when he got back to his office, he noticed the name on his cup read "SSSam."
"It's rare, as an adult, that that kind of disrespect happens," Sam told the paper. "It happens, but it's really rare to see it in print."
Sam's situation bothered his friend Tan Lekwijit, who posted a photo of the plastic cup on Facebook, first on Starbucks' page and later on his own page after the company repeatedly deleted the complaint.
In the post, Lekwijit said Sam sent an email to Starbucks' customer service griping about the rude treatment his friend received.
Lekwijit said Sam received a generic email from the company saying it was sorry that he "felt disrespectful" for the way they wrote his name and offered him $5.
"Clearly, Starbucks missed the point. It was about how you treat people with speech impairments, not how you write names."
A Starbucks spokesman told HuffPost the company reached out to Sam on Monday and offered an apology. The spokesman said Starbucks is investigating the incident.
Sam confirmed to Philly.com that a Starbucks executive called him Monday afternoon and apologized.
"As someone who studies these kind of things [corporate decisions and operations], I believe she was sincere in her apology."
This story has been updated with information from a Starbucks spokesman.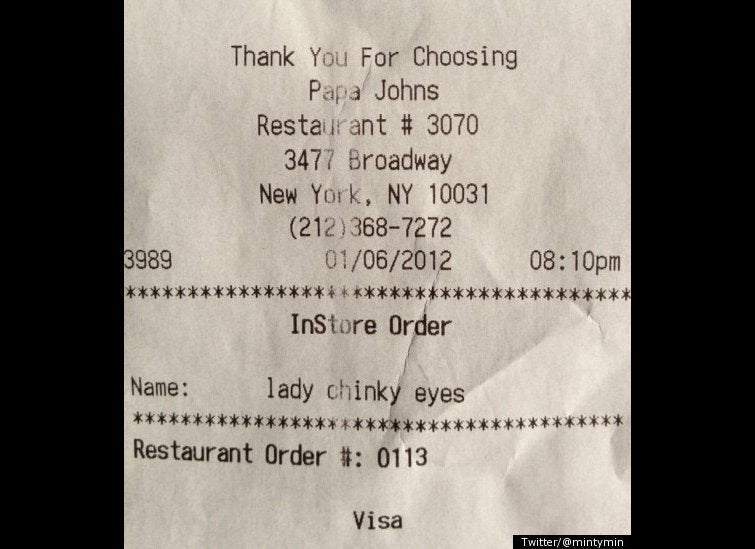 Outrageous Receipts (EXPLICIT LANGUAGE)