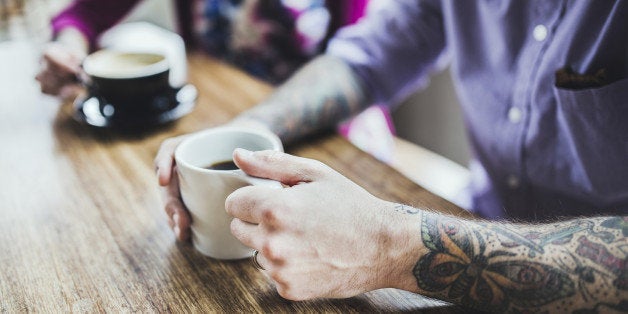 Starbucks baristas who've long been forced to hide their tattoos may soon be able to show off their ink.
In an internal email to employees last week, Starbucks said that it's reviewing its dress code, including its long-standing policy forbidding workers from displaying their tattoos. The move comes as baristas mobilize against the coffee chain, demanding the freedom to let their tattoos be seen. A petition to overturn Starbucks' tattoo policy has gathered nearly 23,000 signatures since Aug. 20.
Kristie Williams, a 25-year-old mother who works at a Starbucks in Atlanta, started the petition because covering her tattoo caused constant discomfort. Williams has a tattoo of her 2-year-old daughter's name, Summer Blythe, written in cursive up her left forearm. When the air conditioner in her Starbucks went out in the middle of the Georgia summer, she had to suffer the oppressive heat in her long-sleeved shirt.
"The day I buy my first short-sleeved shirt will definitely be a great day," said Williams. "I know personally I could work better and faster if I wasn't sweating and fussing with my sleeves all the time at work in order to hide my tattoo."
Starbucks requires its workers to wear black or white collared or turtleneck shirts with "professional" black or khaki trousers, shorts or skirts, according to copies of the employee manual posted on the blog Starbucks Melody. Hair and nails must be kept clean. Facial hair must be neatly trimmed. Perfumes and aftershave aren't permitted. Earrings are restricted to a maximum of two per ear, and all other piercings are banned.
In July, a Starbucks in suburban Detroit reportedly threatened to fire a five-year employee if she didn't remove the outline of a heart tattooed on her hand, according to Fox affiliate WJBK. It is unclear whether the woman, identified only as Kayla, was fired.
Starbucks did not respond to a request for comment.
Sara Frandsen, a 25-year-old who worked at a Starbucks near Amazon's campus in Seattle, said she had to wear long sleeves to cover a tattoo of roses on her right arm and one of characters from the video game "Legend of Zelda" on her left arm. The outfit choice was unsanitary, she said, because the cloth shirt soaked up milk and syrup as she worked.
"It looks really unappetizing when you're helping a customer and your arms are covered in milk, but you can't roll up your sleeves because, heaven forbid, they see your tattoos," she told HuffPost in an interview on Friday. "You're never going to make everyone happy, but I feel like most customers don't go into coffee shops expecting robots to serve them."
Frandsen quit last October after seven months with the company. Soon after, she started a new job as a barista at a mom-and-pop coffee and ice cream shop, where she said tattoos and piercings are the norm among her colleagues.
"It's expected today for baristas to be young, hip, alternative-looking kids," said Frandsen.
In August, Starbucks vowed to change its scheduling policy to give workers more regular schedules and prevent them from having to work back-to-back closing and opening shifts. Workers' groups, however, said that the changes would not do enough to help struggling parents.

Related
Popular in the Community