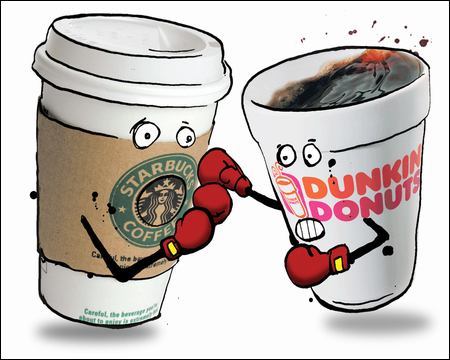 In 2009, when Apple coined the phrase "There's an app for that", it is unlikely they could have ever predicted that seven years later there would literally be an app for everything. Entire businesses like Snapchat are built solely out of mobile apps and retail establishments with hardly even a web presence prod their in-store customers to download their app. When it comes to coffee, a product that must be physically consumed, things are no different. The battle for customer loyalty has morphed from one waged on every street corner to the App store.
Engaging users with mobile apps allows the coffee retailers to gamify loyalty with perks, push new products to users with notifications and even encourage customers to pre-pay for purchases by holding balances in gift cards that auto-reload. Strong adoption in the mobile world enables these companies to build a competitive moat around their devotees in the tangible world where coffee must be drunk.
Offline and in the real world, Starbucks is the undisputed leader with over 13,000 physical establishments. Its closest competitors in the race to be the preferred source for the morning jolt are quite far behind. In second place are 7-Eleven and Dunkin Donuts with around 8,000 stores. There are many coffee-centric fast food chains vying for third place like Krispy Kreme, Coffee Bean and Tea Leaf, Peet's, and Tully's, but none have much more than a thousand locations across the US.
To see if this dominance translates into the mobile domain, we used SurveyMonkey Intelligence to analyze four top apps for coffee retailers. While there is no clear 3rd place coffee chain offline, Krispy Kreme earned this spot at least on the mobile web with over a million downloads of its app. (Coffee Bean has limited features on their app, Peets does not have an Android app, and Tully's app has had only tens of thousands of downloads.)
Comparing just monthly active users of each of these apps, Starbucks has a strong hold on the top spot and is actually the top app in the food and lifestyle category. Nearly 5% of the panel of smartphone users are estimated to use the Starbucks app each month. Using the same metric, Dunkin Donuts has less than 2 percent.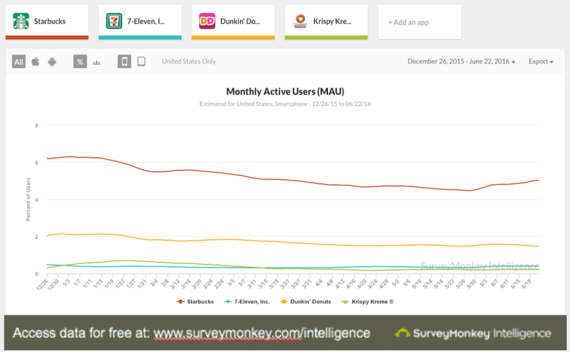 While the active user metrics could be a result of Starbucks doing a better job pushing out their app to customers it could also be simply because they have a larger physical presence than Dunkin Donuts.
Therefore, when it comes to pushing food and beverage through a mobile app, active users are not the most important metrics. These coffee store apps are designed to get users to find and spend money in stores. More frequent usage of an app are potentially leading indicators that customers are seeking to make offline purchases.
On metrics more closely related to purchase intent, Dunkin Donuts trounces Starbucks. Dunkin Donuts is used an average of four days per week compared to Starbucks' usage of just over two.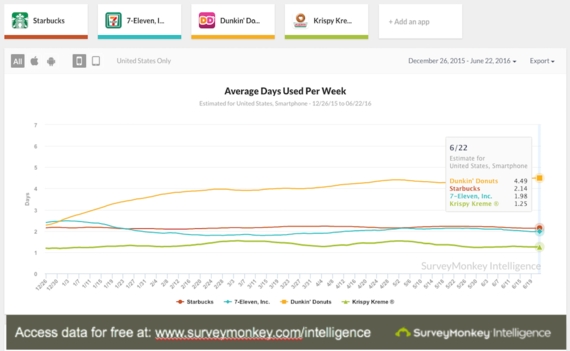 Furthermore, the number of times a user accesses a coffee store app each day is also indicative of purchase behavior since these apps only have features related to purchases: coupons, store locators, and credit balances. On this metric too, Starbucks is not only behind Dunkin Donuts, they aren't even consistently beating 7-Eleven and Krispy Kreme.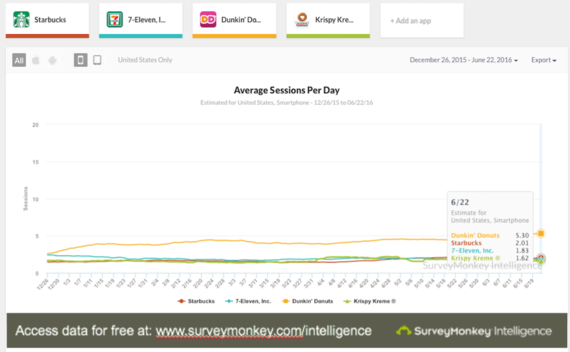 At its core, coffee is simply a commodity that many people just so happen to crave intensely every single day. It is a feat of modern consumerism that companies like Starbucks, Dunkin Donuts, 7-Eleven and Krispy Kreme have been able to coax consumers to spend a few dollars for something that can be made for a few cents at home.
As a result, the customer base for these coffee chains will consist primarily of only those that can afford the luxury of spending extra for something that can be had so cheaply elsewhere. Furthermore, the more affluent customers present an even higher likelihood of purchasing other products in addition to coffee. On this measurement too, Dunkin Donuts comes out ahead with a higher average income for their app users.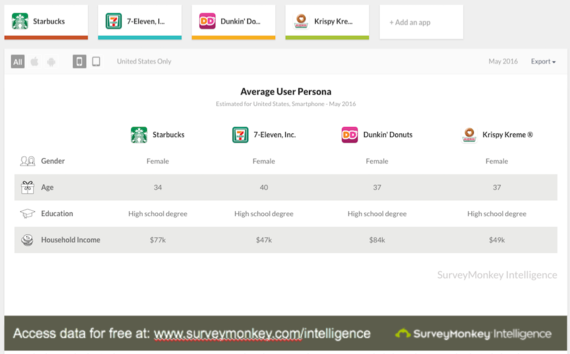 Growing a user base of loyal customers through mobile apps is an important part of getting people to continue getting their fix from one particular chain versus making coffee at home or picking it up at the nearest gas station. While there may be an app for everything, an app is only a useful investment to build and maintain if it's driving more business and revenue.
So who's the king of coffee in the app ecosystem? Starbucks certainly owns the title of most widely used app, but it is quite interesting to see Dunkin Donuts doing better on metrics more closely related to purchasing behavior.
Popular in the Community