It's that time of year again, when StarChefs.com holds its International Chefs Congress, bringing some of the world's most formidable culinary minds to New York City (and helping yours truly get over the end of summer blues). It's also the time when they celebrate their picks for New York's Rising Stars at an exquisite culinary event that's open to the public.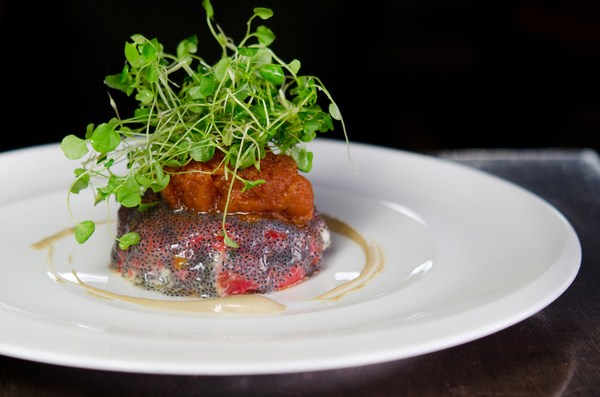 Chef Jesse Schenker of Recette: 2011 Rising Stars Event Dish - Australian Beef Carpaccio with Tomato Jam, Burrata, Porcini Purée, and Watercress (Photo by Shannon Sturgis, Courtesy StarChefs.com)
The New York Rising Stars celebration is being held on Tuesday, October 4 at Bar Basque from 8:00 - 10:30pm. There, each Rising Star chef and pastry chef offers attendees his and her own "high-concept" food, all of which is paired with fine wines chosen by Rising Star sommeliers. And, of course, the Rising Star mixologists are on hand too, shaking and pouring two unique concoctions each for the thirsty crowd. The event is being hosted by Chef Yuhi Fujinaga of Bar Basque.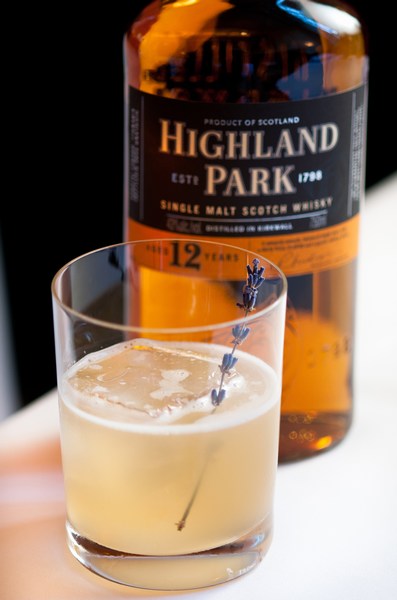 2011 Rising Stars Event Cocktail: "The Brogue" by Mixologist Leo Robitschek, Eleven Madison Park (Photo by Shannon Sturgis, Courtesy StarChefs.com)
Since 2003, StarChefs has honored Rising Stars all over America, in Chicago, Houston, Portland, Los Angeles, San Francisco, Vegas, Seattle, Atlanta, Dallas, Boston, and more. Unlike some other culinary awards, when StarChefs chooses its Rising Stars the decision is based on tastings and in-person interviews.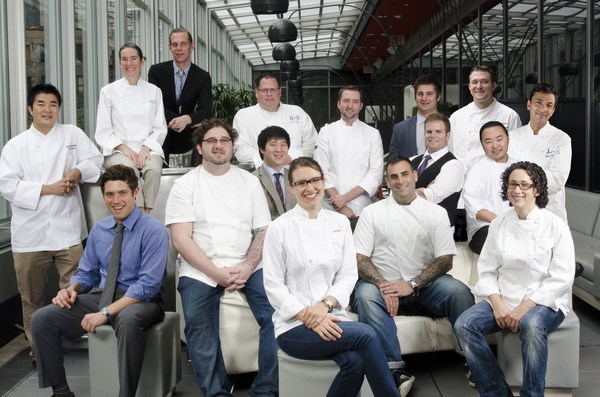 The 2011 New York Rising Stars at this year's Gala venue, Bar Basque (Photo by Antoinette Bruno, Courtesy StarChefs.com)
Editor-in-Chief Antoinette Bruno and Managing Editor Will Blunt travel the nation, dining and drinking their way through the lists of nominees (envious job), and meeting the chefs and pastry chefs, sommeliers and mixologists, in person. Nominations are open to the public and submitted directly on StarChefs.com's nomination page, but from there, the decisions are based on career accomplishments and measuring a nominee's culinary talent within locally based criteria.
As Will Blunt told me, "In San Francisco, there's an emphasis on using local, fresh ingredients and not doing too much to alter the beautiful products they have. In Vegas, chefs have to work with such high volumes while maintaining high quality, and in New York City, there's a real emphasis on what's cutting edge and highly creative. So we choose our Rising Stars by considering their cuisine and accomplishments within the demands of the local culinary landscape."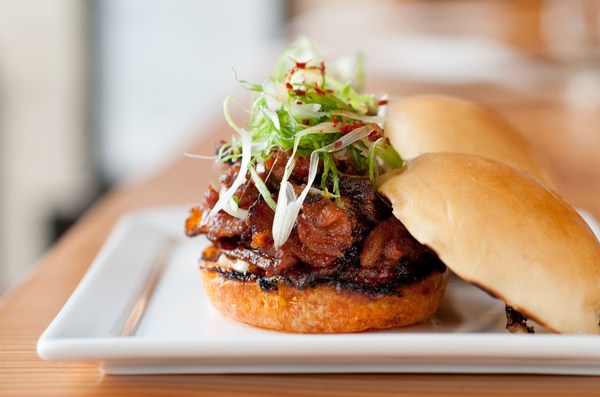 Chef Hooni Kim of Danji: 2011 Rising Stars Event Dish - Spicy Pork Belly Sliders (Photo by Shannon Sturgis, Courtesy StarChefs.com)
A partial list of this year's New York Rising Stars are Chefs Hillary Sterling (A Voce), Jesse Schenker (Recette), Adam Schop (Nuela), Aaron Chambers (Boulud Sud), and Hooni Kim (Danji); Pastry Chefs Shuna Lydon (Peels) and Shawn Gawle (Corton); Sommeliers Nick Adams Robinson (Toqueville) and Seju Yang (Brushstroke); and Mixologists Leo Robitschek (Eleven Madison Park) and Damon Boelte (Prime Meats).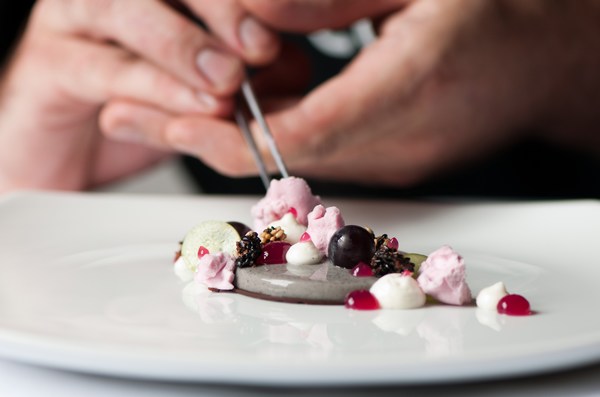 Pastry Chef Shawn Gawle of Corton: 2011 Rising Stars Event Dish - Black Sesame Royale (Photo by Antoinette Bruno, Courtesy StarChefs.com)
Unlike the International Chefs Congress which is industry-only, Rising Stars is a premier tasting event that anyone can attend, and truly one of the best foodie fests in NYC. There you can dine and drink to your tummy's content on the innovative creations and cocktails of some of the best up-and-coming talents in NYC. And although they've all already been given the Rising Star honor, diners get to vote on their favorite dish that night, and the winning chef gets a Jade Plancha, so all the chefs will being doing their best to impress. Best of all, you can eat well while doing good, as a portion of the proceeds from the Rising Stars Gala benefit Autism Speaks, North America's largest autism science and advocacy organization.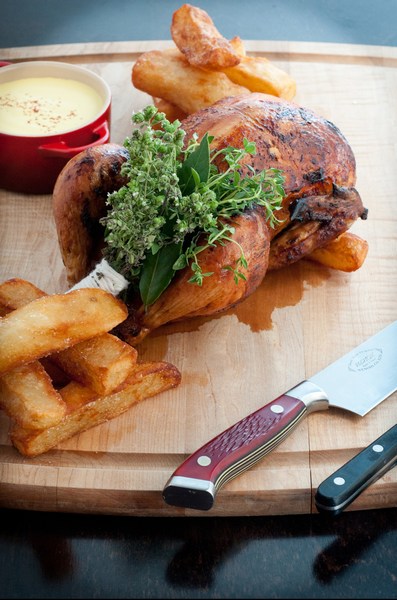 Chef Adam Schop of Nuela: 2011 Rising Stars Event Dish - Peruvian Chicken, Aji Verde, Huancaina Sauce, and Papas Fritas (Photo by Shannon Sturgis, Courtesy StarChefs.com)
Beyond the plethora of food and flowing libations, Rising Stars is one big, outrageous party. What else would you expect when you bring together young, energetic talent and a chic crowd of foodies for an evening of culinary over-indulgence and appreciation?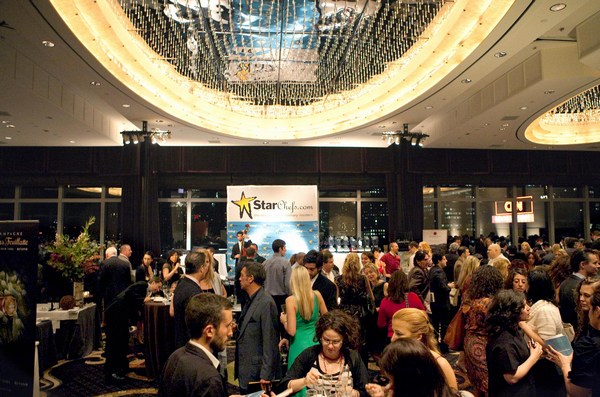 The 2009 Rising Stars Gala at The Mandarin Oriental (Photo by Vicky Wasik, Courtesy StarChefs.com)
I'd love to see you there, so come on out and say hello!
Calling all HuffPost superfans!
Sign up for membership to become a founding member and help shape HuffPost's next chapter