The most talked about astrological sign in the Zodiac, Geminis are acutely aware of their duality. In fact, in their own private universes, they wear it like a badge. Back when Prince celebrated birthdays, (before his Jehovah's Witness conversion), I can recall at least one interview where he fell back on his own Gemini-ness to explain away questioned behaviors. It is a simple, end-all answer for all that is too good and too bad to be true, at once. He owned it.
On Sunday, June 12, 2016, Harlem is calling out its Gemini contingent - and all who know, love, and hate them - in a Prince birthday celebration with an edible twist. Themed after, perhaps, one of the artist's most innocuous and quirky songs, Starfish & Coffee, it is a brunch happening at MIST Harlem that rallies Guest Chef, Stefanie Kelly, to bring the song's gastronomical lyrics to life.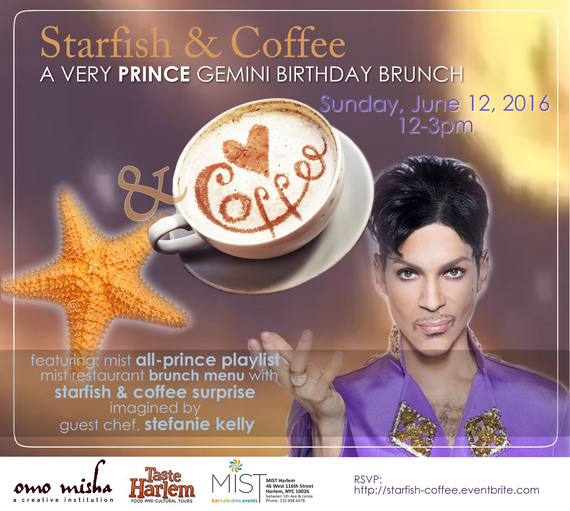 From Prince's 1987 Sign O' The Times double album, Starfish & Coffee tells the story of a schoolgirl named Cynthia Rose, who thought and lived outside the norm. The chorus celebrates Cynthia's wondrous outlook on life and runs down her curious breakfast menu:
Starfish and coffee/Maple syrup and jam/Butterscotch clouds, a tangerine, a side order of ham/If you set your mind free, baby/Maybe you'll understand/Starfish and coffee/Maple syrup and jam.
Starfish & Coffee was never released as a single but, to know Sign O' The Times was to love this song as much as any of the album's most monstrous hits. With very little instrumentation and only a few rudimentary piano chords, in the way only Prince can, the tune manages to paint a charming and wildly vivid portrait of a child who danced to the rhythm of her own drum. Moved by the story of a real-life Cynthia Rose that was shared with Prince many times over (and by request) by Susannah Melvoin - the musician and twin sister of guitarist, Wendy, of The Revolution - Starfish & Coffee seems an anthem of sorts, playfully urging tolerance for all that is different in others.
The song was originally slated for a Prince children's album. That, perhaps, remains in the vault but Starfish did make it on to The Muppets Show for this memorable performance:
Along with the standard menu - which includes such brunch favorites as Shrimp & Grits and the MIST Truffle Burger - artisan chef, Stefanie Kelly, was sought out by event organizers to bring Cynthia Rose's breakfast to fruition. Through her company, Ritual Catering & Craft Services, Kelly's overarching culinary goal is to "recreate and update traditional foods from around the world." At least for now, this includes and connects both real and imaginary worlds. "Prince was one of the last truly artistic and free spirits on this earth," Chef Kelly shared. "I am honored to manifest his magical flavors for the palate." Only the chef knows for sure what her Starfish-inspired delicacies will be. The rest of us must wait a few more days in mouthwatering anticipation.
"We are excited to partner on unique and exciting food events that represent Harlem style," said Jacqueline Orange of Taste Harlem Tours, a collaborator on the event. "And, after all, who doesn't love Prince?" she concluded.
Starfish & Coffee: A Very Prince Gemini Birthday Brunch will be held from 12-3pm this Sunday at MIST Harlen, 46 West 116th Street, New York, NY 10026. For more information and reservations visit starfish-coffee.eventbrite.com
Popular in the Community