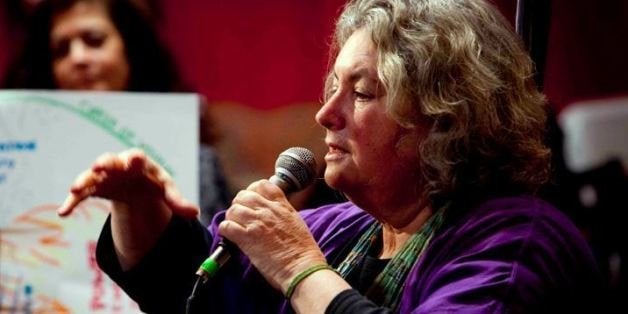 On Sunday, 50 pagans, activists, artists and spiritual seekers piled into the cozy ritual space of Catland, an occult bookstore in Brooklyn. We were there to see the revered pagan leader Starhawk, who traveled from her home in northern California to lead a workshop on "Making Rituals That Matter." Four hours later I emerged thoughtful, rejuvenated and smelling faintly of sweet sage. There is nothing quite like a Starhawk ritual.
I met Starhawk for the first time two years ago in Los Angeles and when I heard she was coming to New York -- and would be just down the street from me -- I jumped on another opportunity to be in her presence. If you had poked your head in during Sunday's ritual you would have seen me right up front, sitting on a cushion at her feet like an eager apprentice.
There is a sacred relationship between youth and elder, apprentice and teacher that persists despite the often-voiced fears of the younger generations' growing indifference toward religion. Young people have the difficult task of maintaining faith in a troubling world -- but our elders have just as essential a responsibility to think critically about the legacy they are leaving behind.
Starhawk is doing it right and I encourage other religious leaders, regardless of their tradition to take note:
1. She promotes causes, not a personal brand. Starhawk doesn't have a fancy PR team or a million social media accounts. Her primary concerns are the environment, women and minority empowerment and peace in conflict areas -- basically the most important things in the world that transcend personality or religious tradition.
2. She's accessible. She frequently teaches permaculture classes, leads rituals and hosts workshops in California and around the country. Admission is not prohibitive and scholarships are often available. When I arrived at Catland on Sunday, Starhawk was standing in the midst chatting with people as they arrived. There's nothing "holier than thou" about her attitude toward others.
3. She asks for input and listens to others. Her workshops are part education, part extended conversation. She frequently lets others lead the discussion and only jumps in when asked.
4. She can take a joke and laugh at herself. During Sunday's workshop Starhawk would occasionally affect an "old lady" voice and say things like "When I was a young witch" and "Because I'm old and easily confused..." The woman is funny! And we respect her more for her occasional irreverence.
5. She continues evolving, along with her tradition. This is partly the nature of paganism, which takes many forms and is constantly changing in the modern world. Starhawk said early on in the workshop that her new motto is "No more boring rituals!" Imagine a priest crying "No more boring Masses!" Times change, people change, and our religious traditions need to evolve with them. We did a ritual on Sunday unlike any I had done before, and it was incredibly refreshing.
6. She's dedicated to the environment. Climate change isn't just a talking point for Starhawk. It is embedded into the Earth activism she does daily. She teaches Earth Activist Trainings and permaculture design courses every year. And in December she's joining forces with climate activists in Los Angeles to host a workshop and ritual specifically focused on environmental justice.
7. She's promotes the empowerment of women, LGBT people, minorities and youth. Starhawk is so pro-people it's hard to imagine why we ever put up with anything different from our religious leaders.
8. She supports the arts. In addition to her activism and teaching, Starhawk is a novelist with a degree in fine arts. Artists and innovators are drawn to her I think in part because of this background and because she encourages people throughout her workshops to get in touch their own creativity.
9. She has great rhythm! Starhawk has serious drumming skills and can keep a beat going long after your voice gets sore from singing. The larger point is that her rituals have life and energy. They're expressive -- and they're fun. Spirit and community are things to rejoice over, and there's never a dull moment with Starhawk.
Popular in the Community