Rituals in the pagan Reclaiming tradition typically begin with the same basic structure: Priestesses and priests deliver invocations to the four directions; they call in the power of certain gods and goddesses; and participants begin to meditate, set intentions and symbolically raise their energies together toward a common goal. 
On Saturday, well-known pagan leader Starhawk will lead a ritual in Los Angeles for the pagan holiday of Samhain. The holiday coincides with Halloween and is observed by many pagans as their New Year. It will be a day of celebration, with a workshop in the afternoon, a shared meal and an evening ritual.
Samantha Ravenna Sóley Shay, a theater director and founder of the international Portland-based artist collective, Source Material, is serving as artistic director for Starhawk's ritual. She first got involved with Reclaiming after reading Starhawk's touchstone book, The Spiral Dance, off of which many of Starhawk's rituals are based. After reading the book, Shay said she was drawn to the tradition's emphasis on communal spiritual practice.
"I think there is something extremely important about doing ritual, magic and personal work in community," Shay told The Huffington Post.
As an actor, director and graduate of the California Institute of the Arts, Shay sees many overlaps between theater and ritual -- a pairing that is also central to the Reclaiming tradition.
"The roots of theater are ritual and ceremony," Shay said. "I think that rituals are multi-sensorial experiences of mystery. And art, and especially performance at its best, is the same."
Starhawk, who is also a fiction writer and musical composer, wrote about the artistic and theatrical aspects of pagan practice in The Spiral Dance. The desire to create art is nothing less than divine inspiration, she wrote in the book.
"The Goddess of inspiration continually moves us to create music, art, theater, and dance," Starhawk wrote.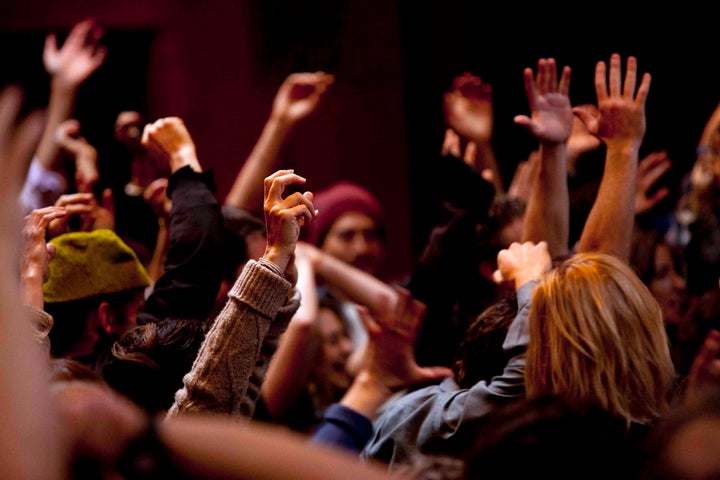 A ritual, like a good film or theater production, can be immersive and, as Starhawk wrote, "trigger altered states of awareness, in which insights that go beyond words are revealed."
Shay's role as artistic director of Saturday's ritual includes designing all those elements that in Starhawk's words, "go beyond words." But there's also something ineffable that happens in a ritual, she said, which directors and priestesses can't exactly plan for.
"Yes, perhaps it is about dance and gesture, perhaps it is about the sound of the music and the visuals, but... we are not doing dance performances or reciting speeches, we are invoking spirits with our intention, attention and imaginations," Shay said in an email to the HuffPost. "The priestesses and ritual planners always have ideas about what will happen, but the Spirits decide -- and that is how it is meant to be."
Click here to learn more about Saturday's workshop and ritual.
PHOTO GALLERY
10 Books To Learn More About Paganism
Calling all HuffPost superfans!
Sign up for membership to become a founding member and help shape HuffPost's next chapter