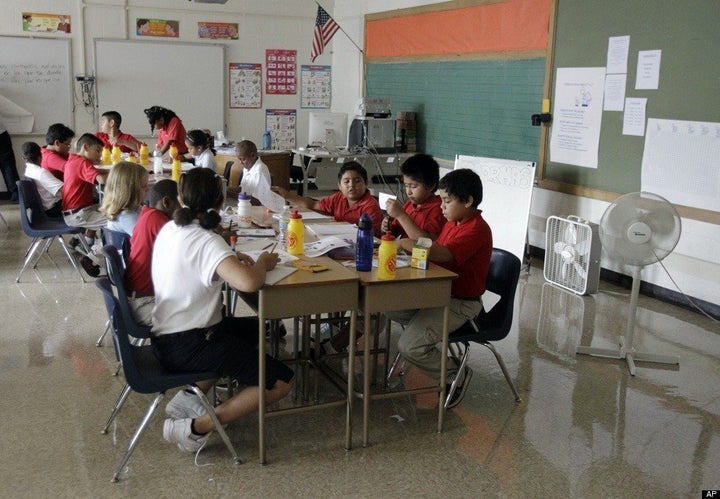 President Obama's State of the Union, and the educational implications for children in foster care.
Today President Obama will address the nation, with a heavy focus the economy and future job creation. Any discussion of long-term job growth must include a plan for turning our ailing educational system into a strong pipeline from cradle to career . Hopefully, this will launch a national discussion of the re-authorization of No Child Left Behind, otherwise known as the Elementary and Secondary Education Act.
While students experiencing foster care have never received particular attention in federal education policy, a steadily growing corps of advocates and political leaders are voicing that they should. A look at the nascent educational pipeline for these vulnerable children offers a vision of what is possible and necessary for all American students.

For 23-year-old former foster youth Sokhom Mao, a California law proved the lynchpin to his educational success and entrance into the workforce.

In 2004, Sokhom was a sophomore at Oakland High School in California. He and his five siblings had entered foster care when he was just a boy, after the death of his mother. After years spent in group homes, Sokhom had finally landed under the roof of family again, living with his aunt. But she was prone to fits of anger, a reminder of the abuse the entire family had endured at the hands of the Mao children's estranged father. So Sokhom and older brother Sokha moved to a transitional housing program in Hayward.

While the living arrangement was better, being in Hayward meant a new school district, putting Sokhom's ability to remain at Oakland High, a school he loved, into question. Fearful that he would have to change schools, Sokhom asked his residential social worker what he should do. "She said, 'you know what Sokhom, they have got to let you stay there. There is a new law signed by the Governor and if the counselors say anything you tell them to call me,'" Sokhom recalls.

The law his social worker was referencing was Assembly Bill 490, which allows wards of the state to remain in the school that is in his or her "best interest" regardless of jurisdiction. While a seeming no-brainer, California was then on the vanguard of a growing movement towards equalizing educational opportunity for foster children who score woefully lower on all academic measures, dropout at higher rates and barely ever go on to graduate from college.

While the movement towards educational equality gathered strength, Sokhom graduated from high school, something that foster children are three times as likely not to do as children in the general population.
"Staying in the same school and not having to change, that was a huge advantage," Sokhom says. On average, children experiencing foster care change placements one to two times per year, according to the Dept. of Health and Human Services. A study out of California found that even one school move during high school cuts the chance of graduation in half, punctuating just how much of an advantage staying in the same school can be.

After graduating from high school Sokhom went on to join the first freshman class of former foster youth to take advantage of San Francisco State's Guardian Scholars program, which provides housing, tutoring and all around guidance throughout college.

By the time Sokhom was in his second year, the federal government had taken an important step towards leveling the playing field for all students -- albeit through child welfare law. The Fostering Connections to Success and Increasing Adoptions Act of 2008 included a critical mandate compelling child welfare agencies to keep children in their school of best interest whenever possible and provide for the timely transfer of student records when a move was deemed necessary. Further, the law freed up federal funds to pay a portion of the transportation costs associated with keeping a student in the same school, complicated by the frequency of placement changes these children endure.

But unlike California, Fostering Connections' mandate was aimed at child welfare alone, excluding the equally important Department of Education (DOE).

This created a disparity in responsibility in which child welfare administrators are compelled to communicate with Local Educational Agencies who have no top-down mandates or guidance on how to adequately reciprocate. In real terms, the educational achievement of these children boils down to the energy and willingness of administrators in child welfare and education to work together, something in wide variance across the country.

Senator Al Franken (D-MN) set out to fill this gap in 2009 when he authored the Fostering Success in Education Act, which would impose mandates on the Department of Education that mirror those already imposed on public child welfare administrations. Further, the law frees up federal Education dollars to create a cadre of liaisons charged with ensuring that children experiencing foster care receive all the educational benefits they are due.
The language around educational liaisons in the Franken bill is derived from the successful use of similar liaisons provided by DOE for homeless children in the McKinney-Vento Homeless Assistance Act of 1987. While data is sparse, an evaluation of homeless students in Baltimore County showed that over the 2008-09 school year, math reading and science scores increased for all homeless children and often at a faster rate than the general population.
In 2010, the long anticipated debate over how to give all our children a fair shot at successful future through education reform was superseded by the health care fight on Capitol Hill. Despite the pressing need and evidence supporting its impact, Sen. Franken's bill stalled in committee while child welfare administrations across the country fought to act on the mandates of the Fostering Connections Act.
While thousands of foster children continued to unfairly struggle in school, those who had been given the resources continued to show us the latent potential we have been too shortsighted to unleash, and Sokhom Mao was among them. He did something that only three out of every hundred former foster youth ever do. In May of last year he walked the stage, grabbed his diploma and tossed his cap along with thousands of other San Francisco State graduates.

Within months he had landed a job as a data analyst at UC Berkeley's California Social Work Education Center. With the money he is earning he is caring for his youngest brother Raksmey, a sophomore at Oakland High. Sokhom is also helping his 20-year-old sister Chhienda fill out the necessary applications so she too can become a Guardian Scholar in the fall.

On Tuesday, the President will deliver his State of the Union Address. In all likelihood, education will be a prominent consideration along with the overdue re-authorization of the Elementary and Secondary Education Act, sparking a national debate and setting the cogs of Congress into motion.

To fix the failings of our nation's education system will indeed seem a superhuman task. But we don't have to wait for Superman; just look at Sokhom and you will see that the incredible is entirely possible. As lawmakers go to the necessary work of fixing what is broken, they must also expand and include that which is working.