On Thursday August 6 Starr Kalahiki was on the beach when she learned that she had just won a national fellowship from the Native Arts and Cultures Foundation(NACF). That same afternoon she went on to join Reggie Padilla (tenor sax), Jon Hawes (bass), and Dan Del Negro (piano) to bring the music of George Harrison, Monte Alexander, Jimmy McHugh, Steve Swallow and the African American spiritual, "O Lord What a Morning," to St. Peter's Episcopal Church on Queen Emma Street in Honolulu. It was a particularly moving service, dedicated to peace and an end to violence to mark the 70th anniversary of the dropping of the atomic bomb on Hiroshima.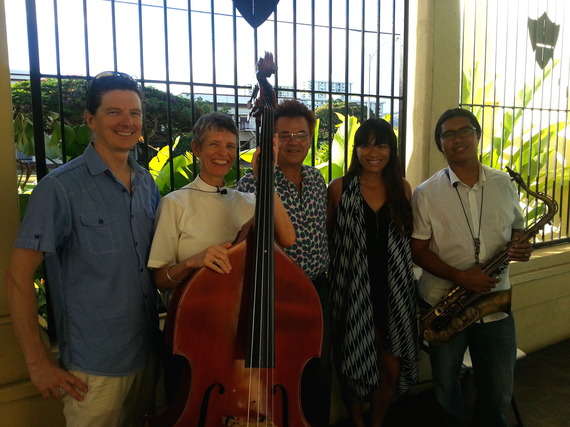 Pastor Diane (second from left) with the musicians who perform at Jazz Vespers every Thursday at St. Peter's Episcopal Church. Jon Hawes (far left), and Dan Del Negro, Starr Kalahiki and Reggie Padilla (far right).
The Jazz Vespers service invoked the words of St. Paul that call on us to put away "all bitterness and wrath and anger and wrangling and slander, together with all malice, and be kind to one another, tenderhearted, forgiving one another." The girl who sang in the choir at the University of Hawaii Lab School, who had had lessons on the harp and viola and who has won Na Hoku awards for most promising artist and best jazz album, has grown into a young woman who understands well the message of healing. Today Starr Kalahiki draws that healing power from the balance between the faith of her family and her Hawaiian culture. As the daughter of a Pentecostal minister she says she was raised with a focus on "faith in the one true God."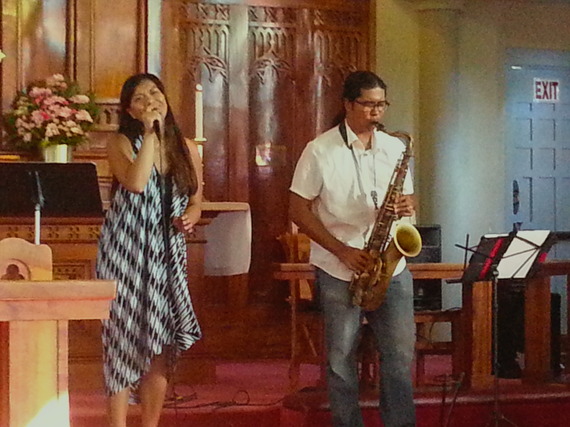 The voice of Starr Kalahiki and the sound of Reggie Padilla on sax help create the reflective mood of Jazz Vespers.
"When I finally turned to the music of Queen Lili`uokalani, I fell in love with both the poetry and the melodies. They helped me understand the power of music to bring healing to my people." She describes her excitement at getting to know the creative work of the Queen, someone she regards as "an artist first."
Making Queen Lili`uokalani's music accessible today
The NACF Fellowship recognizes the work Star Kalahiki has already done to make the Queen's music accessible to a broader audience. The Lili`u Project which premiered in Hawaii April 2014 involved a nine-member music ensemble and a twenty-five-member chorus. They performed ten of Lili'uokalani's compositions and drew from the book, Hawaii's Story by Hawaii's Queen.
"I want to introduce the Queen's music to my generation," she says. "So, we worked together to imagine what her music might sound like if she was composing today. We remain true to her poetry and her melodies--but we draw the music into our time, our place."
She will be working on an album of songs as well as a video of that performance. She is deeply grateful for how the songs of Queen Lili`uokalani have enriched who she is. Born on Hawaii island, but raised in Honolulu, she remains close to her family and is grateful for their understanding and support. "My journey has challenged them, but they have remained supportive. They have faith in me and they pray over me. I value that." She believes that the kind of healing grace she finds in the Queen's music and poetry can help bring peace not just in the islands, but beyond, to a nation and a world that is hurting in all kinds of ways.
In her reflections on the readings for the day, Rev. Diane Martinson, pastor of St. Peter's, recalled how, during her teaching days at `Iolani School, the students as early as kindergarten were taught a Peace Pledge that opened with "Peace begins with me." Half-jokingly she added, " "If everyone learned to play or sing music, I think we'd have a lot less conflict in this world."
Starr Kalahiki appears to live that view of the world. She says that every time she sings she wants to "lay down positive vibrations, and encourage healing."
If you want to know just how consumed she is by her music, follow her on Twitter @Starrkalahiki. You will learn that she truly wakes up singing a song!