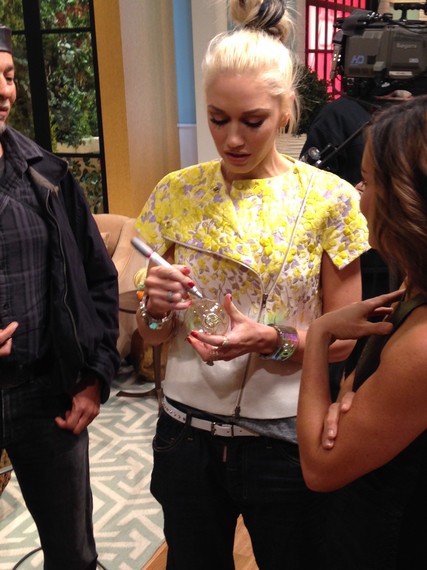 Gwen Stefani, on the set of Access Hollywood, signs a Balsam Hill ornament to benefit Operation Smile.
As the mother of three children who were born with a rare medical condition called facial paralysis, as well as other physical challenges, I know first hand the importance of a smile in a child's life and the life of their family. The smile, is, of course, the happy part. Smiles are what songs are written about, and most people take for granted, but for children who suffer from facial deformity, like ours, the serious part, is an inability to speak or eat properly. My children all required feeding tubes for the first six to 12 weeks of their lives. They have endured hours upon hours of speech therapy and have had more than 20 surgeries as a result of their medical challenges. For more common facial deformities, such as cleft lip or cleft palate, studies indicate that one child in ten in the developing world born with cleft palate will die before their first birthday.
Four years ago, when I decided to support the volunteer work of my children's surgeon by hosting a fundraiser at my home for Operation Smile, a non-profit medical charity that provides free cleft lip and cleft palate surgery to children in more than 60 countries, it was for many of my friends in my professional life the first time they had ever heard that my family had serious medical challenges. For eight or more years, I had kept my family struggles a secret to many people quite deliberately. In part, because many of our challenges were a mystery to modern medicine, and partly, because when you run a service business like my PR firm, it's important for clients to see you as confident and successful. A life full of unanswered and stressful questions is not something I wanted to reveal. I kept a delicate balance between home and work, work was therapy for me in those days, keeping my mind off troubles and giving me much needed structure and goals. Then, after eight years, all that changed when my husband found a surgeon who was able to perform two transplant surgeries for my oldest son Zachary, and our lives changed forever. The impact of Zack's smile surgery was profound. You can live without something for so long that you tell yourself it doesn't matter. You tell yourself you can live without it. But the first time I saw my son's face move, it was like sunshine had come into our lives.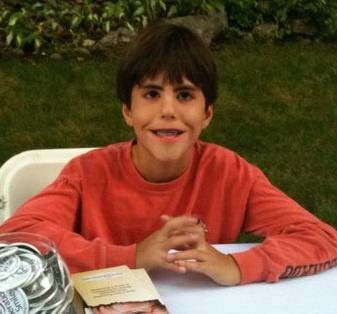 My oldest son Zachary at our first Operation Smile fundraiser shortly one year after his transplant surgeries.
Since Zachary was first given his smile, I have been determined to bring this joy to other families. I could never have envisioned it then, the enormous support I would receive from our family and friends, and now, from the public, to a cause that has now become central to our lives. In 2011, I launched the Three Little Bears program, with my best friend designer Kathy Van Zeeland, to give Operation Smile patients smile surgery, and a bear named after one of my sons to comfort them going into surgery. As part of this program, we came forward and told our story publicly for the first time. Telling our story was a big moment for us, one that required my children to agree to open up our lives to the public.
After so many years of hating the constant public scrutiny we endured with rude questions and staring, telling our story publicly enabled us to take back our lives in a way. Instead of people wondering what had happened to us, we were able to say it publicly and use that information to help others. It was difficult at times. It is still difficult for me to give a speech about it without crying. We did it though, because that's how much our smile surgery changed our lives. The program, has been so successful, with more than $1 million raised, to give vital cleft lip and cleft palate surgeries to children, that I am now approached routinely by friends and former colleagues with offers of help and support. It has become the perfect convergence of my personal and professional lives. Supporting something that I believe so passionately in has become truly a blessing in the life of my family. Seeing a photo of a child from an Operation Smile mission in Morocco hugging one of our Zachary bears was a moment I will never forget. This journey has enabled me to see the innate goodness of so many people, people who say they want to help and then, go above and beyond.
This holiday season, another friend and former colleague, has stepped forward again to support my family, and I can honestly say, I feel like lightening has struck twice. When my friend Jennifer Faulkner told me her client Balsam Hill, would like to support Operation Smile with a holiday giving program, I smiled inside. I smiled for all the children we will help, and I smiled once again for all the love and support I have been given since telling our story. Together, we came up with an idea to auction beautiful Balsam Hill ornaments autographed by celebrities to benefit Operation Smile. The #CelebritiesforSmiles campaign will feature ornaments autographed by celebrities from fashion, television, film, music sports, and media. Fans can bid to win the ornaments beginning December 9 through 16th on http://www.celebritiesforsmiles.com. Balsam Hill has pledged $25,000 to Operation Smile as part of the #celebritiesforsmiles program, and has donated beautiful, one of a king ornaments from their new, high-quality home decor collection for celebrities to autograph.
More than 30 celebrities have signed so far, with many more joining the campaign everyday. A partial list of some of the celebrities participating so far includes: John Berman, Mark Burnett, Billy Bush, Alisyn Camerota, Chris Cuomo, Roma Downey, Calista Flockhart, Harrison Ford, Michael Franti, Kit Hoover, Kevin Jonas, Gayle King, Chris and Peyton Lambton, Zachary Levi, Sugar Ray Leonard, Adam Levine, Jay Manuel, Jack McGee, Jon McLaughlin, Holly Robinson Peete, Missy Peregrym, Michaela Pereira, Gavin Rossdale, Blake Shelton, Gwen Stefani, Michael Strahan, Michaela Pereira, Alfonso Ribeiro, Elaine Turner, Meredith Vieira, Kate Walsh, Mark Wahlberg, Pharrell Williams, the cast of Days Of Our Lives, and the hosts of The Doctors. It is truly awe inspiring.
The ornaments will be available for sale on eBay at http://www.celebritiesforsmiles.com from December 9-16. Fans can follow #CelebritiesforSmiles on Twitter and Facebook to spot new ornaments and celebrity participants now through the end of the auction. Updates also will appear on facebook.com/BalsamHill and more celebrities will be added to the auction everyday.
I hope you will join me in supporting this wonderful program that ultimately will change the lives of so many people. The children who receive the surgeries, and the families and communities that love them.
The delicate mouth-blown glass ornaments were made by the finest artisans in Europe and are approximately 4" in diameter. Each red, gold, silver or green ornament has been hand-signed by a celebrity. "Improving lives for children around the world is a wonderful gift to be able to give," said Balsam Hill CEO Thomas Harman. "Owning a Celebrities for Smiles ornament is a wonderful annual reminder of the joy that you can not only give, but receive during the holidays by helping others."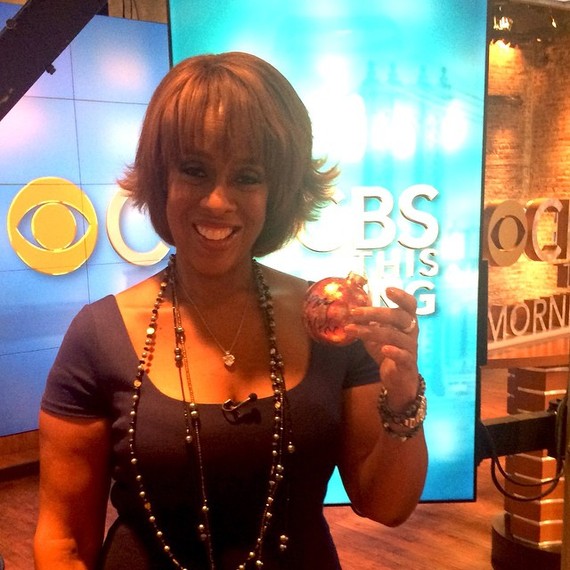 As my dear friend Dr. Bill Magee, founder of Operation Smile, often says, "there are are so many problems in the world that have no solution but for this, for children suffering from cleft lip or cleft palate, there is a solution." You can change someone's life this holiday season and I can't think of anything more incredible than that.