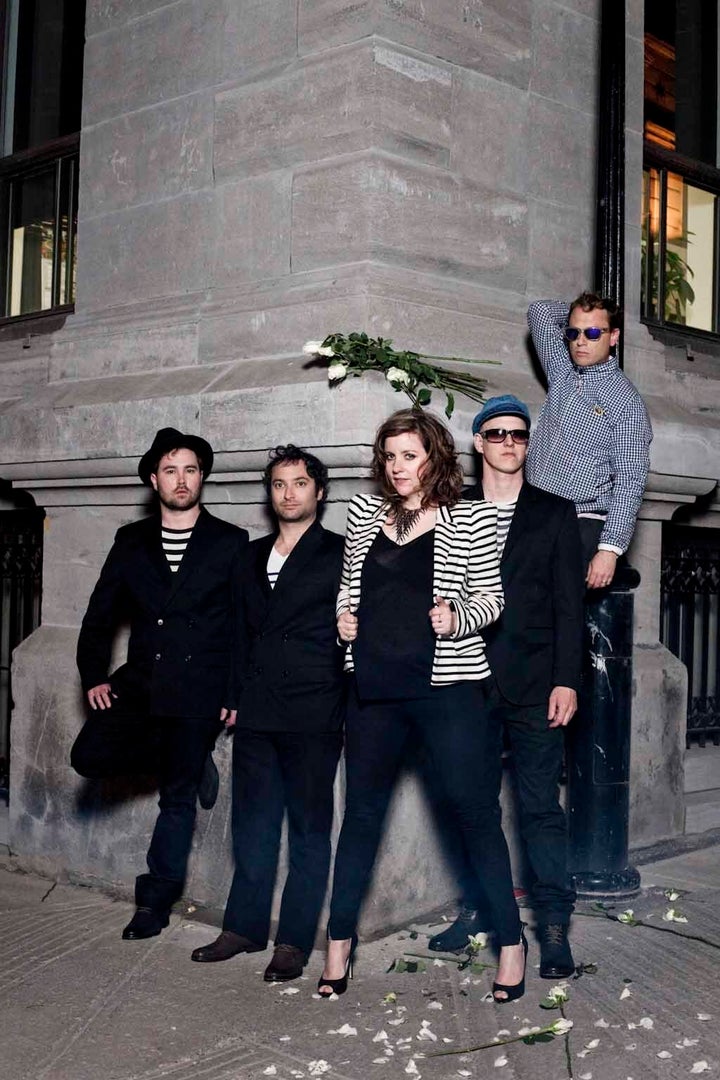 Despite sharing their name with the term celebrity journalists apply to anyone who's ever been in television or film, the band Stars has carved out a large following. Anyone familiar with the Canadian band's blend of soothing melodies and haunting lyrics knows why: There are simply very few acts with male and female vocalists as well-matched as Amy Millan and Torquil Campbell.
The music that Stars has been making over the past decade is spare and nimble, intimate yet incredibly tense. In interviews with The Huffington Post, Campbell and Millan described their sound and looked back over 10 years full of albums and tours.
"I think we're interested in space in music," Campbell said. "We're trying to make something that simultaneously feels cold and distant and intimate or secretive, like some secret you happen upon."
The band is currently writing and recording at Mount Zoomer studios in Montreal, where Wolf Parade and Arcade Fire took turns churning out successful albums (They're sharing the space with the Handsome Furs and Wintersleep.), and Campbell said they plan to have an album out by the springtime. Campbell is also touring with his band Memphis in support of his album, Here Comes the City.
When asked if she felt comfortable with the extensive fan base they've amassed over the years -- as opposed to a new band struggling to find an audience -- Millan said, "I've never really approached my life like that. I haven't been good at that business sense, of making myself more popular. I just can't believe it when people show up, I still feel that way. And the audiences always change, they keep getting younger and younger, which is so excellent because it means we're reaching them. But yet I've seen some of the same people come to shows for the entire 10 years."
The albums, composed by Campbell, Millan, bassist Evan Cranley and keyboardist Chris Seligman (all of whom have been a part of Broken Social Scene as well), are thoughtful and tender but never saccharine.
"We always try to create tension with juxtaposition," Millan said. "If there's a song that sounds sweeter, then it has to have hideous lyrics. If you're not paying attention, you might think it's just lighter pop music, but it's not -- it's not in the lyrics and it's not in the attitude of the performance."
Millan agreed that much of the band's mood and tension comes from the interplay between her and Campbell's voices. "Having a male and female vocalist helps because you can create stories with each other -- we've always wanted to balance the beautiful with the horrible."
Watching the band perform reveals a great sense of trust and comfort between the band's members. "It's something we don't speak about with each other, because I think it's one of those things that if you mention it, you'll jinx it," Campbell said.
"But when I look at Amy on stage -- and it took us some time to get there, there was actually mistrust for some years," Campbell continued. "I know there's someone who knows exactly how I'm feeling, how I'm singing and will help me get there. It does feel very much like we're synchronized swimmers, and it's pretty amazing to feel with someone who isn't your mum."
When Millan joined the band, she demanded a strong songwriting role and felt that everything in the band should be split evenly. Casual fans of the band may think that Campbell and Millan are the key parts of Stars (and they may even think they're together -- they're not).
"You have to give up your life to be in a band, and if you're traveling or on the road and someone is making more money, it can create a lot of destruction," she said. "You have to get that out of the way to create a lot of room and trust. The five of us split everything evenly, and then all that matters is what you bring to the table."
It's clearly a subject she feels strongly about, and her logic seems to have worked -- it would be difficult to imagine what Stars would sound like without equally strong male and female voices. It's what makes the music universal and universally acceptable -- there's none of the awkwardness that might accompany, say, a male listener mumbling the words to "Single Ladies."
"Writing can become challenging [when working with a male vocalist]," she added. "You're not just going to your first-person, diary writing experience -- you have to have an ability to bring out other experiences to the songs."
Millan, who has a child with bassist Cranley, agrees that there's something special about the singers' relationship.
"I wouldn't have dedicated my life to the band if I didn't feel the chemistry. I felt like I immediately met family -- their values are just like mine," she said. "We've had arguments, times where we wanted to kill each other -- but that's what you're like with your family. That tension which isn't always positive off stage always plays out positively on stage."
Campbell said in a time when "everyone is bombarded by records, and you can get it for free, the show is everything -- it's where we have two hours of connection with the audience and the music. We want to be around forever, and to do that you have to have people willing to put on your best shoes and pay for a ticket to come and see you."
The band's last full-album effort, The Five Ghosts, released in 2010, received lukewarm reviews. Millan said things are different this time around, in large part because she's now a mother. "I have a baby now, so it's very confusing for me to try to compartmentalize things. It's a new adventure with an added on, adorable side of child."
She also said she's stressing keeping the whole band in mind when she's writing. "I'm really trying to keep Torq's voice in mind with everything I write, which isn't something I did on the last record. It's hard to fit someone else in sometimes."
Regardless of where they'll go from here, Millan rightly notes that Stars already holds a special place in the lives of many of their fans. "We have these songs that are soundtracks to some people's biggest moments -- whether it's losing loved ones or losing their virginity or losing love and going through a breakup."
"That was the goal -- it wasn't to be popular. It was to create a world where people can take you home and just be a little less lonely."
LISTEN: Stars - Dead Hearts
Head to page 2 for Torquil Campbell's exclusive HuffPost Playlist
HuffPost Exclusive: Torquil Campbell's HuffPost Playlist Catch Campbell's notes on each song, then grab the playlist at the bottom of the page and listen all day.
1. Hooded Fang - Green River
"My favorite new band in the world right know, and they're from my neighborhood. Natch."
2. Mercury Rev - Butterfly's Wing
"From their recent, mostly ignored, totally head-fucking new album. So brave and so weird and so beautiful."
3. Lloyd Cole - Oh Genevieve
"One of my heroes puts out one of his best records in ages, highlighted by this perfect little happy-slash-sad pop song with a guitar riff that sounds like a red rubber ball bouncing down a green hill."
4. Twin Sister - Lady Daydream
"Dear Brooklyn, You seem to have a great many terrific musicians in you. There are among the best of them, in my opinion. Lots of love, Torq"
5. Junior Boys - You'll Improve Me
"I want to be in Junior Boys. But they don't need me at all."
6. High Llamas - Take My Hand
"If your summer hasn't been sophisticated enough and that cool breeze you keep waiting for hasn't come yet, you might want to buy this record. It will help immensely."
7. Helen Merrill - Lazy Afternoon
"One of the most underrated vocalists of her era, with a perfect cover of a perfect summer song."
8. Wild Beasts - Loop the Loop
"When English people are both ridiculously posh and ridiculously clever, you get this. When they are both ridiculously posh and complete fucking dolts, you get the royal family."
9. Alex Turner - Stuck on the Puzzle
"Wicked, effortless song from a fellow from my hometown. This is how they do it up north -- sad, easy, and totally fucking cool."
10. The Buggles - Video Killed The Radio Star
"What can one say about this song? One of the greatest ever written, and of course, prophecy. It's one of those songs that I find myself unable to skip whenever it comes on anywhere. If it plays in a grocery store, I have to stay till it ends, lingering in the freezer section till my fingertips turn cold. Pure pop genius."
LISTEN to Campbell's playlist on a continuous loop:
Calling all HuffPost superfans!
Sign up for membership to become a founding member and help shape HuffPost's next chapter