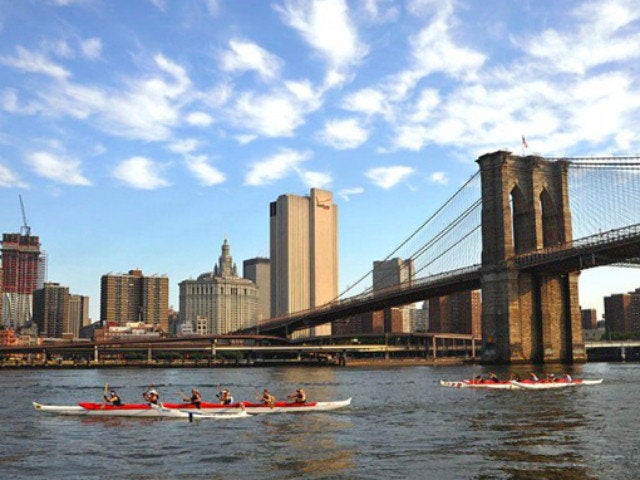 Day 1, Sept. 19, Montreal
The best way to start a tour is in your hometown. This is the first extensive tour I have taken with my daughter. She is one and a half. Packing for two, for a trip that will cover two months and four seasons is not an easy task. Not to mention packing glamorous show clothes as well as daytime pedestrian apparel. The bus arrives at noon in front of Montreal club, La Tulipe. This gives me ample time to move half of my life from house to bus over the course of the day. I never thought I could actually fall in love with Rubbermaid, but it happened.
Rubbermaids filled with winter boots and sweaters that we won't need until our Canadian leg of the tour in November. Rubbermaids filled with toys and glue and crayons and Play-Doh and stickers etc... Definitely the most colorful pack I have ever done. Nothing like a good tub to organize your life. Torquil gets on the bus and immediately has a claustrophobic attack because only one of the two windows opens, as the other has been stuck shut. "Windows that open... That was the only thing I asked... " He musters under a cloud of rising anxiety.Getting caught in an air-conditioned trap with no natural winds for two months is most definitely an unpleasant thought.
Our most gentle bus driver Ron from Halifax looks a little depressed that the complaints have already started. Ron I would like to add has an impressive rolalamenant -- he has driven some world famous bands and our own beloved Gordon Lightfoot.Our first show is sold out and filled with great friends and the love of our hometown.

A fantastic start.
As we load on to the bus at the end of the night, Patty has to go back home because he hasn't packed yet! That is insane to me, I always forget fundamentals if I leave it to the last second.
Evan and I settle baby and family into the back lounge that will be our home for the next two months.
The baby sleeps and so do we.
Portland MaineRon fixes the window! It takes a little more elbow grease then usual but it opens!!! Our first time in Portland, Maine, we find a beautiful town with great food. As we are walking to dinner we are spotted by one of our long time fans turned pal, Justin. He has been to probably ten shows over the years and is always accompanied by his best friend (and world famous air guitarist) Erin. He assures me they will be at the show later and is happy we finally made it to their home city.
After trying every type of oyster from around the Portland area we play in front of a dancing crowd, Justin, his boyfriend and Erin being the most enthusiastic .Erin and Justin decide they just have to drive to Boston for our show the next day.
Day 3, Sept. 21, Boston

Back at the Paradise Rock Club for another sold out show! It always amazes me that people keep showing up! It means everything to us.
Evan takes our daughter to the Smithsonian Zoo, where she learns to roar like a tiger. Torquil and I go to the MFA to soak in the impressionists.
At sound-check, our monitor engineer realizes that our in-ear sound packs have been lost. You may not know what those are, so without getting into the boring details, you just need to know that they are expensive and important.
Torquil thinks they have been stolen, but why someone would want personally molded in ear molds? That to be honest -- are kind of disgusting -- is doubtful.
They are discovered under the stage in Portland, Maine. And wait!! Justin and Erin are driving from Portland to Boston to see our show!! The only way I can locate him however, is through Twitter.
Four urgent tweets later, our fans save the day, and return our valuable equipment.
We have the best fans in the world.
Day 4, Sept. 22, New York City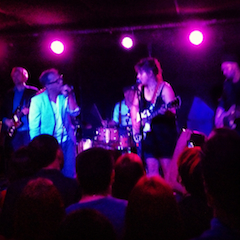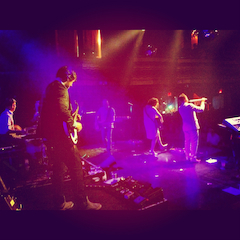 Today is insane. We have a sold-out show at Webster Hall to play and then when we finish, we need to make our way to the Mercury Lounge for a second 'secret' show.
Two shows, two clubs, one night equals chaos. Tequila is the only thing that will save us.
But it's New York in the fall, and it's a gorgeous day. Just like the T-shirt says, "I LOVE New York."
The people of New York make the whole floor bounce at Webster Hall during our new song: "Hold on when you get love and let go when you give it." The kids brought the love!
At our second show of the night, we wanted to play a completely different set so we pulled out some oldies. Chris brought back the sway for our cover of "This Charming Man."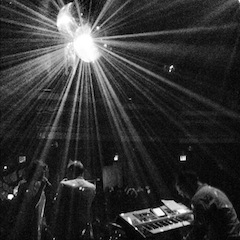 Back on the bus, we leave New York immediately as huge Prevosts aren't too welcomed in that old city.
Down the road, onto the next town, the next gig, the next adventure.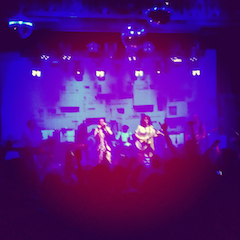 Popular in the Community