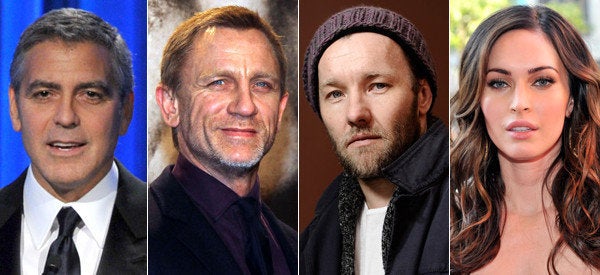 If you've noticed -- and become frustrated with the fact -- that Hollywood has been churning out an unending number of CGI blockbusters and mindless sequels, you're not alone. As it turns out, Hollywood's biggest stars have had it with the big money business, too.
It's become almost fashionable for acclaimed actors to rip their own industry. Many have created their own production companies, to finance smaller films, and take salary cuts to star in low-cost prestige movies. Australian star Joel Edgerton, who has earned raves for his turn in Aussie feature "Animal Kingdom" and this fall's "Warrior," told The Hollywood Reporter over the weekend that he aims to use his new company to create well-made films of which he can be proud, a diametric opposite of what Hollywood is doing.
"I have an issue with the commercial aspect of moviemaking: I don't see why a movie can't make a lot of money and also be good. We see at least two or three of them every year," he said. "But there is some shit movies out there now. It fucking pisses me off - and I hate it when a shit movie comes out that's obviously made just to make money, and it does make that money and it lets everybody know that it's okay to make shit movies because you can get rich off of it. I hate those people."
Edgerton is far from the only star taking a stand. In a recent conversation with HuffPost, Sir Ben Kingsley spoke of his effort to defend high-end storytelling and quality films from studio interference.
"If we deviate from them and go to a film that is basically a string of sensationalist effects, the thread will snap and we'll find that people will stop going to the cinema, because people always look for the story," he said. "I think that once you start to make crucial decisions by committee and each member of that committee is extremely anxious about his or her job, then you're not going to have the right decisions made. You're going to have decisions that are fear-based, you are going to have decisions based on what they think they should say, or what they think their boss needs to hear, rather than going out on a limb and being actually creative."
Hollywood's pre-eminent A-lister, George Clooney, says he's done making blowout movies, preferring to concentrate on more serious works and earning his salary elsewhere.
"I do films for scale and I go do coffee commercials overseas and I make a lot of money doing those so I get to live in a nice house," Clooney said during Newsweek's recent actor's round table, defending his choice not to do big budget films. "I don't rape the budget of a movie, we shot 'The Ides of March' for under $12 million, we shot 'The Descendants' for under $20, and if they make money, great... As an actor all bets are off if you need money. I've done really shitty movies or shitty jobs when I was broke, and people go, why did you do 'Return of the Killer Tomatoes?' Because I got the job, asshole!"
Even Megan Fox, not known for her stellar dramatic work, joined in on dissing the big budget productions; in 2010 she slammed Michael Bay's "Transformers" films, getting herself fired in the process.
"I don't want to blow smoke up peoples ass. People are well aware that this is not a movie about acting," she told Entertainment Weekly. "And once you realize that, it becomes almost fun because you can be in the moment and go, 'All right, I know that when he calls Action! I'm either going to be running or screaming, or both."
Robert Redford, who started the independent Sundance Film Festival, recently joined Fox in slamming the robot action flicks, calling them a prime example of the movies he does not want to see.
The ever-outspoken Daniel Craig has also called into question his own films, dissing the 007 sequel "Quantum of Solace" for its lack of script -- and how he had promised himself to never be in a film as ill-prepared as that one.
"You swear that you'll never get involved with shit like that, and it happens," he told Time Out London. "On 'Quantum,' we were fucked. We had the bare bones of a script and then there was a writers' strike and there was nothing we could do. We couldn't employ a writer to finish it. I say to myself, 'Never again,' but who knows? There was me trying to rewrite scenes – and a writer I am not."
Then there is George Lucas, who recently slammed Hollywood for not wanting to finance his Tuskegee Airmen film "Red Tails" because it had an all-black cast.
Popular in the Community