In 2001, back when I was fairly new to being a theater reporter, Clive Barnes reviewed Rosie O'Donnell in Seussical. I was shocked to read this sentence in his review: "As a critic who knows the value of everything but the price of nothing (they usually give us unpriced press tickets) I was shocked that this ducat cost 85 bucks. That was an object lesson there and then." Those of you who know how much tickets are now must be chuckling and/or shaking your head at his reaction to $85. But the disturbing thing to me at the time was Mr. Barnes, a well-respected member of the community, had no idea how much a ticket to a Broadway show cost.
I generally get my tickets for free, but I always know the cost of them to a "normal" person. My friends are mostly theater people, but I don't like to lose sight of who the majority of theatergoers are. I remember being one of those "normal" theatergoers for many years. I used to like to go to Broadway on Broadway and Stars in the Alley to see performances from shows I may not see at all otherwise; I went to see what I might want to see more from. I miss Broadway on Broadway terribly, so I was thrilled when the Broadway League brought back Stars in the Alley a couple of years ago. I have attended every year since. Pretty much the only journalists who go are videotaping or Snapchat-ing or Periscope-ing or something. I don't do any of that--I'm horrible at social media--I send a few tweets and that's pretty much it. To me it is more about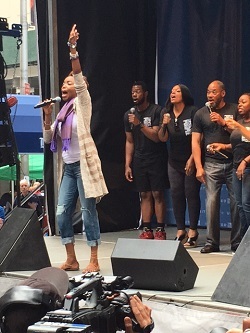 experiencing the event. I like to know how everything is coming across. I'm curious to see what songs shows pick. If Erica Ryan from the Broadway League didn't see me at one similar event per year she'd think I had retired or died.
I stand in a VIP area and I listen to the numbers. Then I run around the corner and talk to the people who got to Shubert Alley hours before just to be there. There are a lot of those. Some of them are super fans who have seen all the shows being represented, but many are folks (tourists and locals) who simply want to see a taste of Broadway for free. After all, Broadway is expensive. Even with rush tickets and apps and lotteries, it's not a cheap habit. So it is great the Broadway League organizes this event and brings the joy of theater to people for free. I'm appreciative of every producer of every show that chooses to participate. I'm also appreciative of United Airlines, who sponsors it. I wish they would sponsor Broadway on Broadway too!
It's always great to see which actors stay to watch their fellow actors. Last year, I remember Kelli O'Hara, exhausted as she was from Tony season, standing by the wall and acting so excited when everyone else sang. This year after James Monroe Iglehart led Aladdin ensemble members Kathryn Allison, Tia Altinay, Lauryn Ciardullo and Kathryn Terza in a crowd-pleasing, albeit shortened version of "Friend Like Me," he stayed to enjoy the many subsequent numbers, even recording part of Heather Headley's performance on his phone. Sarah Charles Lewis, young star of the recently departed Tuck Everlasting, wowed the crowd with that show's anthem "Everlasting." But before and after she took out a binder of Lights of Broadway Show Cards -- trading cards representing Broadway stars and shows -- and got them signed by various performers. Instead of doing a song from the show, On Your Feet! had young cast members Eduardo Hernandez and Kevin Tellez dance. Hernandez stuck around to enjoy performances by those many years his senior with his father soaking up compliments about his child's stellar dance moves.
And what did the "normal" people think? Despite the over 2 hours run time, and the drizzle that had begun towards the end, everyone I met loved it. I spoke to two tourists in from Australia who have never seen a Broadway show but were eager to buy tickets to Beautiful after seeing Chillina Kennedy lead fellow cast members Julia Knitel, Yasmeen Sulieman, and Nasia Thomas in "Natural Woman." A New York mother pulled her 2nd grader out of school just to come -- she said they were saving money to see Matilda before it closed and were particularly happy to see that show's young cast members sing. Headley's full-out "Push Da Button" from The Color Purple, which ended with a mic drop, received high marks from the crowd. Many folks also mentioned Wicked standby Alyssa Fox, who sang "The Wizard and I" from the show, as a highlight. Of course not every number is an easy sell in this environment -- I received questions about the numbers from Bright Star, Fun Home, She Loves Me and Something Rotten!, from audience members who hadn't seen the shows wanting to understand the context of the songs.
Despite small quibbles, the event is joyous. It's a way to really celebrate Broadway and promote it. It doesn't reach as many people as Broadway on Broadway (which was more centrally located and on a Sunday) did, but those who show up are treated to something special. I encourage people to go next year. I'll be there.
And for those of you who missed it this year, BroadwayWorld has video. Not as good as being there, but you have to take what you can get.

Photo is of Heather Headley and ensemble members from The Color Purple. Taken by me. From the fancy area.
Calling all HuffPost superfans!
Sign up for membership to become a founding member and help shape HuffPost's next chapter