They say that hindsight is 20/20. The recent release of My Week With Marilyn takes audiences back to the 1960s while Leonardo DiCaprio's latest film, J. Edgar, rekindles old questions about whether the fearsome head of the Federal Bureau of Investigation was a closet case.
To my mind, a much richer decade for source material is the 1920s, when the financial disparity in American society was almost as obscene as today's economic divide. This was, after all, the decade of flappers, Prohibition, bootlegging, Al Capone, and the Wall Street Crash of 1929.
First created in 1926's Chicago (written by Maurine Dallas Watkins), Roxie Hart is still on Broadway in the long-running revival of Kander & Ebb's hit musical, Chicago. From 1960-1962, ABC ran a popular show which starred Dorothy Provine as Pinky Pinkham, the star of the Charleston Club. Everyone knew the theme song to The Roaring 20s.
On March 21, 1967, Thoroughly Modern Millie (starring Julie Andrews, Mary Tyler Moore, Carol Channing, and Beatrice Lillie) was released. Its trailer promised a happier look at the Roaring Twenties.
Two biopics of musical comedy stars were released the following year. The media frenzy over Barbra Streisand's screen debut on September 10, 1968 in the role that made her famous on Broadway made it difficult for a similar film to gain traction. Watching the trailer from Funny Girl offers a quick reminder of the film's many delights:
Recently, San Francisco's 42nd Street Moon mounted semi-staged revivals of the 1926 Gershwin Brothers musical, Oh, Kay! and Cole Porter's 1933 London hit, Nymph Errant. Both musicals were created as showcases for Gertrude Lawrence.
In searching for videos to include with my reviews of these productions I was reminded that, fresh from her successes with Mary Poppins, The Americanization of Emily, The Sound of Music, Torn Curtain, and Thoroughly Modern Millie, Julie Andrews had made a musical biopic about Gertrude Lawrence. Notable for its musical numbers (staged by Michael Kidd) and Daniel Massey's portrayal of Noel Coward (who, in real life, was Massey's godfather), Star! has some great songs by Noel Coward, Cole Porter, George Gershwin, and Kurt Weill. It will undoubtedly prove quite satisfying for fans of Julie Andrews. The following five clips contain some of the film's musical highlights.
In terms of cinema, the 1920s was the decade in which silent film peaked and then suddenly fell victim to the invention of "talkies." In reading some of the reviews posted about The Artist (the delightful new film by Michel Hazanavicius), I've been shocked by how many critics are questioning its box office potential because (a) the film is made in black and white, and (b) it's a silent film.
They seem to think that no one in his right mind has ever seen a silent film. What they don't know is that some of us -- especially here in the San Francisco Bay area -- see quite a bit of the stuff. Between screenings at the Niles Essanay Silent Film Museum, the Pacific Film Archive, and the San Francisco Silent Film Festival, we see lots of silent films.
In March, silent film lovers will have a chance to witness four complete screenings of Kevin Brownlow's restoration of Abel Gance's 1927 masterpiece, Napoleon, at the Oakland Paramount with Carl Davis conducting the Oakland East Bay Symphony. These screenings represent the only time the newly restored film will be shown in the United States.
For most people, the end of the silent film era is familiar from the early scenes in Singin' in the Rain, the beloved 1952 movie musical from MGM that starred Gene Kelly, Donald O'Connor, and Debbie Reynolds. In that film, Jean Hagen played Lila Lamont, a ditzy silent film actress whose career was destroyed by the invention of film soundtracks.
My sincere hope is that The Artist (which will undoubtedly be nominated for the Academy Award for Best Picture) doesn't merely spark a revival of interest in silent film, but helps to generate further funding to restore old prints of silent films. Not only has the wealth of artistic riches that have been screened locally thrilled loyal silent film audiences, it has helped build the careers of silent film accompanists like Dennis James, Donald Sosin, Stephen Horne, the Mont Alto Motion Picture Orchestra, the Mattie Bye Ensemble, and the Alloy Orchestra.
In many ways, The Artist resembles A Star Is Born. One film star's career begins to crash and burn while another's takes wing against a background of tremendous churn in the film industry.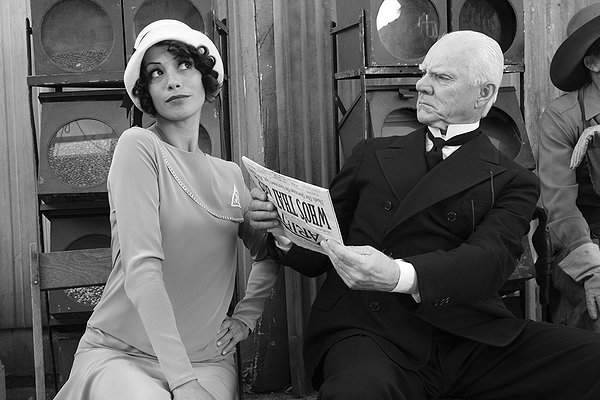 Bérénice Bejo and Malcolm MacDowell in a scene from The Artist
Jean DuJardin stars as George Valentin, a silent film matinee idol with a strong resemblance to Douglas Fairbanks. When his producer, Al Zimmer (John Goodman) decides to stop production on silent films and switch over to talkies, George refuses to follow suit. He knows all too well that he has no future with the new technology.
As his work evaporates and his fortune dwindles, George's wife Doris (Penelope Ann Miller) forsakes him. After George fires his devoted chauffeur, Clifton (James Cromwell), only his devoted Jack Russell terrier stays by his side.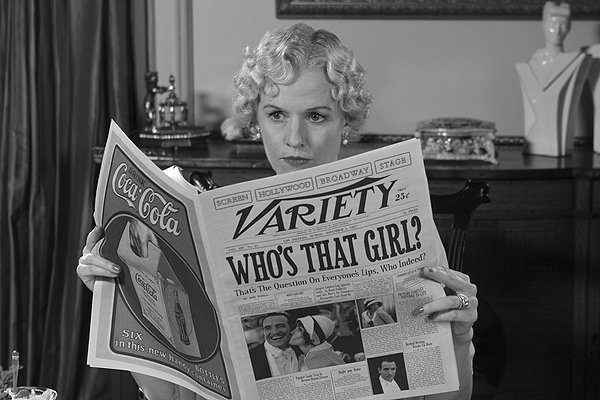 Penelope Ann Miller as George Valentin's wife, Doris, in The Artist
Meanwhile, a young flapper named Peppy Miller (Bérénice Bejo) -- who pushed herself into Valentin's spotlight at a recent film premiere -- has had a stroke of good luck. The sparkling, eager new face of talking film, Peppy's career is skyrocketing with the same velocity that George's has hit the skids.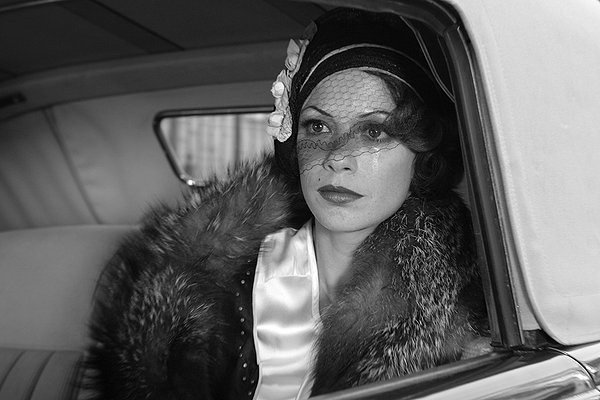 Bérénice Bejo as Peppy Miller in The Artist
Those who are unfamiliar with the wonders of silent film are in for a delicious surprise. Jean DuJardin gives a phenomenally expressive performance as George Valentin, the tap-dancing star whose public deserts him in a flash. Bejo is equally brilliant as Peppy.
In smaller roles, John Goodman, James Cromwell, and Malcolm MacDowell remind us how much silent film directors loved character actors. As one falls in love with The Artist (resistance is futile, this is a film you'll want to see again and again), Norma Desmond's statement in 1950's Sunset Boulevard -- "We didn't need dialogue. We had faces!" -- will keep ringing in your ears.
The great strength of the film, however, comes from the brilliance with which every shot is set up. Throughout The Artist you'll find yourself in awe of the cinematography by Guillaume Schiffman, the production design by Laurence Bennett, and the film's truly grand musical score by Ludovic Bource.
The Artist should be experienced in a theatre filled with people in order to get the full effect that silent film has on an audience. It has everything a great film could want: a gripping story, great passion, a heroic pooch, and tap dancing. Here's the trailer.
Related
Popular in the Community