Following the "devastating" episode of "Nashville" Thursday night, CMT's new show about the iconic days of rock 'n' roll debuted to a solid audience. 
Portraying Elvis on screen was something that excited Milligan, an 18-year-old from Fort Worth, Texas, who had previously played the icon in a short film titled "Nobody." 
"It's intimidating," Milligan told The Huffington Post during a Build Series interview on Thursday. "You got to realize there will be huge Elvis fans out there who'll be really critical, and I'm sure I'm my worst critic, but to get to do my own interpretation of Elvis and do it on a platform like this is really cool. And to take my own thoughts about Elvis and what Elvis would've been thinking in high school and [about] this sudden fame that hit him ― he was an awkward teenager and then a couple years later he's the biggest star in the world ― it's an incredibly transformation there and an incredible arc to get to play."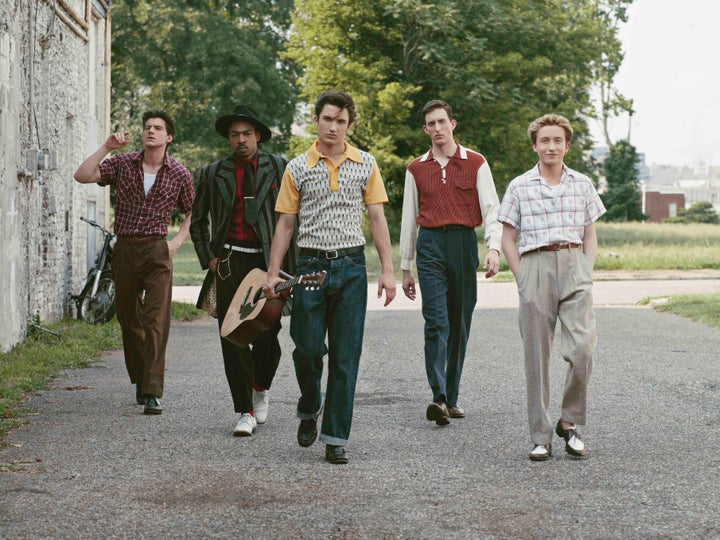 Another character who was equally as inspiring to bring to the screen was Keisker, the brains behind Phillips' operation as his studio partner. Actress Margaret Anne Florence was "thrilled" to take on the role, especially because specific details about Keisker's life are unknown.  
"There was not much recorded about her history because, you know, she's a woman in the '50s. We're still struggling with that now, with women getting the same opportunities and everything as men. So finding information on her was a little more difficult," Florence told HuffPost. "But also, as an actor, it's nice because I get to take the pieces of her that I found ― and also from talking to some friends of hers in Memphis ― and I get to make the character my own." 
Although she didn't have the "pressure" of playing a musical legend, Florence wanted to make sure Marion's story was heard. Not only was she Phillips' work partner, but she was his love interest as well, making the eight-episode storyline a "fascinating" one to delve into.
"She really worked hard and the studio just would not have run the same way, everybody said that. She ran things. She paid the bills. She got everything she needed to produce the records. Whatever they were doing, she did the business, Sam was there to really do the music and make the artists," Florence explained, adding that playing opposite Murray has been great.  
"She's there as his partner and, for the most part, Sam treats her as his partner and respects her for what she's trying to do for the business. So that was a great part of our relationship to play, too."
"Sun Records" airs Thursdays at 10 p.m. ET on CMT. Watch the full Build Series interview below. 
Calling all HuffPost superfans!
Sign up for membership to become a founding member and help shape HuffPost's next chapter
BEFORE YOU GO
PHOTO GALLERY
The Ten TV Shows America Couldn't Get Enough Of In 2016