Two of the best small victories for a hard-working mom?
Still feeling desirable and having thoughtful, engaging conversations with your kids. For the first time ever, you can have them at the same time.

A new music video by ORGANIZE, a non-profit recently featured at the White House, celebrates MomBods and DadBods. Baby Boomers are the least likely of any demographic to donate their organs - in fact, only 10% of Americans older than 50 are registered organ donors. The biggest reason why? They - incorrectly - believe that their bodies are no longer healthy enough for it. But they couldn't be more WRONG!

On average 22 people die everyday waiting for organ transplants (this is serious!), and half of them are older than 50. Baby Boomers are actually the best potential solution to the problem. So then, the question becomes - how best to reach that audience? Oprah? The Housewives series? Modern Family? -- Noooo, any mom knows the real answer - our kids.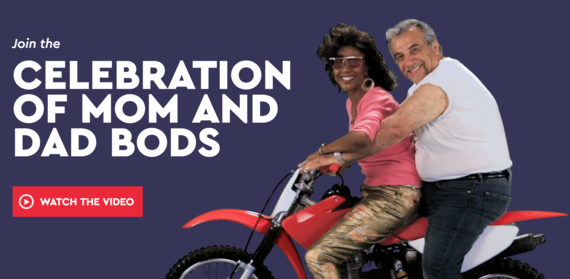 ORGANIZE's new campaign, very smartly, isn't aimed directly at parents, but instead at encouraging kids to talk to their parents. Millennials, who are already highly supportive of organ donation, live their lives on social media. They are easy to reach and easy to activate. But unlike other organ donation campaigns, this one isn't asking them to register as organ donors themselves (most of them are already registered donors anyway), but rather to start the conversation with the two people who hang on their every word - their parents.

The video is catchy and cute - a bunch of Baby Boomers dancing around to the "Mom & Dad Bods Anthem", shaking what their mommas gave them. The call-to-action is even simpler: tag your parents in the video on Facebook and register at ORGANIZE.org. Most importantly, it creates an opportunity to start a conversation we all need to have but somehow just never seems to come up naturally. I mean, how else do you tell your mother than she still has a rockin' bod?!!

So this week let's flip the script. Rather than scouring Facebook to make sure our kids aren't showing too much of their bodies, let's all take a few days to celebrate ours.