It's urgent we bring peace to Syria. The civil war there has allowed ISIS (Daesh) to grow and thrive, setting the stage for their attacks in Paris and elsewhere. Ending the war in Syria is crucial toward eliminating the terrorists.
A nationwide ceasefire in Syria is a first step.
There is a ray of hope. Last month four towns in war-torn Syria received a miracle of sorts. It was something none of them had seen in months or even years: food and peace.
A ceasefire agreement between the Syrian government and opposition forces was reached with the help of the United Nations.
The agreement allowed humanitarian aid to reach the towns of Zabadani and Madaya in rural Damascus. In addition, aid was delivered to Foah and Kafraya in Idleb governorate. These are towns that had previously been denied aid because of the fighting.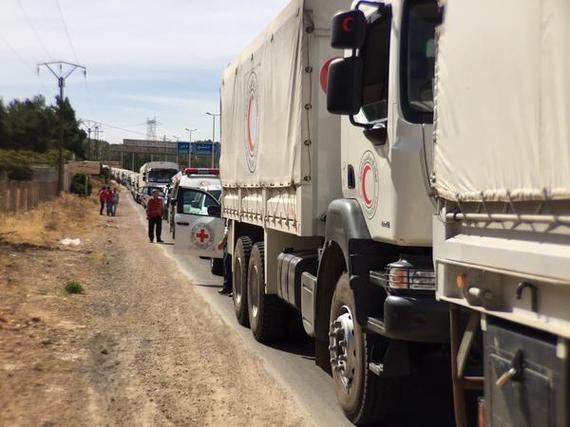 Rural Damascus, Syria. ICRC team members discuss final preparations before moving a humanitarian aid convoy into the town of Zabadani. (CC BY-NC-ND / ICRC / P. Krzysiek)
It happened after sunset on October 18, when trucks from the United Nations, the International Red Cross (ICRC) and the Syrian Arab Red Crescent rolled into the towns. The UN World Food Programme (WFP) was part of the convoy.
Hussam Al Saleh of WFP Syria says they "delivered monthly food rations for almost 30,000 civilians in four Syrian besieged towns as part of the cease-fire agreement."
The war has destroyed basic services and left 12 million Syrians, over half of the population, in need of humanitarian aid. But the fighting often blocks relief agencies from reaching those in need. For at least this moment, the guns of Syria's war were silenced and people could eat, the most basic human right.
The WFP food ration for the four towns included bulgur, rice, sugar, chickpeas, pasta, canned pulses and vegetable oil. Each family's ration can feed five people for one month. If the ceasefire can hold, more food for the hungry can arrive. Hussam adds, "Arrangements are underway to deliver additional supplies to all four locations."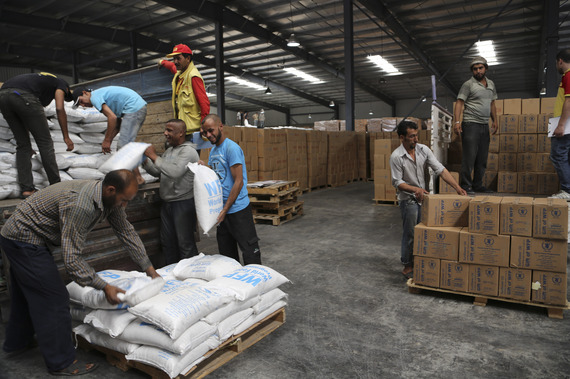 A nationwide ceasefire would allow more WFP food to reach the hungry. (file photo courtesy WFP/Laure_Chadraoui)
Everyone knows these ceasefires are fragile. But we all need hope that the war in Syria will end soon. And just maybe we are seeing the first steps.
Let's expand this into a "nationwide ceasefire" in Syria. Foreign ministers from around the globe called for such a ceasefire last month during talks in Vienna. It's part of the roadmap to peace in Syria, a political process that will put in place a new government that respects human rights for all.
Following the tragedy in Paris, world leaders are now quickly stepping up efforts to end the war in Syria. For if the government and opposition groups keep fighting, that will provide the chaos Daesh needs to survive in Syria. That must not be allowed.
By ending the civil conflict, focus can be turned solely to eliminating the terrorists. As U.S. Secretary of State John Kerry said, "we also know that Daesh cannot be defeated in the end without de-escalating the underlying conflict in Syria, which attracts fighters to this battlefield... this political process has to be accompanied by a ceasefire that will help to end the bloodshed as quickly as possible."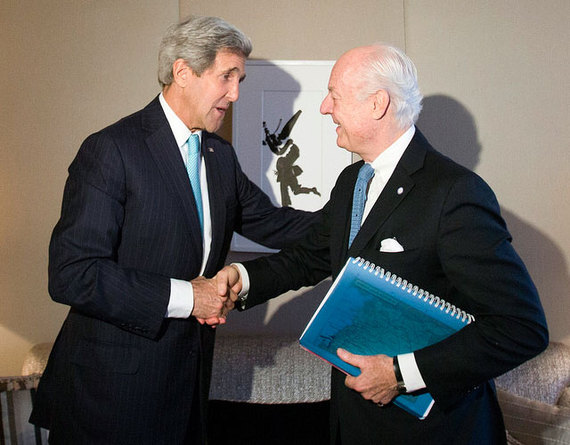 U.S. Secretary of State John Kerry and UN Special Envoy Staffan de Mistura, who is tasked with seeking a peaceful resolution of the ongoing conflict in Syria. (photo courtesy of the Mission of the United States Geneva)

There is nothing to be gained from continued fighting in Syria. There won't be anything left in the country. For right now Syrians cannot even do the basics like growing food.
Millions of Syrians have fled the war and sought refuge across the Middle East and Europe. These Syrians are hungry, tired and poor. The WFP and other relief agencies do not have enough funding to feed them.
We cannot ignore their plight. No peace process is going to succeed without coming to the aid of all Syrian war victims. As the Vienna Communique states, "Humanitarian access will be ensured throughout the territory of Syria, and the participants will increase support for internally displaced persons, refugees and their host countries."
International security depends on achieving peace in Syria and eliminating terrorism. The international community can and must support the Syrian people in starting on that road to peace.
Calling all HuffPost superfans!
Sign up for membership to become a founding member and help shape HuffPost's next chapter