Have you ever said that you would start a company or project if you only had the free time? While being busy is perfectly understandable in a society that values a 50+ hour workweek, you don't have to quit your day job to pursue a dream. Last week, I sat down with Travis Shevlin, a Manager at Moody's, who's unhappiness with his comb led him to dream up "The Perfect Part," a two-comb hybrid for creating straighter parts with ease. It's a small idea, but it's the first step in his company, Tailored Avenue, and a first step doesn't have to be a huge investment. In fact, it might be less daunting if it isn't (which is still pretty daunting).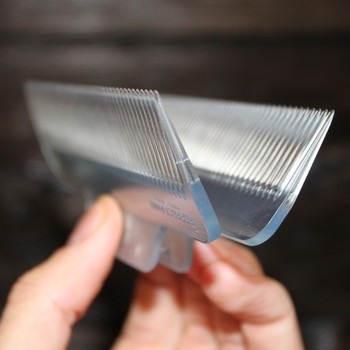 The Perfect Part (photo from site)
Alex Schattner: How has working in finance prepared you for "Tailored Avenue?"
Travis Shevlin: Working in the finance field has helped me budget my time and money, and gotten me used to interacting with high-level individuals on a professional basis. It's helped me to stay cool when going into meetings with people who are probably smarter than me. The key is to remain confident, and trust in your facts.
When did you become interested in grooming?
A year or two ago, I started exploring new hairstyles, and I ended up with the side part that I have now. My regular comb wasn't helping me get the straight line I wanted. So, I decided to join two combs together with a spring, and split my hair that way. I was happy with the results, and thought it might make a good all-in-one product.
The side part is a timeless look, and one that's definitely having a moment right now. I decided if I didn't do this, I would regret it. So, I went for it. I first bounced the idea off of a lot of friends, and asked them, "If you had this, would it be helpful?" Most people said they'd be interested in trying it, so I decided to turn the idea into a reality.
How did you fund production of The Perfect Part?
I launched an Indiegogo campaign that raised over $21,000. This level of funding allowed me to manufacture and promote the comb with little financial risk, and without losing equity in the company. The initial run was 500 combs, and 250 had to be sent to all the backers. So, we made some money then, but not as profit, because the money went towards fabrication and marketing efforts.
How did you promote the campaign?
We produced a short docu-style video introducing the comb. The director was a fraternity brother of mine from Hofstra who works with a lot of up-and-coming artists. I let him know what I was doing, and he loved the idea. We spent an entire day shooting in NYC - with my brother and I as the main "actors" in the film. I was so nervous. It was weird, but to keep costs low, we didn't hire a model.
Later, social media played a huge role. We pitched a lot of style and fashion blogs, many of which covered the comb --Instagram also played a big part. By simply searching the #sidepart and connecting with that user base, it allowed us to interact directly with our end consumers.
How did you reach out to manufacturers?
I gave them a call after doing some research online. I reached out to a few places that specifically produced plastics and specialized in injection molding. I honestly had no idea what to expect going into this, but the current manufacturer was very helpful, and we reached a deal.
What was the prototyping/production process like?
You have to prepare for certain issues. It's a bit of a headache, and everything costs money, but you have to stay positive. During my crowdfunding campaign, I told my funders on Indiegogo that I was going to have their combs to them by a certain date, and then I scrambled to meet those deadlines. You don't want to fall short, or disappoint them. They funded your project, and so they're putting faith in you. Luckily, I factored in the extra costs of time and experience into the campaign.
We had a couple different concepts. My original concept differed from that of the engineers, who had another, more complicated idea. It didn't work, and we went back to my original concept. The simplest one worked the best.
What are you factoring in for the future?
As a startup, every day is a new adventure. You need to learn how to adapt and pivot. Over the next couple months, we will be launching our second edition of The Perfect Part in a new color.
After that, my vision is for Tailored Avenue to become a leading men's lifestyle brand and blogazine. In order to do this, we need to be different, plain and simple. Whether we are revolutionizing the world of men's grooming and styling products, becoming the go-to digital hub for the modern gentleman, or creating a unique clothing line. Sky's the limit at this point.
Related
Popular in the Community