At the beginning of the year, I promised myself that I would take a lot more risks and step outside of what would normally be my comfort zone. My participation in Starter Island was just that. It was an escape into an adventure I never thought I would bear witness to. Starter Island is a weeklong competition where contestants form teams in order to build a business from scratch while sailing through the Exumas.
This trip meant more to me than simply building a business though, As a young Bahamian, I represent a good percentage of the population that has never and probably will never get to explore any of the 700 islands that make up my breathtaking country. To be able to participate in a competition that would allow me to see my island nation through different eyes while simultaneously changing the negative rhetoric surrounding young people in the Bahamas, was honestly the stuff made of dreams.
Tucked away in a slip at the Bay Street Marina was Beacon Won, the 70-foot Schooner that would be my home for the next 5 days. With a small Jolly Roger flying a bit too freely at the top of the sails, Beacon Won does in fact resemble a pirate ship.
Any fears that I may have had were immediately wiped away once Captain Bruce the completely eccentric yet absolutely lovable captain of Beacon greeted me like we were old friends. It was in that moment that I knew the next 5 days would be the best I've had in a long time.
As the boat sailed past Potter's Cay Dock and Nassau became but a speck on the horizon, all competitors were gathered in the galley to begin our pitches, because this was in fact a competition. Dozens of ideas were thrown around and at the end of it all only 4 would make the cut, thus creating the teams for Starter Island.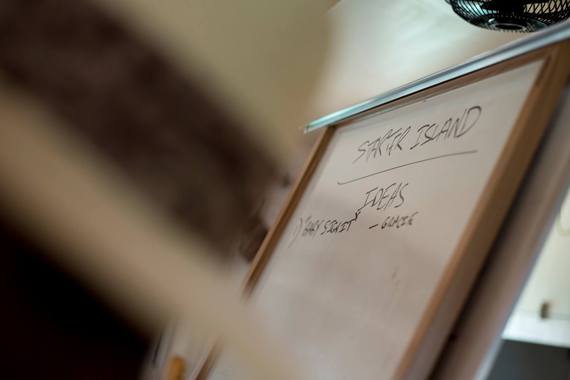 Lurking at the side of the galley waiting patiently for his turn to speak stood Mark, a quiet yet enthusiastic guy from Pennsylvania waiting to take the competition by storm. Mark, with a love for the ocean, came with the idea of pairing travelers with boat captains in order to make out-island travel in the Bahamas more accessible and more affordable. I knew I had to be on his team. He had barely been in my country for more than five minutes but he had already seen one of the major things that was wrong with it.
The islands of the Bahamas, while beautiful, are rarely seen by both citizens of the country or middle-class tourists seeking a different getaway. This is because domestic travel in the Bahamas is somewhat broken. Mark saw an opportunity to change that, and immediately I was on board with his vision. It was something that I myself was experiencing. I've traveled the world over but I've never explored my own country because of my inaccessibility to it. My feelings grew even stronger as we docked at our first stop, Highbourne Cay - a private cay that caters literally to the rich and famous.
Taking a break from brainstorming, I decided to stretch my newly found sea legs and stroll around the island. Going down several sandy passageways and up a few steps, I realized that I made a mistake wandering off by myself. In this case though wandering paid off as I stumbled across the only restaurant and bar on the island a play on words and location calling this hotspot, 'Xuma'.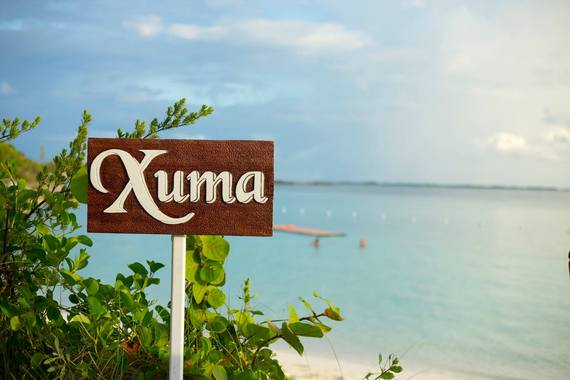 Before you can break through the foliage that tucks the bar away into the hills of Highbourne the first thing you can hear is the calypso and the second thing you can hear is the laughter.
The kind of free laugh that only comes with spending hours on end with the kind of backdrop that Highbourne affords. With this kind of atmosphere it honestly wasn't hard to make myself at home at the bar where Highbourne's best bartender (Clytis) fixed me up with the world's best Bahama Mama.
It would also be at 'Xuma' where I would have the most unforgettable affair with food. Highbourne Cay is fortunate enough to have in their employ Chef Devan Mcphee, one of the Bahamas' best chefs. Chef Mcphee strolls along the deck of the restaurant, seemingly ignorant of the fact that he changed my life with a piece of Mahi Mahi; cooked as if it were a sacrifice to the gods. His casual display of ignorance annoys me a little. You don't get to be this nonchalant when you cook that good. My annoyance quickly subsided with another round of tropical fruit drinks and my need to share my food with my boat mates that were filing into the bar one by one.
With the sun setting over the cay and its light touching the water in a way that made it look unreal, I gazed out at the chain of islands that would bring my next escapade. A new day would bring with it challenges for my team and with that in mind I headed back to my floating home. Come morning all currents would be streaming towards Allen's Cay.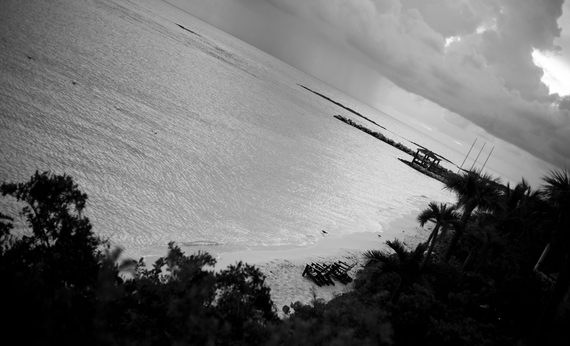 This post is the first in a series of articles documenting my experience sailing through the Exumas in the Starter Island competition.
Photo Credit: Tatiana Clare of OX Studios - All Rights Reserved

Support HuffPost
A No-B.S. Guide To Life
Related
Popular in the Community