With Staniel Cay and our first impromptu gut check behind us one thing was glaringly obvious to me. My team needed to pick up the pace. There were only two more days left on our cross island adventure and that saddened me. Not just because of nostalgia, but because that left only two full days of competition to get it right before pitch night.
Team Skipper's business aims to diversify the tourism industry of The Bahamas and in order to effectively do that we needed to successfully liaison with the Ministry of Tourism. A tough enough task on its own but coupled with lack of internet access and a poor phone signal in the middle of the Exumas made this mission a near impossible one.
As the team member in charge of all company partnerships as well as being the only Bahamian on the team, this left me with a pressure to tap into my own resources and networks in order to get the validation and support that we needed. Lucky enough for us I'm a Brand Ambassador for the island of Grand Bahama, being given this title just a month before by the Grand Bahama Island Tourism Board, I knew just who to draft an email to right before we sailed away from the only location we would be able to get a decent signal from.
Support from the tourism industry of The Bahamas meant a serious reduction of marketing costs for us, which would make our company one of the more affordable startups to invest in on the boat.
With my e-mails sent out I had time to focus on what really mattered and that was Big Major's Cay. Big major's cay more popularly known as Pig Beach is a must see in the Exuma cays. A small island filled with the big personalities of the pigs that inhabit it. It has forever been a dream of mine to see these pigs up close and personal; and even though the iguanas made me a lot more cautious. That wasn't going to put a damper on me seeing and feeding the pigs.
The ever present nerd living inside of me wants to believe that Snowball, from Animal Farm survived Napoleon's attack and created his own colony away from the maleficent pigs of Mr.Jones' farm. You've done well for yourself Snowball, Old Major would be proud.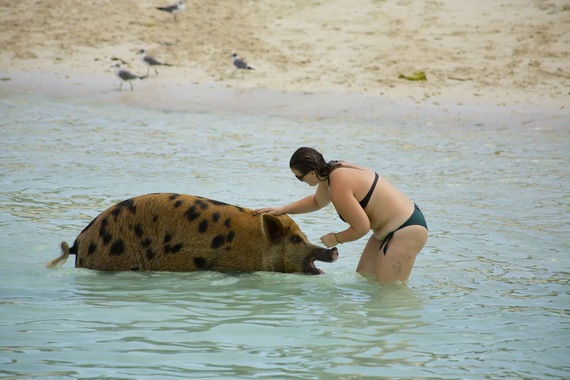 Seeing the boats and people beginning to arrive, the pigs know that free food is in store for them and they dive snout first into the water ready to greet their willing caterers.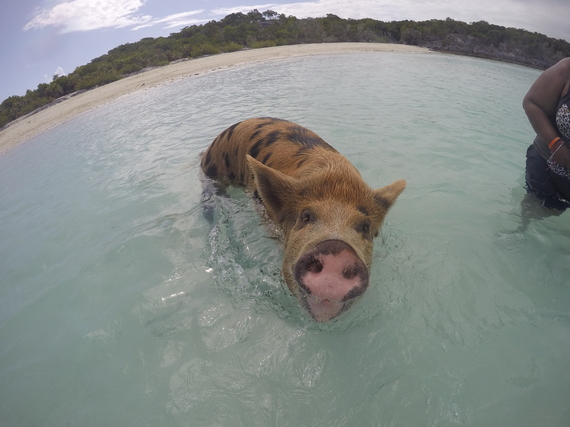 The pigs are friendlier than I expected given my previous encounter with a wild animal in the Exumas.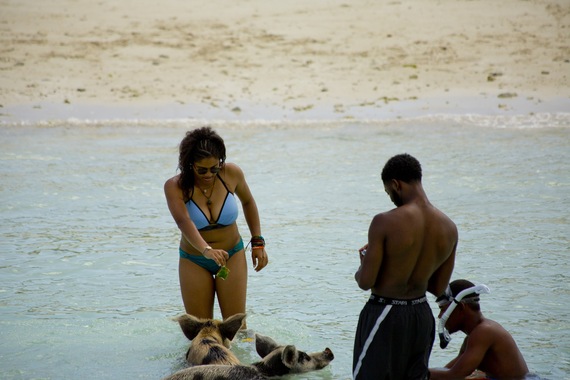 Unfortunately for me we weren't able to stay as long as we would have liked. Thirty minutes of interaction and it was back on the boat to Compass Cay, our last stop. This would mark the beginning of the end of what has undoubtedly been the best adventure. With that thought in mind we say goodbye to our oinking friends and head back to Beacon Won.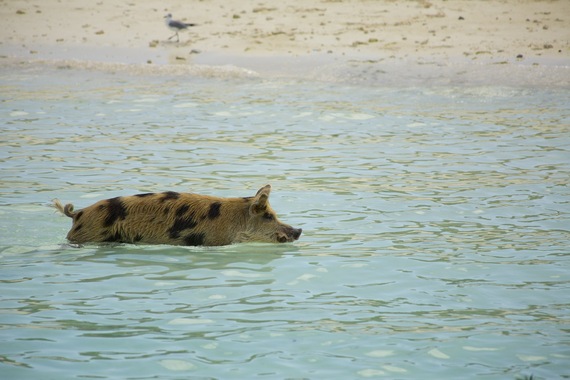 This post is the fourth in a series of articles documenting my experience sailing through the Exumas in the Starter Island Competition.


Photo Credit: Tatiana Clare of OX Studios & Yeqian Zhao - All Rights Reserved
Related