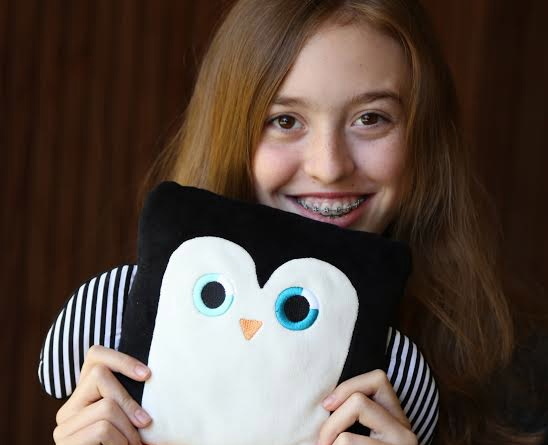 I never thought that I would design, manufacture, and sell a stuffed animal on Shopify, especially at age fourteen.
I attend The Girls' Middle School in Palo Alto, California. It's in the heart of Silicon Valley and gives girls the opportunities to focus on things that are typically associated with boys: math, science, leadership, technology, and even skateboarding.
In 7th grade, we have an entrepreneurial class where we work in teams to form a company, design and manufacture a product, sell it, and ultimately "pitch" our company to a panel of real VC investors.
My group wanted to do something with an animal theme, and one girl could sew pretty well, so I proposed a simple animal pillow design with a useful pocket on the back. I made the animals irresistibly cute, and figured the pocket would provide real functionality to make them more compelling to buy.
People loved our products and we sold out at every sale. It was one of the most successful businesses in The Girls' Middle School history.
During the entrepreneurial project, I realized I love making people happy, while also making money. I thought, why not turn my design into a real business? My parents are both designers, but they've never made a product of their own. This could be an opportunity for all of us!
Poketti, "Plushies with a Pocket," was born.
We chose Shopify to open our online store because they were the clear leaders in ecommerce. The templates were clean and modern, and setting up the site was really easy. Plus, it was simple to accept payments and to track orders. Shopify made us look like a "big" company even if it's just my family and I behind the scenes!
I found out pretty quickly it isn't easy to launch a company. I "hired" my mom as CEO (since I'm under eighteen) and I took the title of CCO (Cuteness Control Officer). I set to work designing our first series of animals: Sydney the Penguin, Toni the Bunny, Baxter the Puppy, and Roxi the Kitty.
I drew them with Adobe Illustrator, making sure the features were just how I wanted them. We picked colors and fabric patterns, and made notes and instructions for production. I sized the pocket on the back to hold a cell phone, eyeglasses, or a Poketti Notebook featuring the characters. That was the fun part.
Soon after, we ran into the first obstacle in our Poketti journey: manufacturing. We knew nothing about stuffed toy production, so we found a very experienced partner, Dennis Kupperman at RB Toy Design, who works with a reputable factory in China (where most stuffed toys are made).
Working with Dennis has been a huge learning experience, not only for me, but for my mom as well. We had no idea how many little details there were to set up a toy business: trademarks, copyrights, websites, barcodes, patterns, fabric selection, regulations, and even safety testing!
Did you know that every stuffed toy sold in the United States must first pass inspection by the State of Pennsylvania's upholstery division? And if all of this work wasn't enough, we learned we needed to order at least 20,000 Poketti to keep the cost down. What did I get myself into?
To give us a boost, we created a Kickstarter project to raise money for the order. I made a little stop-motion animation video using prototypes of our Poketti Plushies, and my little sister played the voices of the animals. After thirty long days, we thankfully reached our goal and raised over $20,000.
When it came time to place our order, my mom was getting really nervous. I reassured her that it would be great! I have heard her tell people that every company should have a happy kid on board. I think being fourteen helps because I only focus on the positive side of things.
The downside of being fourteen is that sometimes schoolwork gets in the way of the work I want to do on Poketti, like designing more accessories and creating new animals.
Our Poketti Plushies arrived just days before Christmas, almost four weeks later than we expected. We weren't happy that our shipment was delayed, but all of that vanished when we saw the truck carrying over 630 boxes of my products!
It took six of us over three hours to unload the container. I can't remember ever working so hard (and I was very sore the next day). After about an hour, my mom and dad took me aside to let me open a box. I picked a box of penguins, the character named after me.
There they were: black and white penguins, all proudly lined up in a row, with real tags, and all of the features I so carefully designed.
I know I'm a "young entrepreneur," but I'm not sure if I'll ever top the amazing feeling of holding one of those penguins in my hands.
The hard part now will be selling them. Not so much talking to people about Poketti, because I'm so proud of our accomplishments; the hard part will be letting them go!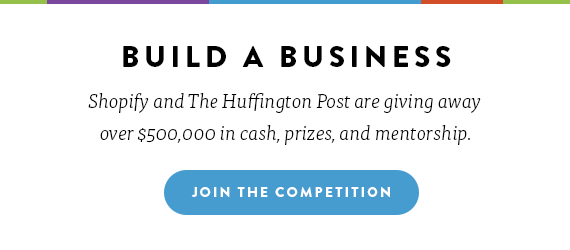 Sydney Loew is the founder and Cuteness Control Officer of Poketti. She lives in Palo Alto, California with her family.
This year, Shopify's Build A Business Competition is bigger than ever. Shopify is giving away more than $500,000 in cash, prizes and mentorship in its fourth annual competition. Contestants create a store and try to sell the most in their category for a chance to win $50,000 and a VIP trip to NYC to meet their mentor.
Related