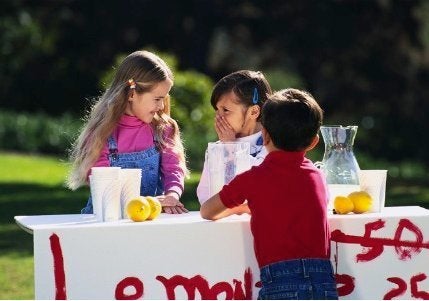 With the end of the school year approaching and the weather heating up, that can only mean one thing for aspiring entrepreneurs: Lemonade season is upon us. Every summer, thousands of kids across the nation spend their days running lemonade stands. This year, May 1 marked the official kickoff to the season with 120,000 kids participating in National Lemonade Day, an event created by entrepreneur and philanthropist Michael Holthouse to teach kids about running a business.
Lemonade stands in America are the quintessential first business, and many successful entrepreneurs will tell you they got their start by peddling lemonade on the street corner when they were kids. Holthouse, who founded the nonprofit Prepared 4 Life to help kids acquire important life skills, believes that all the skills essential to entrepreneurship can be learned through the process of starting a lemonade stand. "If you do it properly, you can cover every single aspect of starting, owning and operating any business," Holthouse told AOL Small Business in a recent interview.
With plenty of summer still ahead for selling lemonade, we asked Holthouse's for his best tips for starting a lemonade stand. Kids, listen up! Here are five things you need to know.
1. Start by setting goals.Setting goals is the first step to any successful endeavor. Ask yourself, What do I want to achieve by starting a lemonade stand? Your goal could be to buy something with the money you make or to raise money for a cause. Figure out how much money you'll need to make to achieve your goal, and factor that in when deciding how to price your product. Whether your goal involves making money, decorating a cool stand or all of the above, make sure that every decision you make is helping you achieve those goals.
2. It's all about the branding.Create a vision for your lemonade stand that will make it different and stand out. You can't just put a pitcher of Country Time on a folding table and expect customers to flock. Think about what makes you unique among your group of friends and express your personality in the way you decorate your stand. How can you incorporate aspects of yourself -- like your favorite sports, games or music -- to attract customers to your lemonade stand? Give your lemonade stand as unique a personality as your own!
3. Connect with your product.You have lots of choices for the type of lemonade you want to serve, so take some time to think about your product. Maybe your family has a special lemonade recipe you want to use, or you have a favorite brand of lemonade that you always drink. Whether you try out a new recipe that you find on the Internet or add your own special touch to a classic recipe, make sure you're selling a product you would want to buy yourself.
4.Promote!You can start promoting your business even before you set up shop. Plan a campaign to let people in your community know when and where they can find your lemonade stand. Put up fliers around town and in your neighbors' mailboxes. Include an offer to give a discount to those who bring their fliers to your stand. Once your stand is open for business, make sure it has plenty of things -- balloons, big signs, decorative items -- that will help people notice your stand from a distance. Creating a clever name for your stand is also a great way to promote your business.
5. Be a great salesperson.Sell, sell, sell! But most important, remember the key to selling a lot of lemonade is in creating a valuable customer experience. Remember to smile, greet your customers and make them feel special. Always be appreciative when they buy your lemonade. And don't forget to have a tip jar so customers can reward you for the great service.
The original version of this article appeared on AOL Small Business on 5/11/11.
Related
Popular in the Community