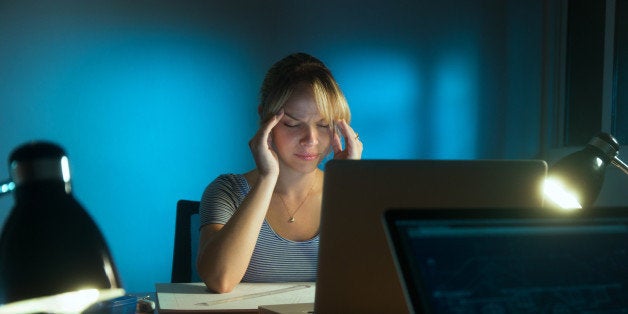 Back in early 2012, I was only a college professor. Well, I still am a college professor, but now I do a whole lot more. You see, I had always felt that I needed to do "more" in the world. I thought I had a bigger life purpose that went beyond just teaching in the classroom. Don't get me wrong, I love teaching. But as the years went on, I realized that I was limiting myself by keeping my efforts to just the students at my university.
About four years ago, the local NBC station was starting a new lifestyle show called Living Dayton in the city where I live. And they were looking for local experts to become regulars on the show. And of course I thought, "where do I sign up?!" And so it began. Finally, I was getting my knowledge out to a larger audience!
But soon after I began appearing on Living Dayton, I said to myself, "I need a website." And with a website comes many different opportunities for building a business and helping people. However, since my knowledge of websites, business-building, and marketing were very limited, I had a very steep learning curve.
I know there are a lot of people who want to start their own business -- and the idea of working from home while making money online is an excellent opportunity. But where do you start? Here are seven things I learned along the way -- and I hope this information helps you along your own journey:
1. How to set up a website
There are many decisions to be made here. You can hire someone to create your website for you, but that can get quite costly. However, it's a great option if you have the money in your budget. But if you don't, you can use sites like Weebly or Wix. They are do-it-yourself places where you can build your website on your own. That's the route I took. And being a self-proclaimed "technological idiot," if I can learn it, so can you!
2. The best type of web-hosting service to use
Another thing I didn't know was that I needed to choose what type of service would be the best to host my website. This was something that I literally had no clue about, so I had to do my research. And surprisingly there is a lot to learn, and there are many options. From shared hosting to virtual private servers, there are many things to consider.
3. How to do social media marketing
I was an advertising major in college, but many things have changed in the world since then. Now, everything is digital and virtual. There was no such thing as social media in the 1990s. So I was taught to do everything the old-fashioned way. But now, if you don't utilize social media to your advantage, you might as well not even have a business. So it's worth your time to learn social media marketing strategies.
4. How to build an audience
You'll feel great once you get your website up and are offering products or services. But if you don't know how to build an audience, you will hear the sound of crickets chirping in your head. No one will show up if you don't build your following! Beyond social media, it is important to guest blog on other websites and/or connect with other professionals in your field. That way, you can both benefit from each other's audiences.
5. The best tools for building a mailing list
I'll never forget the day when a fellow coach asked me what service I used to send my materials out to my mailing list. And I kind of gave him a blank stare and said, "Um, I don't have a mailing list." And he said, "You don't have a mailing list?!? Get one ASAP!" That's the moment that I learned that the importance of building a list. You can use different services like Constant Contact or Mailchimp to help you out with that.
6. How to "talk" to your audience
However, just because you have a list doesn't mean that your audience is paying attention to you. I have learned that you need to keep talking to them in many different ways. You can send them your latest blog/article, post messages on social media, or hold live webinars - just to name a few. The point is to keep them engaged with you in any way possible.
7. Always remember to add value
Above all, you want to make sure that you are making people's lives better. Isn't that the point of living? Well, at least it should be. It doesn't matter if you are a life coach or a dog walker, you want to make sure you keep your good ethics a part of everything you do. When you do that, the money will flow naturally.
Don't get me wrong -- I am not an expert when it comes to online businesses. I am simply writing this article from a lay person's perspective. I had to learn these seven things on my own, and I hope this helps you as much as possible.
REAL LIFE. REAL NEWS. REAL VOICES.
Help us tell more of the stories that matter from voices that too often remain unheard.