London and Paris tend to be the Fall Focus of Europe's Contemporary Art scene but, instead of Fiac-ing off and Friezing away, I tucked into Turin.
Artissima, the city's long-established contemporary art fair, takes place at The Oval which, to English ears, sounds like a cricket ground but is actually a 230-yard long rectangle built to host the speed-skating at the 2006 Winter Olympics. The budget, alas, ran out before they finished the approaches. Taxis are obliged to disgorge 230 yards from the entrance, and the nearest Metro station lies half-a-mile away across scrubland and unkempt car-parks.
Still, the interior is bright, shiny and, when crammed with galleries from Jeddah to Rio de Janeiro, 190 of them, full of pizazz. Several dynamic galleries from Eastern Europe, viewing Artissima as their Window on the West, were fresh from appearing at the Viennafair a month before -- including Ani Molnár from Budapest with an ingenious contraption by Cseke Szilárd involving electronic fans, fluorescent tubing and a polystyrene ball that kept shooting out at passers-by; Olga Temnikova from Tallinn, with hand-painted books by Merike Estna; Triumph from Russia, with love; and Gallery On The Move from Tirana, with heart-throb sculptor Helidon Xhixha, the most voluble Albanian since Enver Hoxha, eagerly discoursing about his sizable achievements in crumple-polished steel.
Three additional sections added variety: New Entries, for galleries less than five years old; Present Future, for solo shows by young artists; and Back to the Future, for art from the 1960s-80s, where the psychedelic urban landscapes of Sicilian artist Salvo caught the eye.
I had been to Artissima twice before: in 2008, when it was held in smaller but more accessible venue, opposite the former Fiat Lingotto factory; and in 2012, when the mood struck me as more conceptual and lacking in zing. This time, however, I was in Turin primarily to meet dynamic local collector Patrizia Sandretto Re Rebaudengo, who had chosen Artissima to present 89 Plus -- a competition for artists born since 1989 -- at a press-conference featuring eight artworld worthies squashed together behind a desk like sardines in a can (some sort of performance?) without an artwork in sight, not even on the adjacent screen.
All eyes were therefore on ubiquitous Hans Ulrich Obrist, representing London's Serpentine Gallery, which co-sponsors the award with Patrizia. Herr Obrist spoke for several hours, or seemed to, then introduced the competition's first winners: Niko 'The Ikon' Karamyan & Tierney Finster, who "work as a collaborative" to spawn what some might unfairly consider amateurish pop videos but which actually "draw on and explore their own take on life's simplicities, such as love, nature, spirituality and sense of humor alongside the more complex notions of sex, wealth and identity."
Ms Finster made it clear she was not responsible for this curatorial gibberish, giggling helpfully that: "We're instagramming our lives away!"
I met Patrizia Sandretto Re Rebaudengo the following day, at her Foundation. Faced with a name so splendiferous, I felt as if I were in Turin at her behest, summoned (after a chance encounter in imperial Vienna) for an audience. But that would be to imbue one of Europe's major art collectors with a pomposity she does not possess.
Patrizia began buying art in 1992. Her yen for collecting was inherited from her mother, who had a passion for Meissen porcelain. But Patrizia -- cute, petite and crackling with nervous energy -- found Meissen "a bit boring." After graduating in Economics, and inspired by a "fantastic old lady... the first person in Italy to buy Cy Twombly and [Zero artist] Piero Manzoni," she indulged her penchant for Minimalist and Conceptual art with a stint at London's Lisson Gallery under Nicholas Logsdail.
She launched her Fondazione in 1995, adopting as its logo the six-branch star of the family coat-of-arms (with attendant motto Strength From The Stars). Since 2002, the Fondazione has been housed in a low-slung, Minimalist building designed by Claudio Silvestrin on the site of a former automobile factory. Scruffy approach lawns ill prepare visitors for the manicured interior, where smart female staff in crisp black uniforms happily strike up conversations about the art on show.
Patrizia, who admits to being "fussy and precise" with a "need to keep everything under control," attends the Fondazione every day and claims, endearingly, to "learn something every day, too."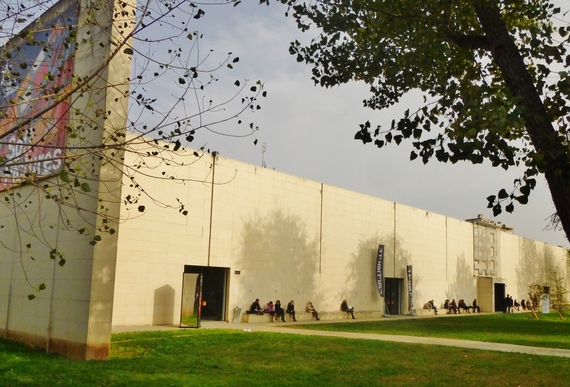 Patrizia's Fondazione is one of five venues used for the One Torino exhibition program staged under the auspices of Artissima (through January 12). A disparate, multi-artist array of photographs, 'slow-drip' videos and bits of apparatus make up the Fondazione's contribution -- entitled, for what one might wrongly suppose no discernible reason, Veerle.
In fact, and I quote curator Chris Fitzpatrick, Veerle is "quite simply [sic] a given name chosen to unite multiple ranges of artistic activity under the semblance of a single distinguishable corporality."

As for what the exhibition is all about, I re-quote: "By inserting a series of works within a conversation and putting a series of conversations into dialogue with those works, Veerle can accrue multiple personalities."
Aha! Got it, thanks. A pity that, when Mr Fitzpatrick attended one of the Fondazione's Curator Residency Courses (staged in Patrizia's 18th century country palazzo near Alba, 45 miles south of Turin), accruing a semblance of distinguishable English was not on the curriculum.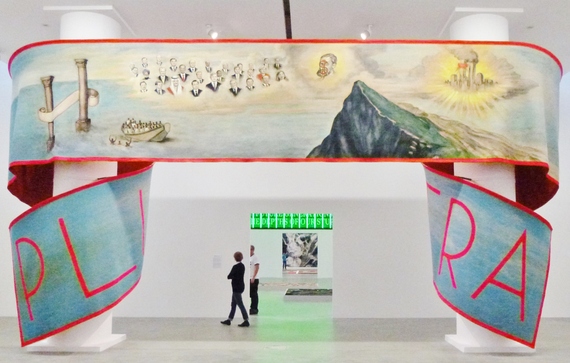 A far more extensive and enticing exhibition remains at the Fondazione through March 23. It is entitled Soft Pictures, devoted to 'textiles in contemporary art,' and headlined by two works Patrizia commissioned from versatile Polish artist Goshka Macuga: The Letter, a lifesize, 37ft tapestry version of a black-and-white Solidarnosc photograph of postmen brandishing a rebellious giant envelope; and Plus Ultra, featuring the Rock of Gibraltar and Pillars of Hercules, displayed like a triumphal arch.
Plus Ultra was first unfurled at the Venice Biennale in 2009 and several other works in the show have also encountered an international audience, albeit without ever previously being displayed in such a tightly-curated, textile-only show. A woven-fiber Monster -- with its aggressive array of bob hats -- was created by Macuga's compatriot Piotr Uklański for his show at Gagosian London in 2009; while Slavs and Tatars' Mystical Protest, in silk-screen on fabric behind white neon bars, lit up Tate Modern in 2012.
Francesco Vezzoli's tapestries offer witty takes on brainteaser abstractions by Victor Vasarely and Bridget Riley, while Willem de Rooij's Blue to Black cotton rug, made using the Asian batik technique, has a searing monochrome intensity evocative of IKB Klein Blue. Paraded across the furthest wall of the exhibition, like some colossal altarpiece, is Pae White's 12 x 40ft Still Untitled tapestry, ingeniously recreating giant swirls of smoke.
Patrizia's own collection now exceeds 1,000 works, some of which are showcased in her swanky Belle Epoque town-house on one of Turin's grandest avenues -- where she bountifully hosted a Gala Dinner to mark the start of Artissima.
The cosmopolitan guest-list included (on my table alone) Switzerland's Uli Sigg, the first Westerner to collect Chinese contemporary art; Defne Ayas, the Turkish Director of Rotterdam's Witte de With Center for Contemporary Art; and Alfredo Cramerotto, the Italian Director of Mostyn, the leading contemporary gallery in Wales.

Dinner was served inside a garden marquee the size of Buckingham Palace Ballroom. To get to it meant navigating the house and collection after initial greetings from Maurizio Cattelan, dangling from a coat hanger just inside the doorway (La Rivoluzione Siamo Noi).
Such incongruous juxtapositions lurked at every turn. Allan McCollum's Plaster Surrogates, an army of framed, vari-sized black rectangles, lined the walls of the parquet-floored dining-room. Joseph Kosuth's neon-lettered Finnegan's Wake topped a stairwell lined with rococo iron balustrades. In the lounge, Ron Arad's steel Europa Sofa hovered beneath a Henningsen artichoke-lamp dangling from a gilded stucco ceiling. The walls were hung with works by Colombia's Oscar Murillo, Poland's Jakub Ziółkowski, London's Lynette Yadom-Boakye and Germany's Friedrich Kunath -- all hot off the easel. "Painting is back!" gasps Patrizia. "The medium is returning to the center of the international art stage!"
Represented in the vestibule, by a giant clay bell from his Return The World series, was another emerging artist: Argentina's Adriàn Villar Rojas, whose debut Italian solo show will be staged at Patrizia's Fondazione in 2015.
Down in the basement, Vanessa Beecroft's Blonder Traum surveyed a treadmill in the work-out room. The adjacent swimming-pool was doused in Patrick Tuttofuoco's colored neons, spelling out the names of world cities (Map 0.1). The pool was overlooked by a library lined with navy blue armchairs designed by Gio Ponti. Next to a tableful of silicon glassware by Alessandro Ciffo, a uniformed waiter lurked behind a silver champagne bucket. Punningly perched on a bookshelf behind him was a miniature version of Jeff Koons' Michael Jackson & Bubbles, just above Michele Florio's meaty tome Le Grandi Donne del Piemonte.
Being The One. Patrizia Sandretto Re Rebaudengo is turning heads, causing a scene and keeping things bubbling in the Turin art world. The woman who, in 2006, launched the Premio StellaRe to honor females "who strive to make a difference to contemporary society through their innovative work, dedication and ideas" is herself emerging as the Grand Lady of Piedmont.
all photos © Simon Hewitt
Calling all HuffPost superfans!
Sign up for membership to become a founding member and help shape HuffPost's next chapter