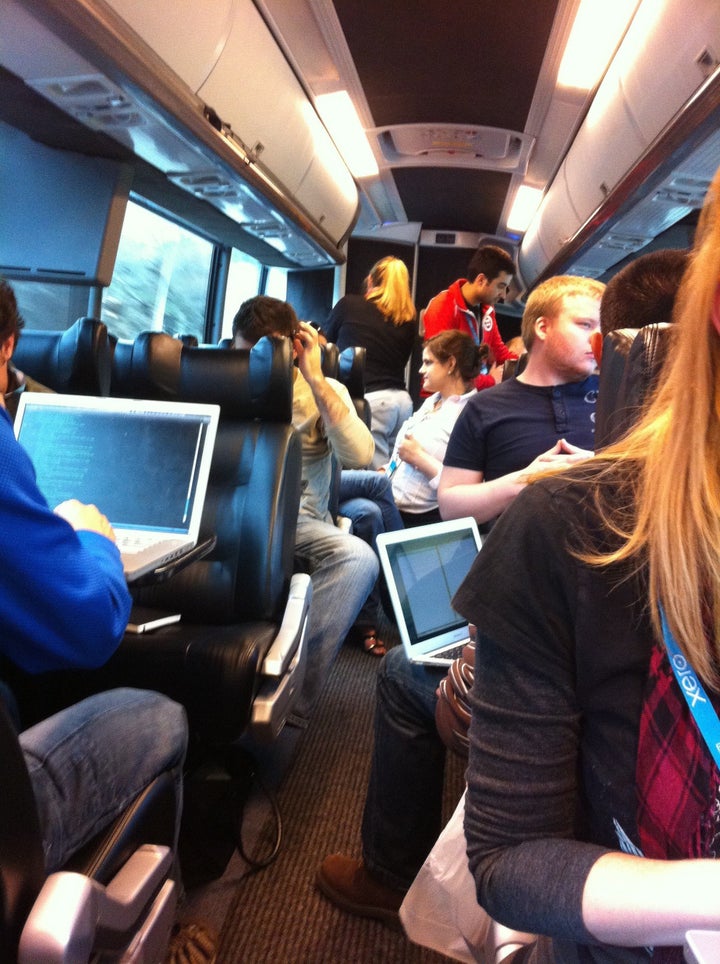 From Odysseus to the Merry Pranksters, the road trip is the ultimate rite of discovery. This classic rite is taking a new twist on highways across the country from March 8 through 10: As I write, six buses filled with teams of sleep-deprived innovators -- hackers, designers, marketers, dreamers -- are headed to Austin, TX on a collective quest to prove that, with the right combination of energy and talent, a viable business startup can be launched from scratch in just 48 hours.
As Elias Bizannes relates, this particular Odyssey started as a joke over drinks in early 2010. Sitting with a group of friends in Silicon Valley, where he is the financial manager with at Vast.com and heavily involved in mentoring tech entrepreneurs, the subject of travel plans for South by Southwest Interactive festival came up. Someone suggested making an entrepreneur's roadtrip of it -- renting a bus and filling it with a collection of enterprising talent to develop, hackathon style, business startups en route.
The March festival was only about a month away, but Bizannes put up a website -- actually, a mere splash screen announcing, "YOU AND A TEAM OF STRANGERS ON A BUS TRAVELING AT 60 MILES PER HOUR HAVE 48 HOURS TO CONCEIVE, BUILD, AND LAUNCH A STARTUP." To his surprise, this tease almost immediately caught the attention of TechCrunch, who published a piece on the project, now officially dubbed Startup Bus. Faster than you can say "game on," Bizannes' inbox exploded with e-mails from hundreds of would-be "bustrepreneurs" wanting in.
"In the space of three days it went from an image on a website, with my credibility on the line, to a fully scoped out operation with sponsorship and 25 [accepted] participants," recalls Bizanne.
The joke-over-drinks genesis of Startup Bus aside, Bizannes has an evangelical zeal about cultivating entrepreneurship and engendering connections. An Australian native who transplanted to Silicon Valley in 2009, he describes being struck by the energizing aspect of the community's alumni networking, with new enterprises continually built around networks of former co-workers who provide an ongoing culture of support and collaboration.
Ultimately, with Startup Bus, he was hoping to create an emotionally intense setting that would mimic, in a highly compressed fashion, the working relationships that build between work colleagues over the space of one to five years -- the type of relationships that fuel the culture of innovation driving Silicon Valley. Less than the actual startups devised, he wanted to build a new type of alumni network forged by shared challenges, one that would have lasting impact on all their future endeavors.
In this, the first Startup Bus was a tremendous success. "We went from strangers to best friends in two weeks," Bizannes says.
This core group now forms the leadership of the 2011 incarnation, with alumni serving as the "conductors" of individual buses -- responsible for everything from recruitment and fundraising to the logistics of making sure their bus arrives on time. A total of 170 selected participants will form self-assigned teams, on buses departing from San Francisco, New York, Cleveland, Chicago, Miami, and Los Angeles.
The conductors have an individual level of autonomy in selecting participants from their respective cities and setting working parameters, although certain ground rules apply, a "Bustrepreneur's Honor Code." The most important condition of the Code is that all projects must be conceived and generated on the bus -- meaning no existing code, business, or projects are allowed.
Justin Isaf is one of the original bustrepreneurs, and this year is conductor of the NYC-to-Austin bus and enthusiastic Community Manager. He describes the pressure of putting out a finished, viable product on such short notice and in collaboration with heretofore strangers under sometimes difficult conditions (e.g. sporadic wi fi connections on the road) is part of the magic. "The more you push people, the more they will rise to the challenge," he says.
Isaf's dedication to the project is such that he quit his day job two weeks ago for this full-time, fully volunteer position with Startup Bus, embodying the type of "crazy commitment" he says is a key to being chosen for the trip. So essential is this quality, in fact, that he was leaving a few of the spots for his bus open until the very last minute: "The type willing to get on the bus on such short notice is just the level of craziness we're looking for."
All the final Startup Bus projects will be completed and ready for judging by 11:59 pm CST March 10. They will then be posted on the StartUpBus.com website, where the public can view on vote on six teams - one from each bus - who will pitch their startups at the judging party on the evening of March 14.
Related
Popular in the Community