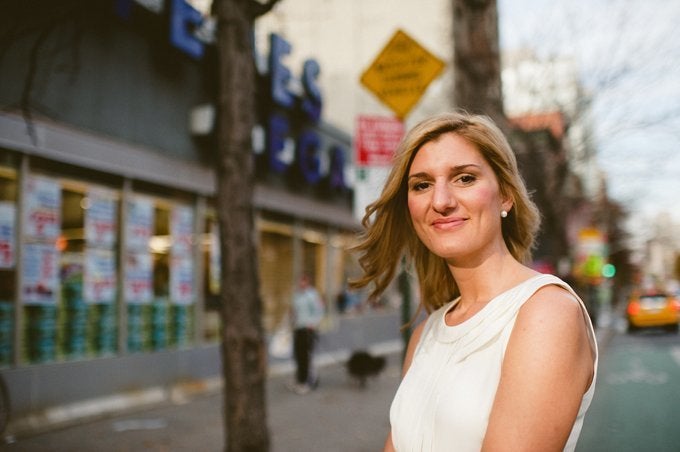 I never wanted to be a founder of a startup. In fact, I never even considered myself an "entrepreneur." While growing up, I had small projects to make money like helping my parents with their own projects for a fee (of course) or selling handmade bracelets for conferences. I had what most entrepreneurs have as indicators, small ways of hustling. I think I even had a lemonade stand once. To me, I was always curious, always trying to fill a need when I saw one.
It wasn't until later in my career when I was an IT Product Manager that one of my bosses, George Roth of Recognos called me an entrepreneur: "You get it, Ellie, one day you will have your own company." I thought he was crazy.
Flashback to the early days
I was a
. By day, I managed complex software or web based app projects, and by night I found myself blogging and researching consumer experiences with faulty products. I wasn't exactly sure how I was going to do it, or what I was trying to do, but I knew there was a huge opportunity for improving customer support -- especially recalls.
I know a lot about recalls and even class action lawsuits, as I was part of one from ages nine through 15 -- it felt like a lifetime. As my father took dozens of pills a day, fiercely battling HIV against the clock, we often asked ourselves:
Why? Why had my father been injected with an HIV-contaminated Hemophiliac Factor VIII when illnesses and issues associated with the product had been recorded two and three years before? Why, even after the recall, were new HIV cases coming up in the U.S related to or stemming from HIV contaminated Hemophiliac Factor VIII? Why had it been that since 1985, the recall industry had not seen a massive technology update both in alerts and tracking? Why wasn't anyone with a technical background pursuing this? Why were my father and half of the other then 20,000 hemophiliacs in the U.S affected with HIV?
When all was said and done, my father was compensated $100,000 from the class action fund and another $100,000 from the Ricky Ray Relief Fund where Congress allocated compassionate payments to those individuals infected with contaminated product. The total class action fund reached $600MM and in 2002, I watched my father die in front of me with no way to pay for college. Debt collectors and attorneys took most of his estate.
All those years playing four sports and serving as the President of multiple clubs, my dreams of Harvard and Dartmouth were gone. Without a guarantor for loans, I was even more so left wondering -- should I even get an education?
I did and I worked the whole time, which is no extraordinary feat but just the facts. I found myself coming full circle years later with a college degree in hand -- building, designing and implementing large web projects. By 2009, still no major technology disruption had occurred to recalls. I took a deep breath and in April 2010, I made the full time leap for ConsumerBell. Someone was going to have to do it, and so far it looked like only I was crazy enough to do it.
My journey to being an entrepreneur and understanding what that means hasn't been an easy one.
In fact, in the beginning, I was in denial, calling what we were working on a "project" and later moving that to New York from San Francisco, which was by far the most difficult life decision I ever made. Like a new mom picking the right crib, I realized NYC was where I needed to foster my baby and grow rapidly.
I knew being a female founder was rare, and I knew having a technical background was rare, too. I knew because people told me, and they often told me how hard it was going to be.
"Do you even know how big the market is?" I often got asked.
I did. I lived it for my childhood. When most kids were playing with Barbies, I was counting pills and helping my dad get out of bed while he told me pearls of wisdom about his own company, eBiocare.com (later acquired by Curative, public ticker: CUREQ) which helped delivered medical products to patients with particular blood disorders, "Listen up Desi ..." A family name, "I'm not going to be here forever, so listen."
My father died at 37 years old.
But this story isn't about my father particularly, it's about being pissed off and doing something about it. At ACT UP Golden Gate, a group I was heavily involved with in the 1990s, we would often say "Desperate and Dying People are Dangerous and Unpredictable." I'm not dying but I feel as though I'm always desperate against the clock of time.
This story is about taking a skill set, in my case product management, and honing in on sweet revenge, or most precisely changing how multiple industries are dealing with a static process.
It's hard being an entrepreneur, don't let anyone tell you different. I find myself now dedicating my whole days and nights to making larger progress. To paying it forward by mentoring even fresher entrepreneurs, I always lend a hand to the community. Why? Because the community was there for me.
So what's is like being an entrepreneur, day-to-day?
It's like a daily scavenger hunt where all you have is a network of people and a laptop. It's more like running continuous marathons without any training. It involves making tough decisions, firing people, and figuring out the best way to spend angel money.
I met one of our angel investors on an airplane, another in a bar and some others via friends of friends. We've got some of our best deals by simply asking, taking a leap. I once even cold called a CEO of a publicly traded company and got a tour of their recall process a few months later.
Most of what I have done (and I hesitate because my gut instinct is to say WE) is made sure to
take any whacky dream, task or thing -- and write it down

along with three steps that could get us there, and then convince others to believe in it.
Because at the end of the day, what a true entrepreneur is, is a believer. Someone willing to put their rent money on the line, max their credit and ride a bus for hours just to meet a potential client. What an entrepreneur is, is someone crazy enough and convincing enough to do the impossible.
Did I always want to be an entrepreneur? No. But now when I go to an event and someone introduces me as the founder and CEO of ConsumerBell, I stand tall, shake their hand and say "Yes, yes that me."
About the guest blogger: Ellie Cachette is founder and CEO of ConsumerBell, helping companies and parents manage recalls while keeping kids safe. Recognized by the California State Senate as an "Outstanding Educator" in AIDS and Public health in 1997, Ellie has been an active supporter in the campaign to cure AIDS and promote healthy living. She is a product safety junkie and strong advocate of Women 2.0. Follow her on Twitter at @ecachette.
Popular in the Community