For a quick, cheap ride all you need to do is find a boda-boda. Boda-bodas, bicycle or motorcycle taxis, are easy to find or flag down in any East African city. But most people don't stop to think about the drivers and how they are not the owners of the boda-bodas they operate.
Tugende has transformed Uganda's transport sector by creating opportunities for low-income motorcycle drivers to own their own bikes while providing safe transportation to their clients. Tugende is a for-profit organization offering an affordable lease-to-own model to help motorcycle taxi drivers own their own motorcycles in 18 months or less instead of renting indefinitely. Their services target young men often with little or no education with daily earnings of up to $5 a day.
The African continent has become home to a new wave of creativity and talent, with Nairobi as the hotbed of innovation. But Nairobi isn't the only African city to take off, Kampala, is its neighboring, lesser known little sister, is making big waves with social enterprises like Tugende.

The boom in the entrepreneurship scene has seen rise to emerging start-ups addressing the financial, economic and educational constraints that international aid and INGOs have not been able to solve. These startups are creating opportunities that will possibly reverse the 62% youth unemployment rate in Uganda.
Today, Tugende has 700 paying clients and more than 200 have completed their loans and are now running their own businesses. For Tugende drivers, savings have been converted to building their own houses and for some, starting their own businesses that are able to employ five or ten more people. Tugende also increases road safety since their drivers are required to wear protective gear and are trained on road safety measures. This makes it safe for both the driver and client in a country where boda-boda drivers are reported to be the leading cause of accidents, with 641 boda-boda related deaths recorded out of 2,900 people who died in road accidents in 2013 (Uganda Crime report, 2013).
Social enterprises in East Africa are also address crucial education and health needs. Many girls in Uganda's rural communities don't have access to sanitary napkins (or pads) and it can be the reason they drop out of school. But social enterprises like AFRIpads in Uganda are overturning this barrier and making it possible to keep girls in school by locally manufacturing and selling reusable menstrual kits, thereby empowering these rural girls with a hygienic, comfortable and dignified way to manage their monthly periods. To date, AFRIpads has improved the lives of 500,000 girls and women in Uganda and around the world with its menstrual kits, and currently provides full-time employment to nearly 150 Ugandans, the majority of whom are women.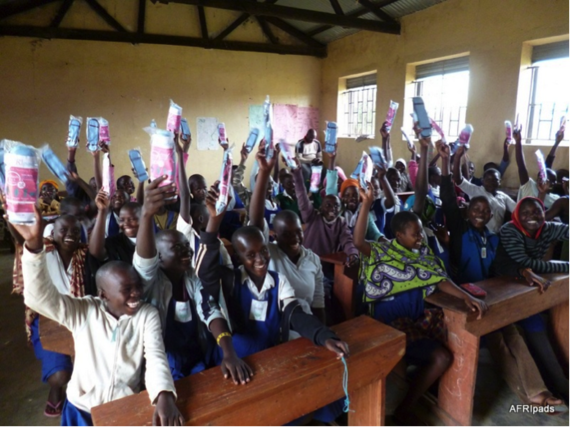 Photo Credit: AFRIpads

Initiatives like Tugende and AFRIpads are giving rise to forums that want to collectively build a strong force of networks to nurture these advancements and ensure sustainability for these efforts.
Take an example of the Sankalp Africa Summit 2015 that Evelyn Omala, Segal Family Foundation Program Officer, participated in last week. This summit brought together over 300 African entrepreneurs, investors, corporate and government representatives to engage in dialogues that are going to provide collective efforts in social change and achieve greater strides towards an all-inclusive Africa.
Speaking at the Summit, Shell Foundation Director, Chris West said, "Africa is hugely talented with regards to entrepreneur capacity," and highlighted the need for unity between entrepreneurs and investors to solve systemic market challenges. Bob Collymore, CEO Safaricom, further stressed the need for unified efforts, "Without collaboration you are merely innovating for yourself."
Through interactions with some of these folks, it is very apparent that these entrepreneurs have a unique ability to identify gaps, craft innovate ideas to close these gaps and more recently, establish opportunities to partner with like-minded individuals to create an even bigger social impact.
As a Program Officer for Segal Family Foundation, Eve travels around Sub Saharan Africa building relationships with our 180 NGO partners and visiting potential partners to decide if these organizations are at the forefront of innovation and change.
SFF's philosophy takes a unique approach to focus on early stage organizations that would otherwise not qualify for funding from many larger funders. It is very important to note that these small, often overlooked start-ups are very effective in building strong community movements that create significant social and economic transformation within their communities, a realization that has formed SFF's funding priorities.
Like many other entrepreneurs in the region, Johnson Sakaja, Chairman of the Kenya Young Parliamentarians Association, acknowledged in his keynote address at the Sankalp Summit that the rising number of entrepreneurs needs to be matched by an increase in impact investors, otherwise we may not see many of these ideas kick-off.
For many of these start-ups, the next big step is to draw on their successes and learning experiences to scale and achieve an even greater impact. However, an impeding factor to this growth is still limited access to funding.
The Sankalp summit has made it very apparent that the continent is beginning to see an increase in impact investors that are choosing to divert their funding to Africa. The Global Impact Investing Network (GIIN) and J.P. Morgan on social finance reveal that most investors are focusing funding priorities to Sub Saharan Africa more than any other region. More impact investors are beginning to realize the underlying potential in these initiatives and are making commitments to invest in these life-changing solutions.
As more impact investors choose to take this very significant step towards transforming the African continent, efforts should be aimed towards diverting more funds to these early stage enterprises to provide growth to these burgeoning ideas that are transforming communities.
Evelyn Omala is Segal Family Foundation's Program Officer based in Kampala, Uganda. She manages due diligence on potential and current partners and builds SFF's capacity support programming. Follow her on Twitter.
Calling all HuffPost superfans!
Sign up for membership to become a founding member and help shape HuffPost's next chapter