Startup Insider is a series of articles with the goal of helping aspiring founders and entrepreneurs understand the ins and outs of starting a startup. We hope to dig deeper and showcase stories, advice and lessons from founders, investors and other key players in the growing startup ecosystem all over the world.

500 Startups Mobile Collective Fund Partner Edith Yeung explained 'MO-AARRR', the mobile framework she uses when evaluating mobile app startups, at the Echelon Asia Summit 2015 held last June 23 and 24.
Originally based on Dave McClure's AARRR Startup Metrics, Edith decided to develop a theory specifically for mobile, adding the letters MO (Mobile)- to the AARRR. She included lessons and insights she gained from her experience leading Dolphin Browser's user-acquisition and marketing efforts. We sat in and summarized the key points of her talk.
1. Acquisition

"If you don't have enough users, it doesn't matter how you make money."
Edith emphasized how a lot of people don't do enough app store SEO and analytics tools. Everything matters from your keywords to your screenshots that you use. The way people search also varies every day so you have to continually update your keywords and tags. The second thing Edith highlighted was utilizing mobile and web SEO to capture people who could be searching for your application. She gave the example of LinkedIn and how they force you to go to their app when you visit their mobile website.
Finally, Edith talked about the power of bloggers and thinking about your target audience. She shared, "Who's your target audience and what sort of media or blogs do they constantly read?"
2. Activation

"Once you get the install, that's only part one. The attention span of people is really short. You want to make sure that your installs turn into real users. You really need to think about the on-boarding process."
Edith shared a few things you have to think about for the onboarding process like having a good and short tutorial, a welcome email, permission based push notifications and a specific call to action.
She said, "What is your very first call to action after they activate your application? What exactly is the one thing you want them to do?" She gave the example of Dropbox and how they have a very clear welcome email and 3 step 'what to do'."
3. Retention

"Push notifications are an awesome way to drive users to come back but it's really all about a well-crafted message that is very specific."
Edith shared how app developers should learn from game developers because game developers are really good in creating these creative seasonal campaigns that get users to come back to the application.
Edith also gave the example of Strkingly and how they send her weekly emails telling her how many visits she got during that week. She expounded, "So automatically, I want my visits to improve so I go back to the application and see how I can improve my views and visits."
Finally, after your users have used your application for a good amount of time, Edith suggested asking them to rate your application on the app store because these ratings do matter.
4. Referral

"If you're working on any application that is content related, make sure that your logo is well displayed in any type of social sharing."
Edith shared, "Give reasons for users to refer you app to their friends. Is there any download value in your app? Is it possible for you to give out a discount or free trial that will incentivize your users to share your app?"
5. Revenue

"Great, we have millions of users, but how are we going to make money?"
Edith explained the different ways you could monetize your application. She started with the subscription model with the question, "Can whatever you provide have a monthly value tied to it?" She gave the example of Audible and how she's an auditory learner so she's willing to pay for Audible every month.
Advertising was next on the list. She said, "Flappy Bird makes so much money just from advertising. Some of the most successful Web 2.0 companies like Facebook and Twitter make money purely from advertising." She then moved into in-app purchases and gave the example of Candy Crush and how depending on her behavior, she ends up making in-app purchases.
Another mobile sector Edith is excited about is mobile ecommerce. She said, "I'm very interested in mobile and on-demand commerce because the dollar amount and transaction value is very clear."
Lastly, Edith talked about selling data, and how IBM recently partnered with Twitter and Facebook to utilize that social data to do better predictive analysis and marketing.
You can view the slides Edith used here.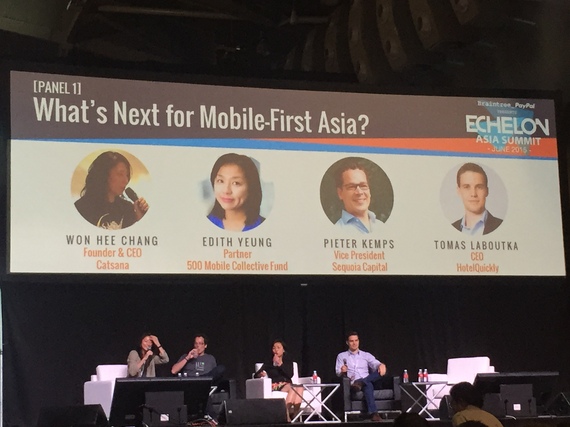 You can sign-up to stay up to date with this series here.
David Ongchoco is a student entrepreneur, avid storyteller and hustler from the Philippines studying at the University of Pennsylvania majoring in what he likes to call, LIFE. He is currently working on expanding his for-purpose organization YouthHack. It's David's goal to make an impact in the lives of as many people possible while constantly learning new things every single day. David can be reached at david@youthhack.net.
Calling all HuffPost superfans!
Sign up for membership to become a founding member and help shape HuffPost's next chapter