Startup Insider is a series of articles with the goal of helping aspiring founders and entrepreneurs understand the ins and outs of starting a startup. We hope to dig deeper and showcase stories, advice and lessons from founders, investors and other key players in the growing startup ecosystem all over the world. You can sign up to stay up to date with this series here. You can also view our first feature about women in the venture capital world here.

Ardent Capital Director and Venture Partner Tee Suraphongchai is one of the rising VCs in the Asia region right now. Her expertise in the finance and retail industry has helped her navigate a region that has been seeing a lot of growth in the ecommerce sector. Startup Insider got to chat with Tee during the Echelon Asia Summit.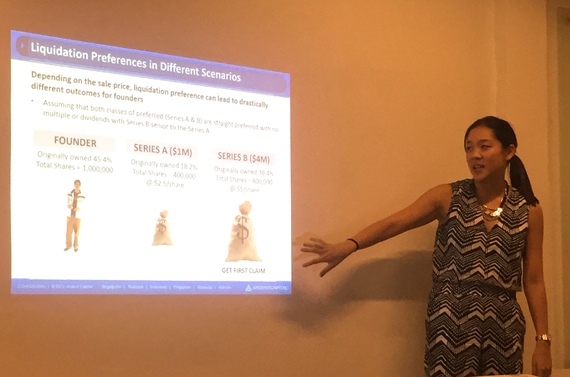 Tee giving a workshop about venture capital financing

We started of by asking Tee how she ended up becoming a VC, and she excitedly shared to us, "I actually stumbled upon the opportunity at the Echelon Summit two years ago. It was at this same conference where I first met Ardent Capital CEO Adrian Vanzyl."
She shared how they initially started talking about her taking an operational role at the company. But when Tee ended up joining Ardent, a position in the investment space opened. She said, "To be completely honest, my intention at first wasn't to become an investor but as I got to know more about the space, I realized that it was a better fit for me personally with the role. This will probably something I'll be doing in the long term."
Life as a VC - 'All aspects of things'

Going into the VC industry has allowed Tee to see all aspects of things. She shared, "I'm a pretty ADD person by nature so I really like to dig deep into a topic but I want to move onto other things as well. I love investing because I get to meet really smart founders building their businesses and I also get to learn the ins and out of the industry."
Prior to getting into the startup craze, Tee actually started her professional career at Lehman Brothers where she got exposed to the financial side of things. She then decided to move back to Thailand and start her own retail business. She shared, "What was frustrating to me in the retail space was that there wasn't any hard date that was guiding the decisions that were being made. So when I went to the Stanford Business School in Silicon Valley and was exposed to ecommerce, I realized that ecommerce was the perfect fit for me because you get the common sense of retail and the data that comes with ecommerce."
Ardent Capital then became the perfect fit for Tee given that the investment firm specializes in ecommerce.
Common Mistakes of Entrepreneurs - 'Do more research'

Tee shared with us common mistakes that she sees entrepreneurs make. She started out with, "I just don't think entrepreneurs do enough research with all the information out there. I don't expect the entrepreneur to know everything but all the with all the information out there, they should be able to research and find out as much about their industry."
Tee emphasized how entrepreneurs should do their background research when approaching venture capital firms. She said, "You should know what Ardent is strong at, what we do and what we're interested in before approaching us."
More importantly, Tee believes that entrepreneurs should be more aware of the market they operate in and why they're doing what they do.
Building the Startup Ecosystem - 'Success stories matter'

Tee believes in the importance of raising the awareness when it comes to opportunities. She shared, "The reason why the ecosystem isn't as big as it could be in Thailand is because we don't really have big success stories. Part of building an ecosystem comes from success stories like the ones in the US."
Tee gave Facebook and Twitter as examples of household names that get people in Thailand and Indonesia excited. But she shared how its important to have a local entrepreneur that people can identify with more.
Getting into VC - 'Accumulate your experiences'

Tee shared with us how a lot of people come to her applying to Ardent Capital looking to build their financial foundation. She said, "You have to realize that in an early stage VC, there's very little finance involved. A lot of early stage projections are just made up numbers."
With this, Tee emphasized how most early stage VCs don't really look for bankers who can build complex financial models. Instead they look for people who have a clear grasp of business fundamentals and how all the aspects in the market drive each other.
The second thing Tee looks for when hiring is the amount of operational and life experience the person has. She shared, "VC is the people side of entrepreneurship where it's a lot about relationships and life experience. You make a lot of judgments about the entrepreneur so when you're young, most of the time, you just don't have enough life experience to come and make that judgment call."
She made it clear though that, "It's subjective. Some entrepreneur who has gone through can do it even if they're young but it's really more about the experiences you accumulate up until then."
Her advice to people who want to get into VC? "Go to a startup company, do an operational role, understand what it's like to work in a startup and see what being an entrepreneur is like. This would be more valuable than going to business school or becoming a financial analyst."
Ambition, Passion and Thoughtfulness

The last thing Tee shared with us was what she looks for in the entrepreneurs she invests in. The first thing Tee looks for is ambition, emphasizing how an entrepreneur must be able to think big. This is followed with passion.
She shared, "If you look at entrepreneurs who become investors, that's the thing they always look for because they know how hard it is. So unless you're really passionate, you're probably going to give up."
One question that Ardent likes to ask their entrepreneurs is, "What have you given up to come and do this?" Tee shared how, "This shows how much stake they're putting in and how far the entrepreneur is willing to go."
Finally, the last thing Tee looks for is thoughtfulness. She likes to see how you arrive at your decisions because this assures her that they can have constructive discussions on how the business should go.
Challenges in VC

Before we closed, I asked Tee one last question, curious to know what types of challenges VCs face. She explained how the timeline for early stage investing has become a lot harder to meet given that entrepreneurs are always in a rush and more early stage funds are coming into the region.
She shared, "I can probably write a check today but I just want to get to know you better so I don't feel like I'm making an uninformed decision. I wish entrepreneurs would come to build a relationship with me before asking me for money. So that by the time they need the money, I can make the decision relatively quickly as well."
Learn more about what Ardent Capital looks for by visiting their website here.
David Ongchoco is a student entrepreneur and avid storyteller from the Philippines studying at the University of Pennsylvania majoring in what he likes to call, LIFE. He is currently working on expanding his nonprofit organization YouthHack. It's David's goal to make an impact in the lives of as many people possible while constantly learning new things every single day. David can be reached at david@youthhack.net.
Calling all HuffPost superfans!
Sign up for membership to become a founding member and help shape HuffPost's next chapter