Startup Insider is a series of articles with the goal of helping aspiring founders and entrepreneurs understand the ins and outs of starting a startup. We hope to dig deeper and showcase stories, advice and lessons from founders, investors and other key players in the growing startup ecosystem all over the world. You can sign up to stay up to date with this series here.

---
Having been immersed in the Philippine startup ecosystem in the past year, I've seen how much it has grown from where it was last year to where it is today. Last year, there was some excitement going on but the ecosystem still lacked support and interest.
It is really amazing how so much can change in one year. Enter SlingShot MNL 2015, a startup event organized by the Department of Trade and Industry (DTI) together with the Department of Science and Technology (DOST), in partnership with the Philippine startup community led by IdeaSpace Foundation.
In these two days, tech and social entrepreneurs, foreign and local investors, government officials, industry leaders, thought-leaders, university students and media came together to exchange ideas, build new partnerships and learn more about this growing field of startups and entrepreneurship in the context of the Philippines.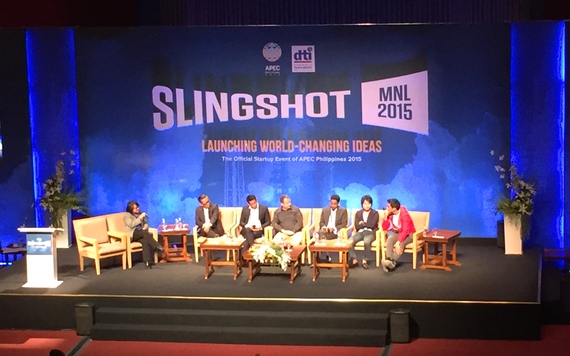 The scale of the event was bigger than anything I've seen in the Philippines. There were workshops, panels, speakers, exhibits and networking sessions going on at the same time.
Public Private Partnerships - The National Innovation Center

One of the main highlights of the two-day conference was the announcement of the building of National Innovation Centers in the Intramuros and UP-Diliman areas. This will be a cross-sector collaborative initiative by the DTI, DOST and IdeaSpace foundation. They hope to have some tangible output by the end of the year.
During the press conference, IdeaSpace Founder and President Earl Valencia asked the big questions, "How do we enable entrepreneurship? How do we think about projects that will enable inclusive growth? How do we have a cross-industry collaboration?"
Valencia emphasized the importance of the collaboration between five key players, including a technology led university, motivated entrepreneurs, a supportive government, interested corporations and attractive locations. Valencia also encouraged successful medium sized entrepreneurs to get involved in the startup scene by mentoring and investing in younger startup entrepreneurs.
Valencia envisions this innovation hub to be a space where students, young entrepreneurs, researchers and investors can meetup, collaborate and learn from each other, similar to what SPRING (Singapore) and MaGIC (Malaysia) has done in their respective countries.
Increased interest in the Philippines

A very evident trend in Slingshot MNL was the amount of foreign interest in the Philippine startup scene. In fact, Slingshot MNL brought together startup thought leaders like JFDI Asia's Hugh Mason, Stanford University's Richard Dasher, Startup Chile's Nicholas Shea, Uber's Regional Manager Michael Brown, Golden Gate Ventures Principal Justin Hall, among many others.
Hugh Mason shared, "What I find unique in the Philippines is their interpersonal skills. What the Philippines lacks right now are role models and success stories but once you find one success story, it will snowball and create more successes."
Both Mason and Dasher also threw around the idea of collaborating with conglomerates and family businesses, and finding a way to get them more involved in the startup ecosystem. Mason believes that these family-owned conglomerates could provide the funding and distribution channels that are essential to startups.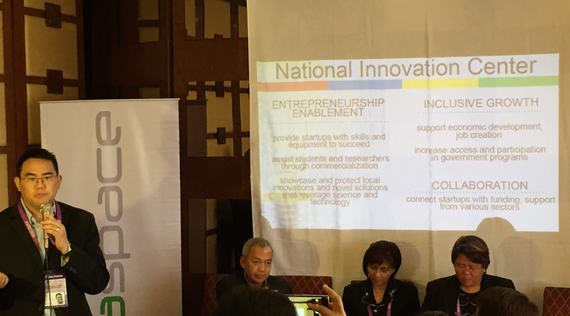 IdeaSpace President Earl Valencia sharing the blueprint for the National Innovation Center

Focus on the entrepreneurs

Taken from his experience of running Startup Chile, one of the world's biggest startup communities, Nicholas Shea emphasized the importance of really focusing on the entrepreneurs and finding a way to help them get things moving as quickly and easy as possible. He shared, "Startup Chile was a people accelerator and culture accelerator; we focused on the individual and the team and the family. I believe the Philippines can do the same."
IdeaSpace is also thinking about new ways on how to empower people in less developed cities in the Philippines. Valencia shared how they get thousands of applications each year from several different provinces for IdeaSpace's incubator program, and he hopes to be able to help as many entrepreneurs as possible through their programs in the upcoming months.
Evidence of the growing interest in startups was the presence of more than 50 startup companies that exhibited their products and solutions during the two-day conference. A diversity of ideas was present from alternative energy to cloud based solutions to Ed-tech solutions to travel platforms and more.
Tackling social problems through entrepreneurship

A sentiment that most entrepreneur panels shared during SlingShot MNL was the importance of solving a real problem. The great thing about being in the Philippines? There are so many problems to solve.
Rags to Riches Founder Reese Fernandez Ruiz shared how Rags to Riches was able to grow to become an international brand by empowering their employees and local partner families.
Asked how entrepreneurs can balance building a business and making an impact, mClinica Founder Farouk Meralli answered, "You can do both. It happens to be even easier here in the Philippines where there are basic social challenges and market opportunities. When you think about social challenges from a commercial perspective, the output is very social."
Creating a better investor and entrepreneur environment

Kickstart Ventures President Minette Naverette said, "I think a bit of investor education should happen as well."
She highlighted how investors should realize that 96% of startups fail and that taking too much equity from startups will accelerate the failure of these startups as well. She also shared, "Founders should also learn what is good and what is bad for them when investors are asking for too much."
Naverette also challenged the government to make the overall environment for startup founders and investors friendlier. She threw around the question of how we can attract more investors, make the investing climate better and make it easier for people to start companies.
She added, "You want an environment where innovation is possible. This is only possible in an environment where it is okay to experiment and fail. You also want an environment where there is access to different sorts of capital and where there is a diversity of talent."
The time is now.... Let's just do it

A common theme that emerged from SlingShot was that now is the right time to just do it and start something in the Philippines. Rappler CEO Maria Ressa called for Filipinos from all over the world to come together and help create the future of the Philippines.
Foreign-born entrepreneurs Farouk Meralli, David Margendorff, Pavan Challa and Richard Eldridge shared this same sentiment encouraging foreigners to come to the Philippines as well. All four of these guys had seen the opportunity in the Philippines, and are currently CEOs of KickStart Ventures portfolio companies.
Throughout the event Startup Chile Director Nicholas Shea repeatedly emphasized, "The Philippines has everything to grow quicker than how it's currently growing. This is a huge effort, and everyone should be part of it. Then, it can be quick to transform a country like this one."
The future is bright for the startup scene here in the Philippines but the key thing now is for everyone who attended this inaugural SlingShot MNL 2015 event to take all the inspiration and turn it into action in the upcoming days, weeks and months. Valencia closed the two-day conference by saying, "At the end of the day, we chart our own destiny so let's just do it."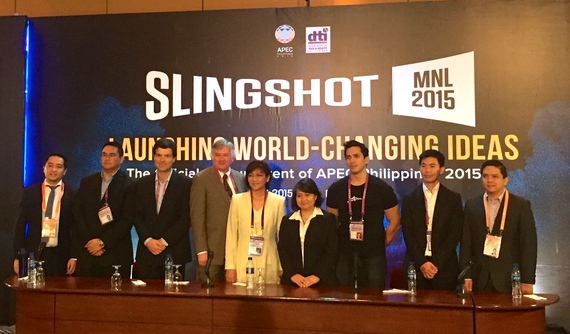 Leaders from the public and private sector with foreign thought leaders and investors

---About the Author---
David Ongchoco is a student entrepreneur, avid storyteller and hustler from the Philippines studying at the University of Pennsylvania majoring in what he likes to call, LIFE. He is currently working on expanding his for-purpose organization YouthHack. It's David's goal to make an impact in the lives of as many people possible while constantly learning new things every single day. David can be reached at david@youthhack.net.
Calling all HuffPost superfans!
Sign up for membership to become a founding member and help shape HuffPost's next chapter