Startup Insider is a series of articles with the goal of helping aspiring founders and entrepreneurs understand the ins and outs of starting a startup. I recently got the chance to interview multiple startup companies that have gone through the Dreamit Ventures Accelerator program. You can sign up to stay up to date with this series here.

The third company I got a chance to interview through this feature series collaboration with Dreamit Ventures was Osmosis. Osmosis is an education technology startup that caters to medical students and applies evidenced based educational concepts to drive knowledge retention. Osmosis was started by former Johns Hopkins medical students Shiv Gaglani and Ryan Haynes.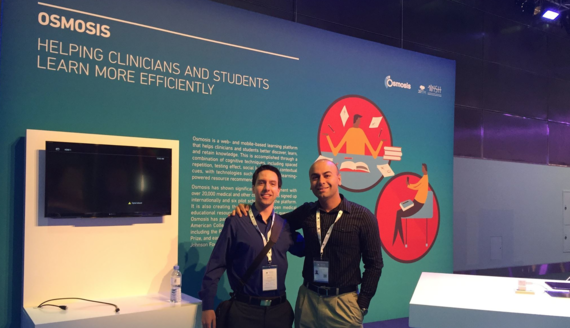 Osmosis cofounders Shiv and Ryan

Q: What was the inspiration behind Osmosis?

Ryan: Shiv and I were in the same anatomy class at Johns Hopkins. We really enjoyed it, and when we got to the end of it, we thought that we really knew anatomy. Then two weeks later at a chemistry class, Shiv asked me about a certain nerve. If he asked me two weeks ago, I would have been able to answer but at that time, I couldn't remember it anymore. It was at the tip of my tongue but I couldn't remember it. So we sent text messages to 5 of our friends, and 4 of them had also forgotten. We realized that most of our classmates were forgetting faster than they were learning.

So we did some research to see if this was a problem that other students also identified with. We found out that after the first year, a third of what is taught is forgotten and after the second year, more than 50% is gone. That is a shocking statistic but when we tell that to people in med school they often say that is how they felt during med school.
How could we solve this problem? As first-year students, we started looking at different studying techniques. Shiv and I had done some neuroscience research before so we were both excited to apply some cognitive science techniques to this problem. We decided to create a concept bank that you could push to people so they could be reminded of concepts that they were taught in class.
Q: What were some early challenges that you guys faced?

Shiv: When we started working on this, it wasn't meant to be a company. If you asked us if we would be working on this four years later, we wouldn't have said that this would be something we would pursue full time. However, what was smooth sailing was when we released the app, 90% of our classmates started using it. That was smooth sailing that we had hit upon a need that medical students and other students have.
However, challenges that we encountered early on were the kind of the challenges a garage startup faces. We were med students in a dorm room where after lectures, Ryan would come in and we would work for a couple of hours out of our dorm. We had no support initially so when we started to scale this, we needed more people on the team.

When we got into Dreamit, this challenge disappeared because we were able to bring in 2 more people. We're now at 11 people but Ryan and I still work all the time, 14 hours a day, 7 days a week. But at least we are now able to delegate some of the things we had to do ourselves.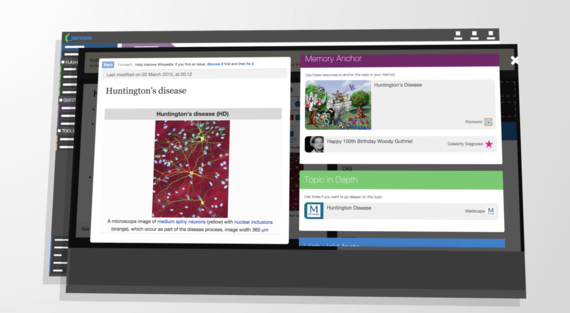 The Osmosis platform creates a tailored study plan for med students

Q: When did you guys decide to pursue Osmosis fulltime?

Shiv: We decided to pursue Osmosis a few months in when we were going from 1st year to 2nd year. We were able to spend that summer in between improving the product and rewriting the code base. Then we started hearing from friends in other schools who wanted to use it. This was part of the reason why we rewrote the code base so we could scale it a bit more. This was a good sign and showed us that maybe there was something here beyond a side project.
So we started looking at other opportunities to get funding including incubators and accelerators. I had been writing for a medtech blog called Medgadget, and this is where I came across Dreamit Health which had an excellent set of terms.

Q: What are your future plans for Osmosis?

Shiv: Right now we have over 30k med students signed up. It's funny because when Ryan and I first decided to leave med school and go to Dreamit, we only had around 200 active students using the app. But at Dreamit, we released the mobile app and we jumped to 5k users and since then we've had 6x growth which is really inspiring to us.
The next stage is we want to go to more med schools nationally and internationally. Our end goal is to make this the single most powerful and useful platform for medical education out there. The biggest use case is in medicine because a clinician's education begins all the way from day 1 freshman year when you're learning about biology. We already have initiatives to expand osmosis into the residency fields, and the use case there may even be stronger because you have to be more efficient with your time.

Q: What are some of the biggest lessons you've learned?

Ryan: The single most important thing you can get right in a startup is understanding the UI/UX. One of the first things we did was test things with beta users but one of the problems with that is that these beta users are tech savvy so everything looks great to them but when you release to the general population, these people don't necessarily know how to use the app.

So when we figured that out, we started to think through how does the individual student approach their current day. What needs to be in front of them? You really have to put yourself in your users' shoes. We had an advantage because we were our users but what we didn't realize is that there are so many different ways that people are initially going to approach studying so you really have to talk to enough users. We've been able to use some really great tools to facilitate that like chat surveys that have helped us get to the point where our users are happy.

The Osmosis team after winning an education startup competition at Wharton

Q: What have you learned about building an EdTech company?

Ryan: Education is probably one of the hardest fields to start a company in. It definitely has to be something you pick because you're incredibly passionate about it which both Shiv and I are.
In education, you're targeting people at different levels of motivation as learners. If it's K12, they have to be motivated because they want to get into college. For med school, they want to become doctors. That's the case with Osmosis where we have a highly motivated group. Some of the other challenges are, you're melding psychology and cognitive science which is behavior change. People want to do what they're used to in terms of studying which is sit down and take a bunch of notes or highlight an entire book.
Those are habits that are built in college but aren't that useful at all. So shifting the behavior of people is a big challenge. The first time you download a gym app, you have to get over the hurdle of behavior change which makes it a bit hard.

Q: What's your advice to aspiring entrepreneurs?

Ryan: I think the hardest thing is when you're first starting out, there's a lot of doubt. Does this even make sense because I think most people if they're not coming straight out of college, they have a full-time job. For most entrepreneurs, it can't be a side project. For Shiv and I, this is why we ended up applying to Dreamit because we knew that we had to take the plunge. You can't have one hand on the rail. You kind of just have to make that jump and hope that it all works out. That's probably the scariest part for an entrepreneur but the great thing about the incubator is that everyone is taking the plunge with you and that you're all in this together and we're still great friends with a lot of the other teams.
Having someone to take the plunge with you is also really key. There's just no way to go at it alone. You definitely need at least one other person as a co-founder to work through the times that are really tough. Having a combination of one co-founder and an incubator like Dreamit really helps since they give you reality checks.

Shiv: For first time entrepreneurs, two pieces of advice. First, see how much your product and idea you can validate without taking somebody's money. The more you can validate and see for yourself, the better. Second, do less of consuming material. A lot of people just consume things but ultimately if you want to be an entrepreneur, just do it.
Try something but don't be too hasty to just drop out of Med school. You have to see the long term and see if you can spend 5-10 years working on the idea. Ask yourselves, "Can we devote the core years of our lives to this single idea? I think making small wins but also thinking about whether this is something you want to spend a long time on before you take the plunge is important.

You can learn more about Osmosis here.
---About the Author---

David Ongchoco is a student entrepreneur and avid storyteller from the Philippines studying at the University of Pennsylvania majoring in what he likes to call, LIFE. He is currently working on expanding his for-purpose organization YouthHack. It's David's goal to make an impact in the lives of as many people possible while constantly learning new things every single day. If you have any interesting startup stories, David can be reached via Twitter @DOitChoco.
Calling all HuffPost superfans!
Sign up for membership to become a founding member and help shape HuffPost's next chapter