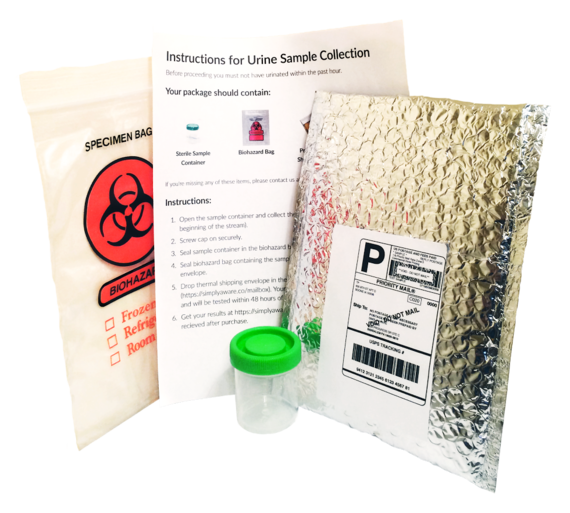 The CDC estimates that there are over 20 million new cases of sexually transmitted infections every year. The majority of these new cases go untreated because they are never identified. Without treatment, STDs can lead to immediate and lasting complications, like infertility and even death.
Together, cousins Tommy and Brian Peacock created a simple, convenient and private testing system to encourage more people to get tested and reduce health threats linked with STDs. Unlike standard testing services that can be inconvenient and intrusive, Simply Aware is a testing service that provides access to certified lab testing in the comfort and privacy of the customers' own home.
I interviewed Tommy and Brian to learn how their interests, experience and entrepreneurial spirits lead to them creating a startup in the healthcare sector.
What were some of your early career interests?

Brian: Growing up I wanted to design sailboats for a living, and I immersed myself in math and science with that end in mind. I also loved to create things. I spent many hours tinkering in the basement, building things out of wood and learning random skills like leatherworking. That curiosity and creative passion primed me for a career in technology.
Tommy: Since high school I've really been into the idea of starting a business because I never felt that I could obtain success, or my idea of it, by working for someone else. After taking classes in economics and accounting, I realized how much I really enjoyed economic theories. I had a teacher, Mr. Kent, who taught me that the key to understanding a business is through the numbers. That really stuck with me and led me to pursue accounting at the University of Delaware.
How did your college experience shape your desire to become entrepreneurs?

Brian: I studied environmental engineering at Lafayette College and was very active in research. Through my research, I found that there was a need for better mathematical tools for science and, early in my senior year, I found myself head over heels in my first company, FastFig. For the next three years I, along with my co-founders Jay and Alex, continued to shape FastFig into the education technology platform that it is today.
Tommy: After a couple of semesters in college I realized that I didn't actually enjoy accounting but I came to appreciate how much I was learning about the mechanics of business. As I entered my final semester of college I began to realize that I could only learn so much in a classroom. That's when I decided that entrepreneurship was the key to continuing my education. It then became a question of when and not if I would start a business.
What are your thoughts on going into business with a family member?

Brian: Tommy and I have talked about businesses as far back as I can remember, so it was exciting when the stars lined up for us to start something together. It was a natural pairing since our skill sets are very much complementary. In general, business between family members can be tricky given the uncertainty and financial risk of starting a company. However, it's important for us to remember that family ties go far beyond success or failure.

Tommy: Brian and I have bounced ideas off each other for a while and when Brian threw out the idea for Simply Aware we just started to run with it. Personally I think doing business with family has been beneficial because we have known each other for so long and we do respect each other and are not afraid to throw out our own ideas, even if they're conflicting.
How is technology changing the business landscape?

Brian: Technology is the foundation of any disruptive business and as such it occupies a lot of my thoughts. One of the most exciting new developments is the connection of physical products and services to the virtual world. Over the course of the next few years, anything we need will become accessible at the push of a button. This ultimate convenience will lift the burdens of homeostasis and free us to enjoy the richness of life in the physical world.
Tommy: It's fascinating to watch processes that have been around for so long be completely reimagined in the context of modern technology. I've been inspired by companies like Uber, Spotify, Venmo, Dropbox, Waze -- platforms I use on a daily basis -- that are reshaping the way we connect people to products. I hope that by leveraging technology we can do the same thing with Simply Aware.
How has technology helped you reimagine healthcare for online consumers?

Tommy: We built Simply Aware with state-of-the-art security from day one. We encrypt all of our traffic to and from our site and store our data on dedicated, HIPPA-compliant servers provided by our friends at Catalyze. In addition, your private information is wiped from our systems 90 days after retrieval.
To learn more about Simply Aware, visit the website at https://SimplyAware.co. Thank you to Brian and Tommy for sharing your story and your passion for innovations that have the power to change lives.
Calling all HuffPost superfans!
Sign up for membership to become a founding member and help shape HuffPost's next chapter