Some consider Ecomagination a brand-makeover to solve a bad environmental reputation. Others call it a PR strategy. I believe Ecomagination is a best practice of how a brand can be a powerful driver of change. It is incredibly difficult to steer large, global organizations with hundreds of business units and thousands of people in a particular direction. Management faces the challenge of not only helping employees embrace change, but assisting everyone outside the organization as well. GE used the branding of Ecomagination to navigate these changes successfully.
It is often said that strategy is easy and execution difficult. Many companies struggle when changing strategic directions because they underestimate the power of branding and reduce it to a logo and an ad campaign. Successful branding is deeply rooted in strategy, and uses the execution phase to communicate clear ideas inside and outside of the organization, so that everyone can move in the same direction. This is why the brand is a powerful tool in change processes: branding supports strategy and strategy supports branding.
I've written previously about how Earth-friendly companies can make their brands stand out in the marketplace, but creating a successful multi-billion dollar green brand initiative within a global conglomerate like the Ecomagination brand initiative is a different beast. Here's what GE did right - and how other brands can use brand initiatives as a driver for change.

1. Demonstrate Bold and Forward Thinking: GE was founded in 1892. Instead of staying mired in how they did business in the past, GE used Ecomagination to put their focus on how they should be doing business in the future, including doubling their investments in cleaner technologies, introducing new clean tech products annually, reducing greenhouse gas emissions, and creating practices to help lead the way in the emerging clean-tech economy. By making massive, bold changes in how they conducted business, GE reinvented a new brand story rooted in green innovation, thereby shifting how the world perceived them.

2. Lead with Transparency : In 2004, GE implemented a score carding system audited by outsiders that would assess and validate all of Ecomagination's energy and environmental claims. By staying honest about triumphs and challenges, GE demonstrated transparency (pre-social media) - a quality that today's consumers demand from businesses.

3. Start with Top Management : Top management support is absolutely essential. CEOs provide trust and leadership in a new undertaking, and can guide the initiative, weaving it into the essence of the overarching brand. From the beginning, GE CEO Jeff Immelt led the way with Ecomagination, announcing the initiative himself in Washington, D.C and making it a top priority in his communication throughout the years.

4. Generate Support at all Levels of the Organization: Brands exist at an organizational level. To generate massive change, the green initiative must pervade all levels and become part of the organizational culture and business strategy. Ecomagination filtered from GE's values into employee, supplier, and distributor goals, embedding the initiative throughout the entire organization.
5. Make Your Message Heard: The best strategies won't see the light of day if they aren't executed in a way that is clear, focused, and action-oriented. How is your strategy unique? How will it motivate and inspire audiences? Work in advance to anticipate your audience's reception (or reaction) and identify a way to communicate your strategy with meaning and conviction. By creating a relevant message through the brand that is worth hearing, you can make your message heard inside and outside the organization.
Strategic initiatives, if they are to be implemented successfully, need branding. Ecomagination is a great example of how a green initiative can have a positive effect on a brand's external image in the marketplace, how it runs internally, and most importantly, how it enables the organization to pave the way forward.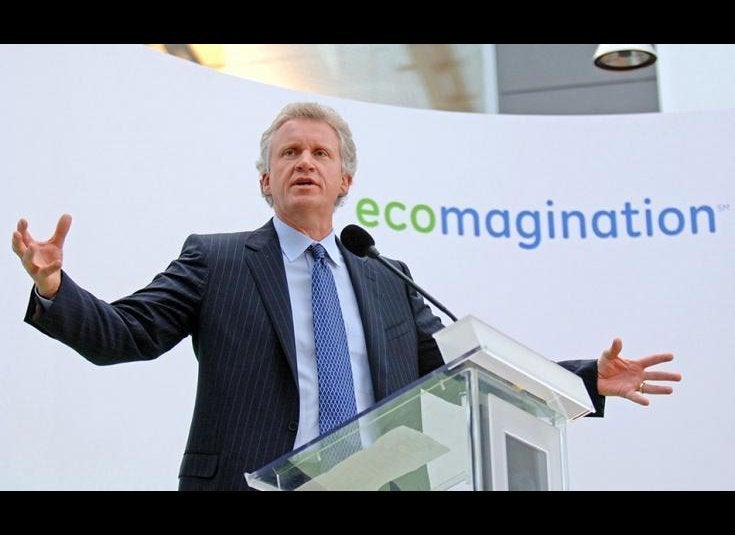 GE's Ecomagination Turns 10: How A Brand Can Be A Driver for Change
Related